The Prank Jason Momoa Pulled On Amber Heard On The Set Of Aquaman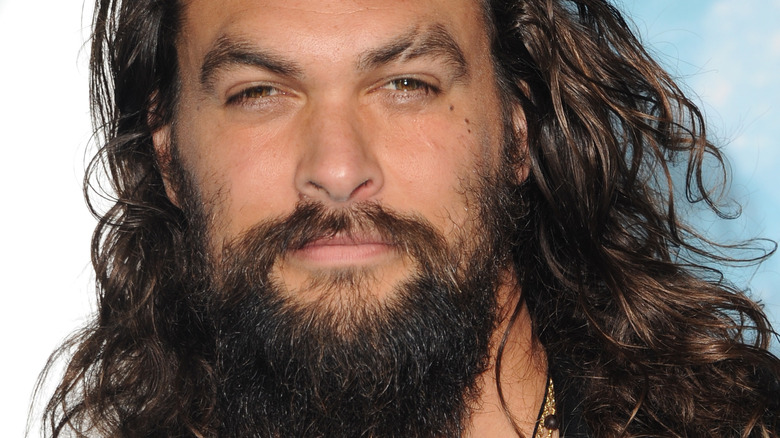 Tinseltown/Shutterstock
Jason Momoa might be known for his action-star roles — think "Dune," "Conan The Barbarian," and "Game of Thrones" — but his "Aquaman" co-star Amber Heard is not. Even so, Heard's strong feminist stance made her an ideal choice to play Mera opposite Momoa's titular hero. "Mera's her own woman. She's her own superhero," Heard told Collider in 2018. "Part of what got me, you know ... when I first talked to Zack [Synder] on the phone about the prospect of doing this film, he said, 'She's a warrior queen.'" With her powers and take-no-prisoners attitude, Mera helps Aquaman defeat his half-brother, the power-hungry King Orm.
Off-screen, Momoa and Heard share a special relationship, not unlike their on-screen counterparts. During filming for "Aquaman," the pair uploaded several photos of themselves together on social media. From rocking coordinating accessories to attending sports events, they were joined at the hip, prompting many fans to wonder whether their friendship might be romantic. Comments like "Very ACCORDINGLY CUTE COUPLE" and "Soul twins" proved that plenty of people shipped Heard and Momoa together. Although Momoa has never spoken about Heard's legal drama with Johnny Depp, he did congratulate his co-star when she welcomed her daughter Oonagh in July 2021. Daily Mail also reported Momoa fought to keep Heard in the "Aquaman 2" sequel, even as Depp's fans called for her to be canceled.
Given Heard and Momoa's supportive friendship, it makes sense that they shared lots of playful moments together on set.
Jason Momoa tore out pages of Amber Heard's books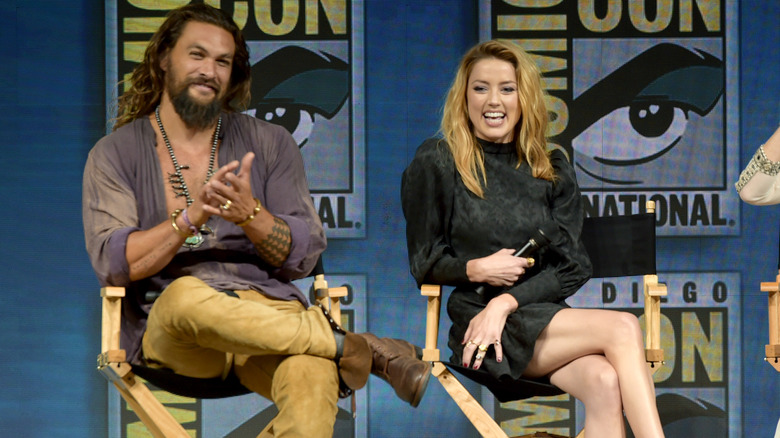 Kevin Winter/Getty Images
Jason Momoa reportedly loved to joke around with Amber Heard on the set of "Aquaman." In a 2018 interview with "Good Morning America," Heard revealed she was often reading on set, and Momoa didn't like that it took her attention away from him. Sharing her opinion that the action star is "allergic to being ignored," Heard said, "He adopted this method of ripping out the pages of my book, so I would pay attention to him. It would drive me crazy because I'd have 30 pages left, and it would be gone."
In 2021, she posted an Instagram of herself reading a copy of "Surface Detail," captioning it, "Before Aquaman took the last pages out of this book #gettingakindleforaquaman2." Fans took to social media to debate Momoa's actions — was his book ripping a hilarious prank, or something more sinister? One person called it, "Not remotely OK." Another posted a Twitter meme of "Parks & Recreation's" Leslie Knope, writing, "The book community after they found out Jason Momoa ripped pages out of books."
Thankfully, Heard eventually found a way to protect her reading material from Aquaman. As she told "Jimmy Kimmel," the crew made her a book bag out of the green screen material. "Much to Jason's chagrin, I had a solution," she added. "They would call roll, and I'd throw my book in my book bag, and the book would disappear."
Jason Momoa is known for being a prankster
Kevin Winter/Getty Images
Amber Heard isn't the only one who fell victim to Jason Momoa's pranks. In the vein of infamous prankster George Clooney, Momoa confessed that he pranked everyone on "Aquaman" with the exception of his on-screen mom, Nicole Kidman, per ScreenRant. As Splash News noted, the "Dune" star was intimidated by Kidman's acting prowess, because he'd "never worked with anyone that came close to an Academy Award." Consequently, acting alongside the industry icon was "one of the greatest acting experiences he's ever had."
Momoa's penchant for pranks extended beyond the scope of "Aquaman" to other projects as well. Appearing on "The Kelly Clarkson Show" in 2019, his "See" costar Alfre Woodard explained how he "got the entire crew and cast" during Season 1 of the hit Apple TV+ show. "They'd been shooting this tender scene and they're holding the babies ... We had two newborns that we worked with ... they were two weeks old," Woodard said. At this point Momoa jumped in, adding it was director Francis Lawrence's idea to keep things rolling. "So I said, 'I need one more [take],'" Momoa shared. "I go back out and I put two fake babies in my hands and I walked in and tripped ... I fell on the babies." Woodard then chimed in with, "Not only did you trip and fall, but you crashed your big body into the babies!" It's a prank no one is likely to forget anytime soon.