How Much Was Vin Scully Worth When He Died?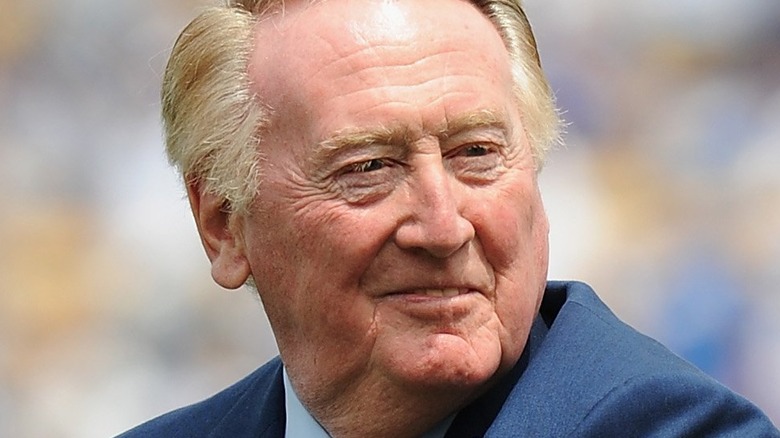 Lisa Blumenfeld/Getty Images
On August 2, Vin Scully, the legendary broadcaster for the Dodgers — both Brooklyn and Los Angeles — died. The Dodgers announced on social media that the baseball Hall of Famer died in his home in Hidden Hills.
"We have lost an icon," Dodgers president and CEO Stan Kasten wrote in a statement. "The Dodgers' Vin Scully was one of the greatest voices in all of sports. "He was a giant of a man, not only as a broadcaster, but as a humanitarian. He loved people. He loved life. He loved baseball and the Dodgers. And he loved his family. His voice will always be heard and etched in all of our minds forever." The statement ended with condolences to the late announcer's family.
Scully had been the voice of the Dodgers for a whopping 67 years, and per CNN, he's had the longest tenure of any broadcaster with a single team. But over the course of his career as a sportscaster, he had also been involved in a litany of projects, so it wasn't surprising to find out that he was worth millions when he passed.
Vin Scully was reportedly worth $25 million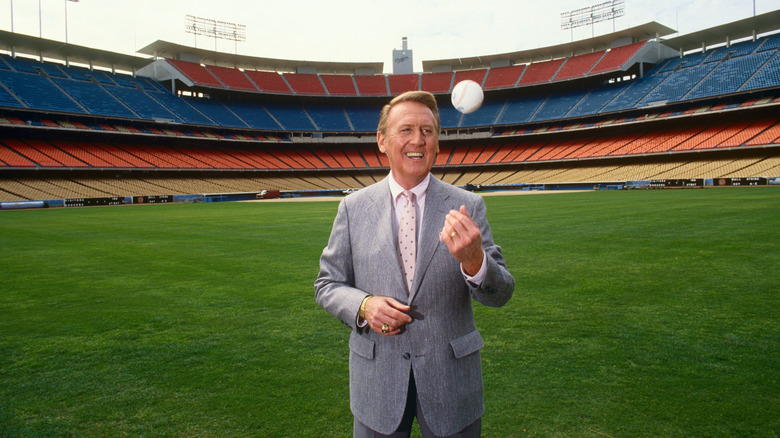 George Rose/Getty Images
Fans and industry peers of Vin Scully can attest to the fact that he was a once-in-a-lifetime talent. "The building of the drama and anticipation, the meticulous attention to detail, the keen eye of a reporter blended with the graceful rose of a poet," Bob Costas said of his broadcasting prowess, per The Hollywood Reporter. "A perfect performance on the mound matched, and enhanced, by a perfect performance in the booth."
According to Celebrity Net Worth, the famed sportscaster had a net worth of $25 million at the time of his death thanks to his decades-long tenure with the Dodgers, as well as his stints in helming the World Series, PGA Tour, and various appearances in films, talk shows, and TV shows. He also hosted the NBC game show "It Takes Two" in the late '60s and even had his own variety program in the '70s called "The Vin Scully Show."
But just like many other legends, Scully had to start from the bottom. When he was tapped to call the World Series for the first time, he was offered $200 a game, per Sports Illustrated. His first ever contract with the Brooklyn Dodgers, which was put up for auction in 2019, outlined that his weekly salary back in 1950 was $100, with raises of $6,000 and $7,500 for the next two years (per Bleacher Report). But fast forward to 2008, he was reported to have a salary of $3 million a year — leagues above the average for a broadcaster.