Body Language Expert Breaks Down Old Clip Of Candace Cameron Throwing Subtle Shade At JoJo Siwa – Exclusive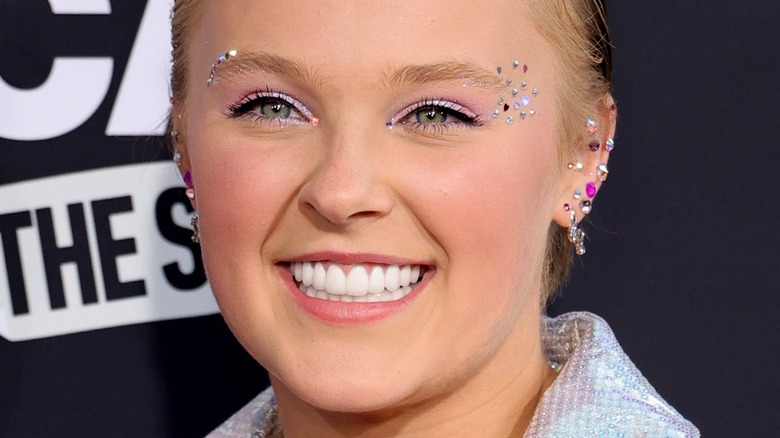 Momodu Mansaray/Getty Images
JoJo Siwa's TikTok has sent fans into a tizzy, making them think she and everyone's favorite "Full House" star, Candace Cameron Bure, are still on the outs.
Taking on a viral TikTok challenge, where creators are supposed to flash the camera with the profile of a person who matches a certain stereotype, Siwa showed fans who she thought the nicest celebrity was — Miley Cyrus — and who her celebrity crush was — Zendaya. But when Siwa showed the star whom she labeled as the "rudest celebrity," not only were fans shocked it ended up being Bure, but so was the "Fuller House" star herself. And after Siwa's TikTok hit 24 million views, Siwa took to social media to try and explain why Bure had fallen into that category.
According to Siwa and her mother, they ran into Bure at the "Fuller House" premiere. Siwa, being a big fan of Bure's "Full House" character, DJ Tanner, wanted a photo with the star, but when asked, Bure declined. As an 11-year-old at the time, Siwa explained the experience was upsetting, but that she didn't think Bure was "an awful human" for saying no, per Entertainment Tonight. But even after explaining the reason for the diss, the conflict has gained more attention than the original TikTok. Now, two body language experts are breaking down an old video of Siwa and Bure and diving into whether this feud has been going on longer than we all thought.
Was JoJo Siwa and Candace Cameron Bure's feud brewing in 2019?
Years after the "Fuller House" premiere, JoJo Siwa and Candace Cameron Bure were back together again, this time, when both made an appearance on "The Kelly Clarkson Show" in 2019 to talk about Christmas. With Bure once being the queen of Hallmark's Christmas lineup, Clarkson asked the stars about their holiday décor — and that's where the tension between Siwa and Bure came into play.
"Candace was totally on during this interview. She not only took a moment to describe her own product line, but also went out of her way to tee up JoJo," said Jess Ponce III, body language expert, communication coach, and author of A.W.E.S.O.M.E., when referencing how Bure's simplistic décor differed from Siwa's rainbow-colored decorations. "[Bure's] tone was playful, but could also be slightly condescending" because, as Ponce noted, Bure's "legs were still crossed ... and she lifted her hand up with her fingers pointing down after tapping JoJo," which can be considered a "dismissive gesture."
If Bure's dig bothered Siwa, however, she didn't let it show, Ponce explained. Because even after the remark, Siwa offered Bure a gift: a giant, multi-colored bow. While Bure was hesitant to put the bow on, Austin iuliano, body language expert and public speaker, noted she did it anyway. "You could see the thought of, 'This is ugly, but it's not going to kill me to be nice on TV,'" iuliano said, noting that their interaction on the show was quite "normal." Whether or not there was bad blood at the time, both Siwa and Bure claim everything has been resolved — or has it?