Candace Cameron Bure Received An Unexpected Gift Amid JoJo Siwa Feud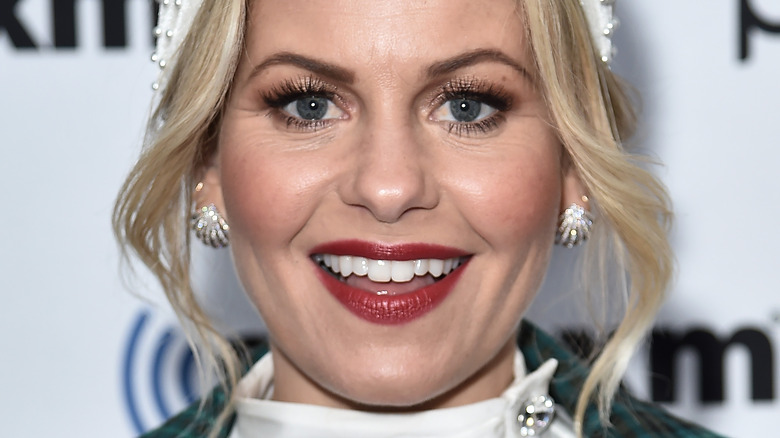 Steven Ferdman/Getty Images
The drama between JoJo Siwa and Candace Cameron Bure has proven to be the gift that keeps on giving. It all started in July, when Siwa identified the "Fuller House" actor as the rudest celebrity that she has ever met in a TikTok video. That video, though only six seconds long, immediately went viral, with fans and rumormongers clamoring for more information about the alleged fight. (After all, who doesn't love drama?)
Finally, on July 27, Bure issued a video statement detailing a conversation she had with Siwa regarding their supposed spat. Long story short, the actor apparently had snubbed Siwa during the red carpet premiere of her show "Fuller House" in 2016, and this upset the former child star. "I didn't know! ... I had no idea," Bure exclaimed on Instagram. "[But] I was finally able to talk to JoJo this morning. I called her. And we had a great conversation." Siwa also confirmed to Page Six that she and Bure talked over the phone and already made peace. "She apologized, and we talked. It was cool. It was nice," she said.
Now with their messy drama finally behind them, a funny somebody has poked fun at their situation by sending Bure a surprise gift as an elaborate joke for the laughs. And the actor-host sure found it hilarious!
Candace Cameron Bure received a JoJo Siwa-themed gift
Following reports of her reconciliation with Jojo Siwa, Candace Cameron Bure revealed that she received a PR gift containing Siwa's diamond painting kit with the Diamond Art Club. The actress made the revelation in her Instagram Story on August 4, sharing a glimpse of the package which came with a short note. It read, "Candace — hope you love this JoJo Siwa x DiamondArtClub gift! xx Diamond ArtClub." 
Luckily, Bure was amused. "I just found this really funny. There's a PR company that sent me a gift," she said with a laugh. "Coincidence? Just weird timing? I don't know." Regardless, she said she found the gift "really cute" and vowed to open it "when one of my goddaughters comes over."
Bure appears to be completely unbothered even as Siwa's mother Jessalynn has dragged her on social media because of the messy drama. On August 1, Jessalynn posted an old clip from her podcast in which she talked about her daughter's "sour" encounter with Bure at the "Fuller House" premiere in 2016. "The recent story told wasn't quite right, so here is the real version," she captioned the video, before taking a jab at Bure. "At the end of the day this story, it's not about a simple photo it's about how you treat people," she wrote. "Real, genuine kindness always goes a long way. It's super easy to quote a Bible verse when everyone is looking at you but morals are what you have when no one is looking."