How Scarlett Johansson Really Feels About Working With Chris Evans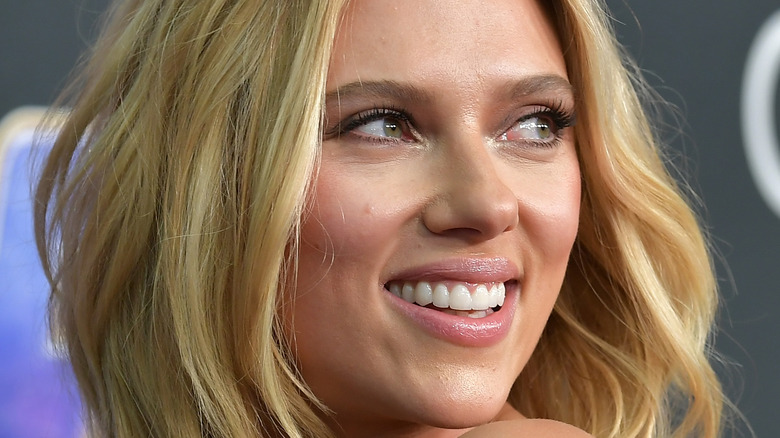 Amy Sussman/Getty Images
It's sad to think about, but "Avengers: End Game" is likely the last time we will see the OG Avengers together on-screen. With the Marvel Cinematic Universe turning over yet another chapter, we have to welcome a different set of characters and actors and explore new universes. Still, it doesn't mean that we won't miss the earth's mightiest heroes, which also happen to be the earth's mightiest friends.
You may be delighted to find out that to this day, the Avengers cast makes an effort to keep in touch with one another, and they even have a group chat to prove it. Jeremy Renner, aka Hawkeye, said that they are all "very good friends" (via "Phase Zero" podcast). "We don't really speak too much about our job. And that's what's also great about being, you know, Avenger friends. We speak about our kids, you know, and divorces, marriages, and house building. We speak about just our life stuff," he dished. "Our friendship is very, very special."
But as with most friendships, there are some cast members who are closer compared to the others. And in the OG Avengers cast, Scarlett Johansson and Chris Evans consider each other best pals.
Scarlett Johansson loves working with Chris Evans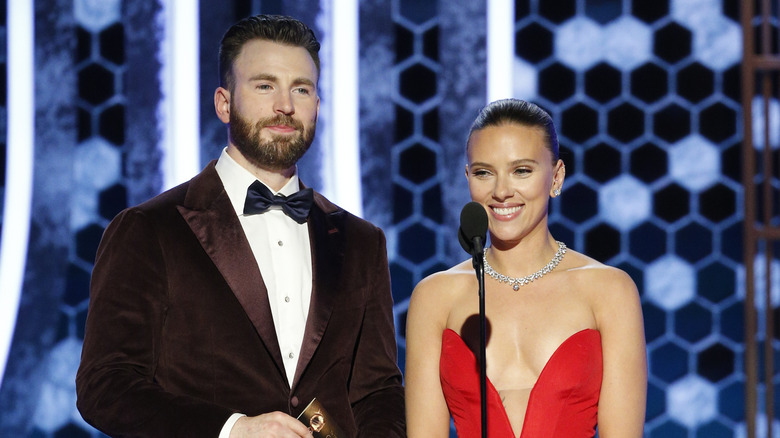 Handout/Getty Images
For Scarlett Johansson, Chris Evans is her work husband. In an interview with Parade in 2014, back when they starred in "Captain America: The Winter Soldier," Johansson gushed about how delightful it was to get the opportunity to work with Evans.
"Even though the circumstances of our lives have changed and we've moved and our careers have evolved, he's pretty much the same. We have the same kind of rapport between us, the same short-hand, he's just as goofy and earnest as he's always been," she said. The "Black Widow" actor also complimented Evans' "humility" and "great sense of humor," which she jokes is an advantage since Marvel "can exploit it for the film."
What most fans also don't know is that Johansson helped talk Evans into accepting the Captain America role. She had already been part of the MCU at the time, so she played a part in convincing her friend to take the plunge, too. "I talked to him a little about it because I had already signed on to do Iron Man. Of course, the pressure wasn't on my shoulders like it was on Chris,'" she told Variety. But Johansson also knew that it wasn't an easy decision, as Marvel is such a big franchise. "He was taking the full brunt of the production on his shoulders. It can feel like a gilded cage at times."
Scarlett Johansson feels like Chris Evans' 'big sister''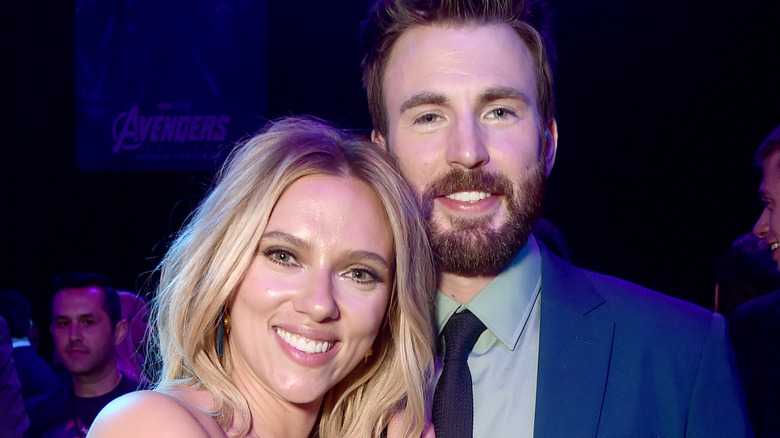 Alberto E. Rodriguez/Getty Images
As fans, it's normal to wonder whether Scarlett Johansson and Chris Evans were ever romantically involved but, per the "Marriage Story" actor, romance was never in the cards for the two of them. When they starred in "The Nanny Diaries" as lovers, she even said that kissing Evans was not a big deal. "Any excuse to get close to Chris Evans is delightful," she told Access Hollywood. "At this point, we're old and jaded, so it's like, 'Bring him on!' No big deal. Pop in the Tic-Tacs. Get the cameras rolling."
Johansson also said that, from the get-go, they already had a brother-sister dynamic. "We just laugh so much together," she told Entertainment Tonight Canada. "I think we find a lot of humor in things that are ironic. We just have a great friendship." And, while Evans is older than her, she still feels like a "big sister" to him. "In a way the 'big sister' relationship that Nat has sometimes with Steve, even though Chris is a couple of years older than me I think we sort of have that same dynamic."
And even though they have been working together for decades at this point, Johansson said that she still loves acting with Evans. "We work well together, I think, and admire one another as actors, and we're used to being able to throw the ball back and forth because we've done that in the past in other films that we've done," she told the Los Angeles Times. Sounds like they're the very definition of #friendshipgoals!