How Casie Colson Baker Defended Dad Machine Gun Kelly Against A Bully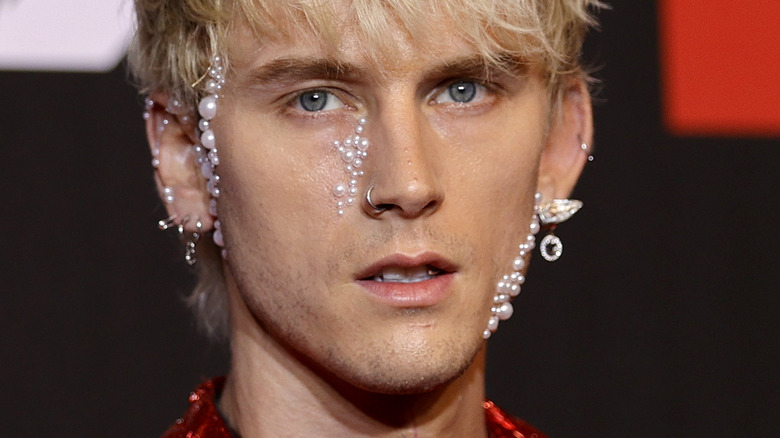 Jason Kempin/Getty Images
Longterm fans of Machine Gun Kelly are pretty well-aware of his strong bond with his daughter, Casie Colson Baker. He became a dad in 2009, and the musician frequently raves about his daughter. One look at his Instagram shows how close the duo is — such as in the case of a July photo "dump," where Kelly is wearing matching hats with Casie, watching the sunset, and bonding backstage together. However, MGK also opened up about what it's like raising her as she gets older.
"I trust her opinion more than I trust my own now," MGK said in an appearance on "The Kelly Clarkson Show." "Like, she has her finger on the pulse of what's hot, or if I'm doing a song and it's the right one, she'll confirm it." Casie — whose picture was the musician's lock screen wallpaper at the time — isn't one to mince words, he explained, adding that she tells him if his songs are "crap."
While parenting a teenager is difficult to navigate, MGK maintains that Casie is his "best friend," and a recent phone call from her school proved it was mutual.
Machine Gun Kelly reveals how Casie Colson Baker stood up for him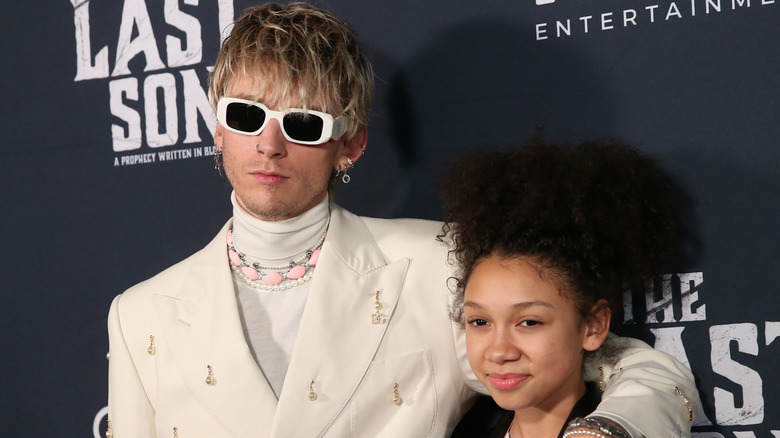 Rob Kim/Getty Images
In an appearance on "The Drew Barrymore Show," Machine Gun Kelly opened up about managing stress and emotions with the help of girlfriend Megan Fox and daughter Casie Colson Baker. According to the musician, his daughter not only provides him support, but she also sticks up for him. However, Casie's protectiveness of her dad did land her in some trouble.
"I got a call one time, [and] her school was like, 'Hey, so your daughter got into a thing with this boy' and I was like, 'What happened?'" MGK told Barrymore. "And they were like, 'The boy was talking bad about you.'" The musician gleefully smirked at his daughter's bravery and explained that he wasn't mad at her, though he discouraged her from getting into more trouble for his sake.
"I was like, 'Good job, don't ever do that again, but I love you so much,'" the singer added. Of course, MGK clarified that he prefers to be the one sticking up for her because "it's worth living for to see" her happy (via Yahoo! Finance).
Machine Gun Kelly discusses protecting his daughter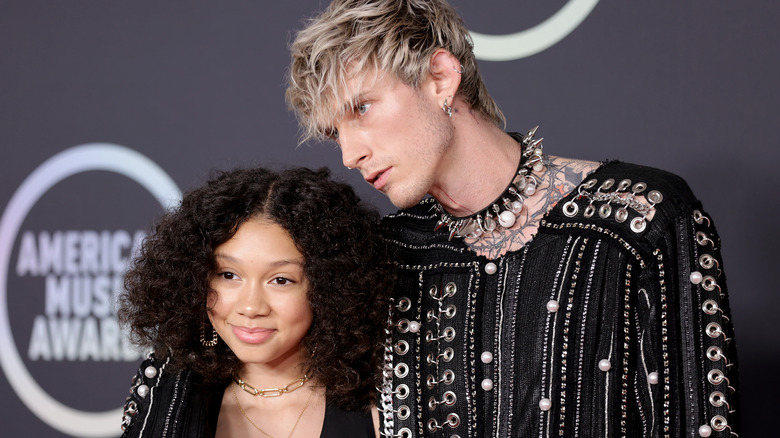 Amy Sussman/Getty Images
While Machine Gun Kelly had a difficult relationship with his parents, he is determined to do better with Casie Colson Baker. The musician also noted that his generation understands "kids better because [they] were the misunderstood generation." He strives to make his daughter feel loved and supported, even taking a flight with no sleep to catch her recital.
Speaking on "The Drew Barrymore Show," MGK explained that even the way Casie walks has a "pure bounce" because "she's so excited for life." He then said he prays "to every God that exists that she keeps that bounce forever." MGK said he "will take any amount of torture that would come her way" to keep her from becoming "tainted with what the world has to offer."
Doting dad may not be the first thing that comes to mind when MGK's name is mentioned, but the musician makes it very clear that Casie is No. 1 in his life.