Inside Mandy Moore And Chrissy Metz's Off-Screen Friendship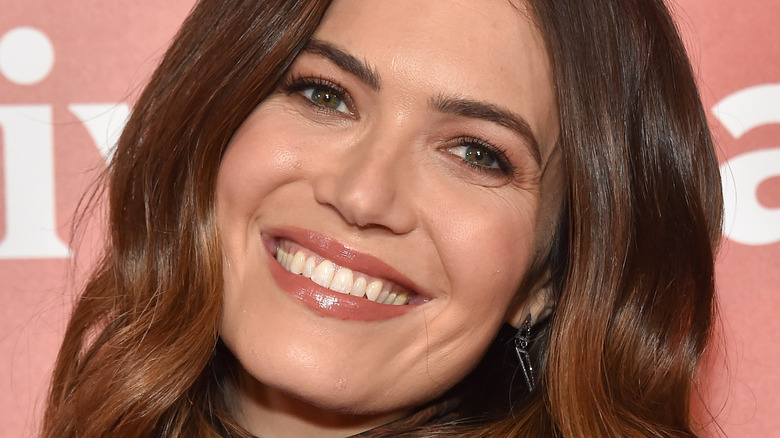 DFree/Shutterstock
"This Is Us" actors Mandy Moore and Chrissy Metz are former co-stars who are there for each other on and off screen. The pair played lead roles in the hit NBC series since its beginning in 2016 up until the end of its sixth and final season in 2022. As Moore and Metz portrayed their characters, mother-and-daughter duo Rebecca and Kate Pearson, they revealed the admiration shared between them. "I have revered Mandy Moore for so long, and I just love her, and she's just like a perfect human," Metz said to People in 2016.
In addition, Moore gave Metz a sweet birthday shoutout via Instagram in 2020 as she posted photos of them together to celebrate her friend and colleague's special day. "To know you is to love you," Moore wrote to Metz. "You are an absolute beam of light in this world and I'm so grateful that the #thisisus journey brought us into one another's orbit."
Although "This Is Us" has officially finished its successful run, Moore and Metz maintain their closeness away from work.
Mandy Moore and Chrissy Metz share a supportive companionship
Mandy Moore and Chrissy Metz are the definition of friendship goals! The two have consistently shown each other love since meeting through work. When Moore was asked in 2018 what she'd like to see happen next with her character Rebecca Pearson, on "This Is Us," Moore revealed she'd like to sing with her on-screen daughter. "I want to duet with Chrissy Metz, first and foremost," Moore said to E! Insider. "I've put that out there many a time with [show creator] Dan Fogelman. I'm like ... 'You have no idea how badly I want to do that.'"
After working together for six years on "This Is Us," the pair continues to be vocal about their support of one another. On June 26, Moore and Metz documented one of their most recent get-togethers, which took place at the Ryman Auditorium in Nashville, Tennessee. Moore performed here as part of her tour for her latest album, "In Real Life," and Metz enjoyed watching the show. "MANDYYYYY! What an absolute gift to witness your joy, sing your JAMS and to be moved to tears all in one show," Metz wrote on Instagram, before adding that Moore "transported us all collectively and it was just stunning."
After a recent awards season announcement, Moore and Metz have again shown they are very loyal companions.
Chrissy Metz and Mandy Moore have each other's backs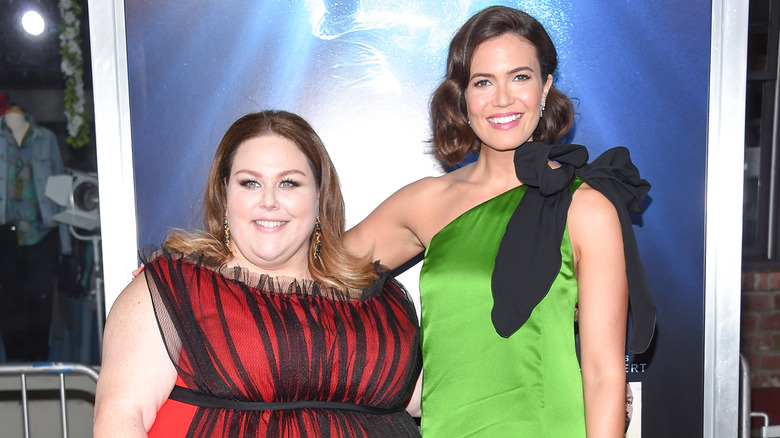 DFree/Shutterstock
Hollywood buddies Mandy Moore and Chrissy Metz share a tight-knit friendship. When the 2022 Emmy nominations were announced in July, per Variety, the "This Is Us" cast learned they'd only received one nomination for their final season in the category of Outstanding Original Music and Lyrics. Metz then voiced her praise of her colleagues who weren't nominated via Instagram.
She recently spoke further about the snub while applauding Moore's performance.  "I was frustrated for Mandy not being recognized when the work that she did is so unreal and when it's so subtle and nuanced," Metz told Us Weekly. She also noted that Moore had to spend a great deal of time getting her hair and makeup done to transform into character, adding, "And oh — of course she was pregnant!"
Metz spoke to Closer Weekly in August about the potential for a "This Is Us" spinoff and said she has "always been a fan" of Moore. The performer went on to explain that she, Moore, and their fellow actors from the NBC series will continue to cheer each other on. "All of us are friends and we're always bigging each other up and congratulating each other on, whatever endeavors we're pursuing," Metz said. "I really think that we will always be friends." in addition to their on-screen success, Moore and Metz developed an off-screen companionship for the ages.