Chris Rock Had A Tense Exchange With David Letterman On His Talk Show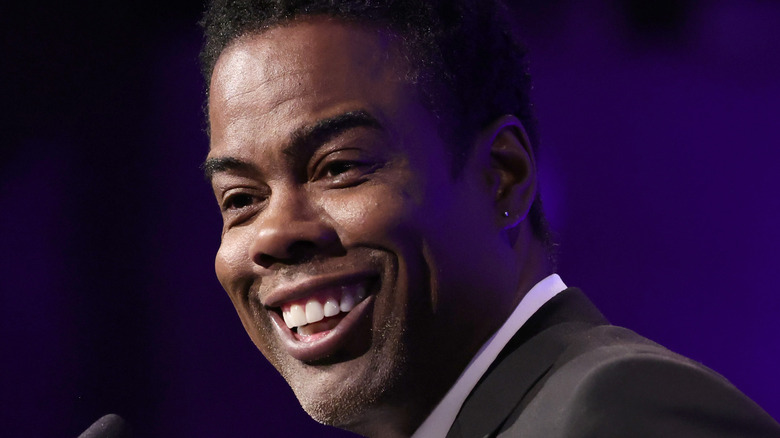 Jamie Mccarthy/Getty Images
American comedian Chris Rock is well-known among American audiences for his upbeat and charming personality, which can no doubt be found in his myriad of public interviews. And before the notorious slap heard around the world, Rock was famous for being unafraid to voice his mind, and incorporating that element of personality into his comedy. In many interviews, this would lead to Rock pressing and roasting the host just as much as the host pressed him, and there was no exception when it came to David Letterman, the "king" of late night comedy.
Letterman may have also been famous — or infamous — for a number of his interactions on his talk show, "Late Show with David Letterman," which would include many awkward or uncomfortable questions, tense conversations, and several comments — and actions — which many say crossed a line, especially with female guests. But when it came to Rock, the longtime comedian had no trouble roasting the host on numerous personal accounts, leading to rather tense exchanges. 
Chris Rock called out David Letterman for being a bore
Comedian Chris Rock embodied his usual self in a March 31, 2011 appearance on David Letterman's talk show, "Late Show with David Letterman," in which he spent nearly 15 minutes reciting his career and ongoing projects with untamable energy, excitement, and humor. However, Rock's style of humor naturally led to some tense moments with the host, given the former's tendency to call things as he sees them. While discussing his daughters, for instance, Rock jokingly asked Letterman, "You still got that boy?" referring to Letterman's son, then 7, and proceeded to tell him, "'Cause you bore easy." Rock's implications that Letterman may have bored his son to death — or to escape — led to rather audible boos and jeers from the audience. 
Later in the interview, Rock also roasted Letterman by calling him the "craziest guy" at his network, CBS, in light of Charlie Sheen's exit from "Two and a Half Men" — and essentially CBS — for his controversial behavior off-screen at the time. "Now you the craziest guy at the network, you know that, right?" Rock chided. 
Throughout the interview, Rock also had a habit of consistently tagging Letterman's nickname, "Dave," at the end of each of his sentences, leading Letterman to suggest after the interview, "It was like somebody got ahold of Chris Rock the minute before he came out here ... and said, 'Whatever you do, remember, his name is Dave!'"
Chris Rock previously chided David Letterman for his personal troubles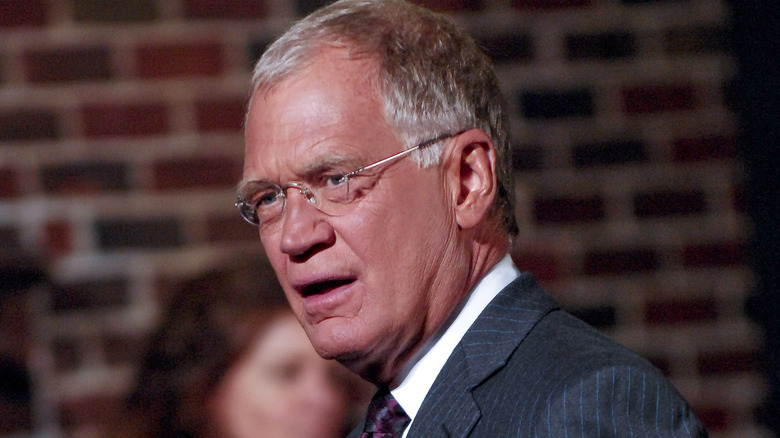 Ray Tamarra/Getty Images
Of course, as longtime viewers of David Letterman's talk show will remember, Chris Rock's 2011 appearance was not his only time on the show, nor the only instance he made for a tense moment between the two of them. Most notably before that, Rock appeared on the talk show in 2010, where he made several jokes at Letterman's expense, referencing the latter's cheating scandal, in which Letterman disclosed on his show the previous year that he had slept with many of his female employees.
"What the hell happened to your voice, Dave?" Rock began the interview by saying, referencing Letterman's gravelly voice which he developed on account of being sick. Rock then added that he was impressed Letterman still appeared on the show, but then joked that he figured it was a good excuse to get away from his wife, Regina Lasko, whom Letterman had married just the previous year. "Ah, wife's still mad at you, ain't she?" Rock said. "Why am I going to drive back to Connecticut to a mean woman? I might as well just stay here and do the show with no voice!" 
Rock continued by adding that he could empathize with Letterman's situation. "I've been there, Dave!" he said. "I've been in the cave, baby." Though he did not delve into specifics, Rock would later open up about his history with cheating scandals which eventually led to his divorce in 2017.