Jada Pinkett Smith Claimed She Went On A Date With Another Fresh Prince Star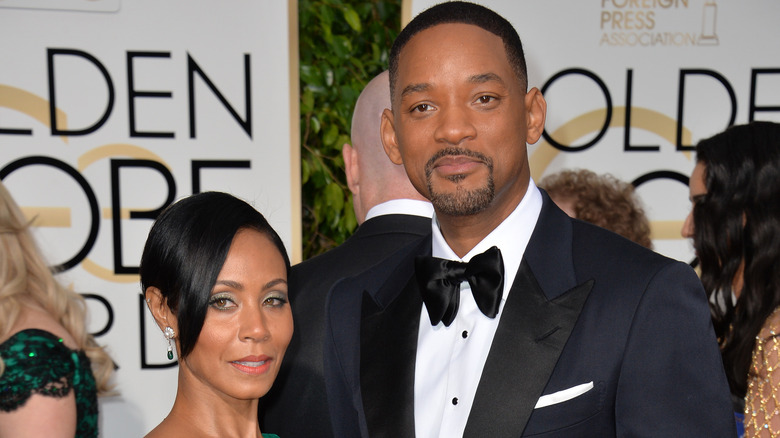 Featureflash Photo Agency/Shutterstock
Jada Pinkett Smith and Will Smith used to be relationship goals for so many couples. These days, the public can barely keep up with the couple's candid, intimate, and sometimes bizarre glimpses into their lives together, from Pinkett Smith's 2020 confirmation that she had an affair with R&B crooner, August Alsina, and Smith's decision to slap Chris Rock during the 2022 Academy Awards for making a joke at his wife's expense. 
Even so, the internet seems deeply invested in salacious rumors that follow the Smiths — most notably Pinkett Smith's well-documented dating history, which according to her, involves one of Smith's co-stars from "The Fresh Prince Of Bel-Air," Alfonso Ribeiro (via People). Yes, that's right, according to Pinkett, she once dated the actor, best known for his role as Carlton Banks on the long-running sitcom. During a 2018 episode of "Red Table Talk," Jada Pinkett revealed to Will Smith that she dated one of his co-stars. "I actually think I dated Alfonso," Pinkett Smith revealed during the broadcast. "I think I went on one date together."
Seemingly surprised by her admission, Smith replied, "You went on a date with Alsonso?" However, he added, "He like took you on a motorcycle or something." So maybe they have reminisced about it before. 
Alfonso Ribeiro shut down Jada's claim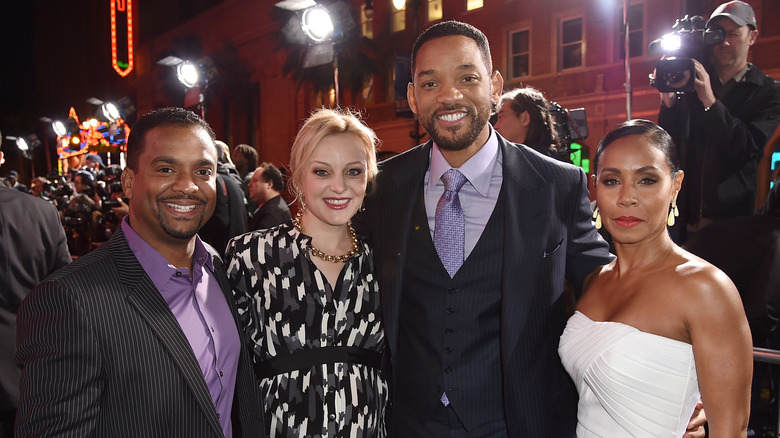 Kevin Winter/Getty Images
There is more to the story, however. While Jada confidently claimed she and Ribeiro dated, he remembers things a little differently. According to the "Fresh Prince" star, he and Jada never dated at all. "Sorry Jada. Your memory is a little off," he tweeted in response. "We went to lunch with your family when we both guest starred on A Different World the year before you became a regular."
Afterward, Pinkett Smith promptly apologized, writing via Twitter. "My fault Alf... I thought it was a date."
Umm. Awkward! Even if Jada Pinkett Smith shares a different definition of what a "date" is than Alfonso Ribeiro, her romantic history — both inside and outside of her marriage — continues to spark thoughtful discussions, criticism, and of course, memes.
Regardless, Pinkett's mild admission hasn't affected anything between her husband and his former costar. Even though "The Fresh Prince" ended in 1996, Ribeiro and Smith have remained tight friends. In 2013, Ribeiro spoke to Access Hollywood and stated that, at the time, he'd known Smith "maybe 24-25 years. Something like that. It's been a long time. We've spent many years working together, hanging together, playing together, you know, having families together."
Jada Pinkett could have been on The Fresh Prince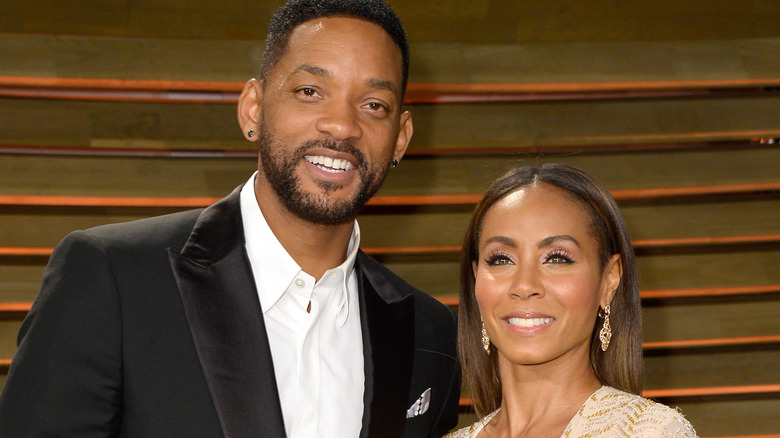 Pascal Le Segretain/Getty Images
Jada Pinkett Smith isn't only Will Smith'swife, she was almost his onscreen love as well. She first met Smith while auditioning for the role of his character's love interest on "The Fresh Prince.". Unfortunately, she was passed over because of her height, a decision that "pissed" her off, according to Smith. "Apparently, the casting agent had just told her she wasn't tall enough to play my girlfriend on the show," Smith wrote in his memoir, "Will."
Despite Pinkett Smith getting passed up for the role and feeling not-so-great about it, Smith still decided to shoot his shot. "'Whatup, shawty?' I said, poorly choosing my descriptive," wrote the actor. Pinkett Smith, however, was less than impressed.
"'Whatever n****, move,' she said, gesturing me away with the swat of her hand," Smith continued. Despite the icy introduction, Smith added that it was "love at first sight" — at least for him. 
Of course, Pinkett Smith eventually came around, as the pair married in 1997, and have since had two children together, Willow and Jada. Proof that things happen for a reason!
Ultimately, the role of Smith's love interest went to Nia Long, who would go on to play Lisa Wilkes, Smith's long-term girlfriend in the successful comedy. "The joke that I have with Jada is that I got the job but she got the husband," said Long to People, on winning the iconic role.