The Real Reason Tyler Cameron And Paige Lorenze Broke Up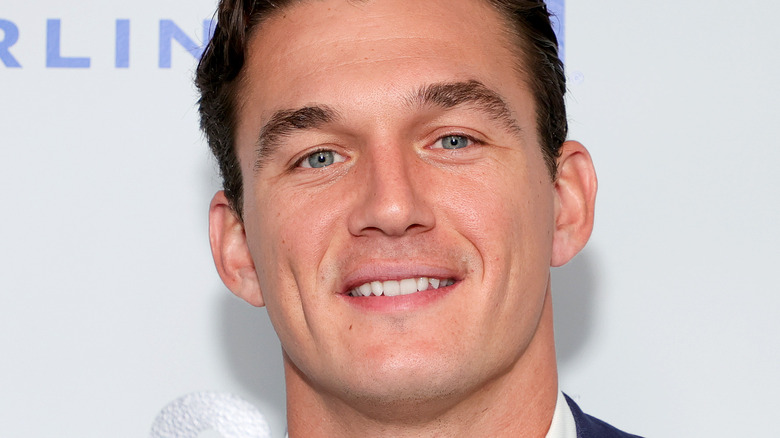 Dia Dipasupil/Getty Images
Tyler Cameron and Paige Lorenze are no longer an item. Just a few weeks into dating, the "The Bachelorette" alum revealed that they have come to the mutual decision to call it quits.
It was just in July when Cameron and Lorenze made their relationship public. After being spotted together over the fourth of July weekend, a source noted that romance had bloomed between the two. "They're spending time together whenever they can," the insider told Page Six at the time. "It's not a full-blown, serious relationship because they're often in different cities, but they're having fun with it."
Cameron went on to confirm that he indeed has his eyes on someone in an interview with E! News. "I'm dating someone, seeing someone now and, you know, it's fresh, it's new and it's a lot," he dished. "Relationships are a lot of learning and a lot of understanding, and we're going through it and it's been great. It's been fun so far. We'll see where this whole thing goes." Unfortunately, the relationship ended too fast too soon, as Cameron revealed that they had split just three weeks after going public.
Tyler Cameron and Paige Lorenze agreed to 'take a step back'
Tyler Cameron and Paige Lorenze realized very early on in their relationship that they weren't ready for something serious just yet. Speaking with E! News, Cameron admitted that the two of them have decided to part ways, and it's all because of poor timing.
"I'll tell you what ... we just had to take a step back," Cameron confessed. "It wasn't the right timing ... We're back [to], you know, not dating anymore, just doing our own thing right now. We both have a bunch of respect and love for each other but just not the right time for both of us right now."
Meanwhile, Lorenze confirmed that the breakup was completely amicable and admitted that she's too busy to focus on nurturing a relationship. "I am more career-focused than ever and my priority has to be my clothing brand and my career — and that's going to require me to be in NYC at the moment," she said in a statement, per Us Weekly. "I've always made such large life adjustments for my partners in the past, but for right now, focusing on me is where I am at." Cameron is on the same page, too. "I can't figure it out," he said when asked why he's single. "I guess just too much on my plate."