Why John Travolta Fought For Olivia Newton-John Before Their Friendship Even Began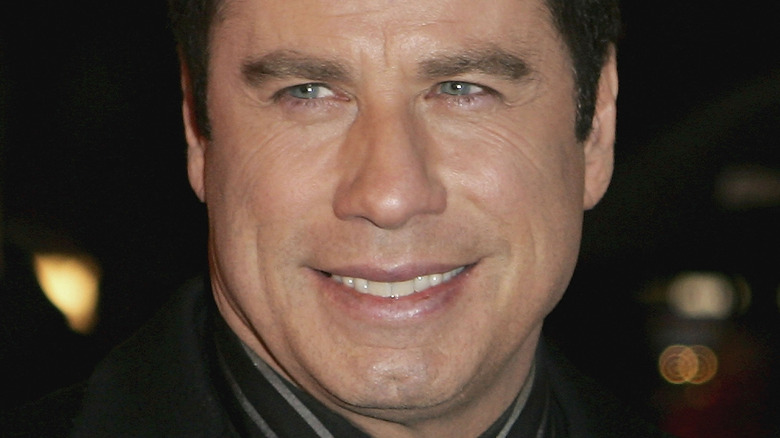 Mj Kim/Getty Images
After the news of Olivia Newton-John's tragic death broke, her "Grease" co-star John Travolta was among the many mourners who responded to the loss by celebrating the life of the multi-hyphenate. "My dearest Olivia, you made all of our lives so much better. Your impact was incredible. I love you so much," Travolta's emotional tribute on Instagram read. "We will see you down the road and we will all be together again. Yours from the first moment I saw you and forever! Your Danny, your John!"
The first name the actor signed off with was a reference to his "Grease" character Danny Zuko, the teen T-Bird leader with immaculate hair whose summer lovin' caused him quite the conundrum: The nice Aussie girl he met during break enrolled in his high school, threatening his tough-guy rep. As the "hopelessly devoted" Sandy Olsson, Newton-John showcased her acting, singing, and dancing skills before sending her character off with a leather jacket, a makeover, and a magical ride alongside the man who would become a lifelong friend.
In a 2018 interview with E!, Travolta revealed that he and Newton-John were still keeping in contact via email and text. He also revealed that they saw each other in person a few times each year, and had stayed close since the 1978 film. "We care about each other and we'll always be friends," Newton-John told Hollywood Life in 2021. However, their friendship only happened because Travolta had his heart set on Newton-John.
Why Olivia Newton-John was hesitant about starring in Grease
Producer Robert Stigwood decided that John Travolta was the one he wanted for the film adaptation of "Grease," even before the actor had his star-making turn in "Saturday Night Fever," per Vanity Fair. By the time "Grease" went into production, Travolta was already at a place in his career where his input was taken into consideration by casting director Joel Thurm. Travolta knew exactly who he wanted to play his love interest. "I said, 'There is no other person in the universe other than Olivia Newton-John to play Sandy. You must cast her,'" Travolta recalled during an event celebrating the film's 40th anniversary, per E!. He confessed to becoming captivated by the singer's steely blue gaze on one of her album covers, and Thurm set out to cast Travolta's dream girl as Sandy Olsson.
"Everybody wanted Olivia here, but Olivia didn't jump at the offer. That's the important thing to know," Thurm told People. Per E!, Newton explained that she was initially hesitant because she was a relative newcomer to acting and didn't have a great experience filming a previous movie musical, the 1970 sci-fi comedy "Toomorrow." But Thurm told People that Newton-John agreed to take the role after requesting a screen test with Travolta and watching it on tape. According to E!, Travolta also had to assure his then-29-year-old leading lady that she wasn't too old to play a teenager. "I held tight, didn't I, and I got my way," said Travolta.