How Elizabeth Hurley Really Feels About Meghan Markle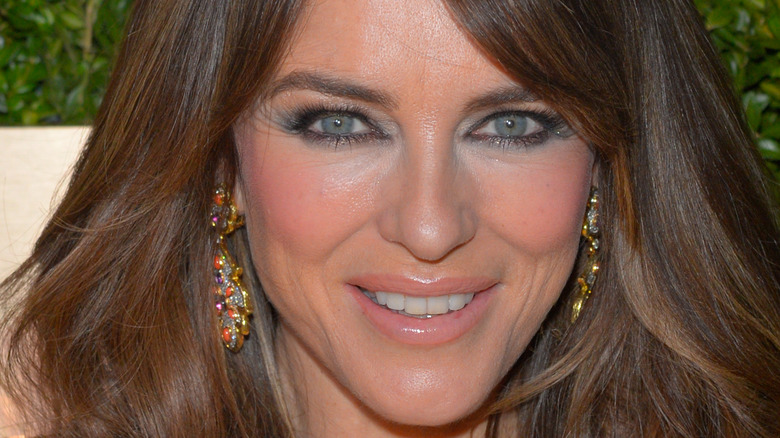 Ron Adar/Shutterstock
Elizabeth Hurley has made it no secret that she's always been a fan of the British royal family. After all, the United Kingdom native did play a queen on the small screen herself. Back in 2015 while she was promoting the E! Series "The Royals," she told Showbiz Junkies that she certainly does stan Queen Elizabeth and her entire family. She said, "I would hate the Monarchy to be abolished! I love it! I think it's just fabulous. I get hours of enjoyment from watching them do their thing. I think they're kind of fab."
And while there certainly is a lot to be said about the current state of affairs at Windsor Castle — including questions over Prince Charles reportedly accepting money from Osama Bin Laden's family and all the tea that Prince Harry might spill in his upcoming memoir — Hurley seems to have a different take on things, or at least when it comes to Prince Harry and Meghan Markle. While a lot of people seem to be pointing their finger at Markle for one thing or another, Hurley made her thoughts on the Duchess of Sussex pretty clear before anyone else did.
Elizabeth Hurley wanted to see things work for the Sussexes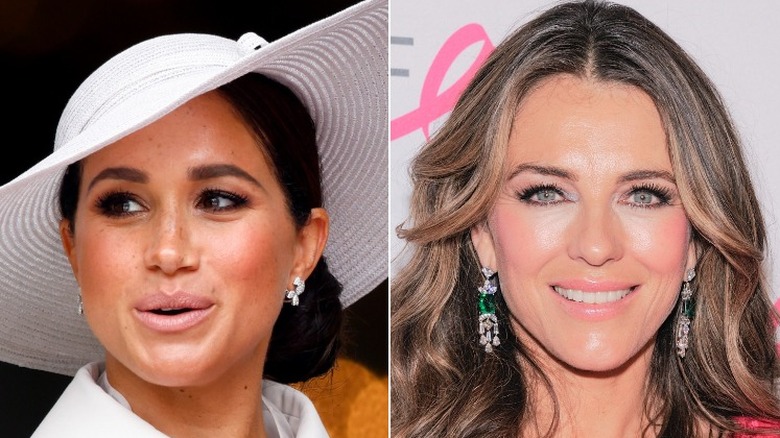 Max Mumby/indigo/Getty & lev radin/Shutterstock
Back in 2018, Elizabeth Hurley was clearly on Team Markle before anyone else. Soon before Prince Harry and Meghan Markle's very royal wedding at Windsor Castle, Hurley told People that she was excited that the royal family was getting an American princess. She said at the time, "Meghan looks incredibly princess-y, and hopefully there will be lots more mini princes and princesses soon for the world to drool over."
Apparently, Hurley had met Markle before Harry did and fell in love with her. Later that same year she told Us Weekly, "I met her once when we were both just actresses. I think before she probably met her future husband. She was fantastic." She later added, "For me, she's doing a great job and looks wonderful. So I wish her nothing but luck." And while it sounds like Hurley and Markle would certainly have a lot to say during afternoon tea or maybe even an avocado toast for breakfast, Hurley did have some interesting things to say about the Duke and Duchess of Sussex and some of their royal struggles in 2019.
Elizabeth Hurley says that she gets less privacy than the royals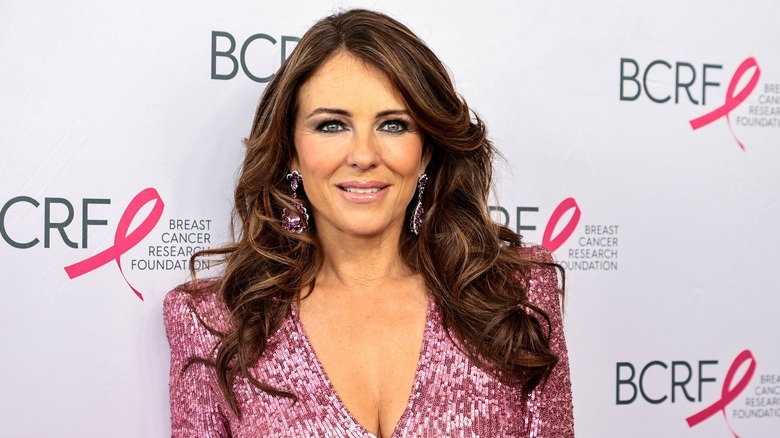 Jamie Mccarthy/Getty Images
Back in 2019 and soon after, Prince Harry and Meghan Markle hinted in an interview with ITV that they were struggling in their roles as working royals in the spotlight. Elizabeth Hurley suggested that being a celebrity in the spotlight was far worse. In fact, Hurley said that she had less privacy than the Sussexes and the rest of the royal family for that matter. She told Buzzfeed News show, AM to DM, via Daily Mail, "The real royal family, you never see them behind closed doors ever. We only ever see them bestowing nice things on the outside and you never see anything else, unlike people in show business where unfortunately pesky people seem to get behind the scenes all the time." She continued, "So actually they're really lucky because I always think of the royal family being sort of like showbiz — really because it is — but with a lot more privacy. Sometimes. Maybe they've lost a little lately!"
Soon after Hurley's comments were made, Harry and Meghan pulled the plug on their relationship with the royal family, citing their own need for privacy. That said, it sure is hard being a royal — whether it's the fake or the real kind — in the limelight, right?