Anne Heche's Hopeful Last Instagram Photo Is Heartbreaking Now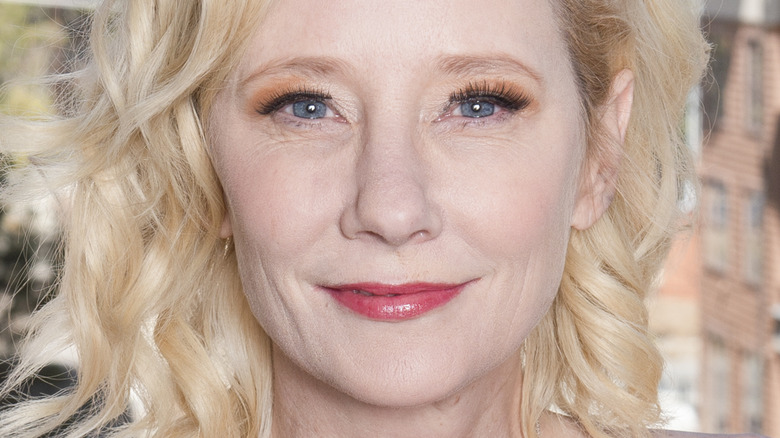 Michael Bezjian/Getty Images
On August 5, actor Anne Heche was involved in a devastating incident in the Los Angeles neighborhood of Mar Vista, crashing her Mini Cooper into a garage before colliding into a different home, which left her vehicle and the house engulfed in flames. Due to suffering various life-threatening injuries, the "Donnie Brasco" actor was in a coma. "She has a significant pulmonary injury requiring mechanical ventilation and burns that require surgical intervention," spokesperson said in a statement to Deadline.
After being in critical condition for a week, Heche was pronounced dead on August 12 at the age of 53. Hours before her death, a rep for the actor's family revealed that her condition showed no signs of improving and that she would be taken off life support. "Unfortunately, due to her accident, Anne Heche suffered a severe anoxic brain injury and remains in a coma, in critical condition. She is not expected to survive," they told People. Heche's family rep also revealed that her organs are set to be donated at the request of the late actor. "Anne had a huge heart and touched everyone she met with her generous spirit," they continued. "She will be remembered for her courageous honesty and dearly missed for her light."
Before her tragic death, Heche remained busy within the acting sphere with an array of new roles lined up for future release. Alongside her career, Heche also fostered an active social media presence — which included a heartbreaking post revealing her hope for the future.
Heche's last post celebrated her new film role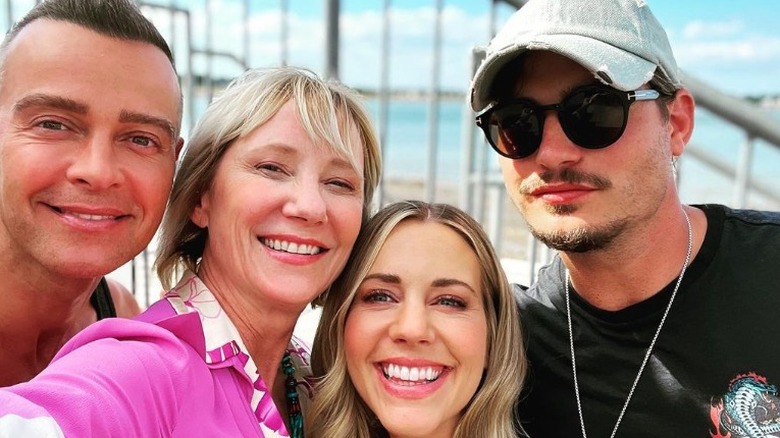 Instagram
Before her tragic death, the 58-year-old lived a seemingly thriving life as an in-demand actor. Over the years, the beloved talent would often take to social media to share with fans the inner workings of her day-to-day life and the forthcoming projects she was involved in. Unfortunately on July 14, Heche unknowingly uploaded her final Instagram post, which has left a heartbreaking mark on her longtime fans.
In the post, the "What Remains" actor shared a snapshot of herself alongside brothers Joey and Andrew Lawrence and Samantha Cope on the set of their romantic comedy "Frankie Meets Jack." She wrote, "Good times on set with Lawrence Bros." According to the Daily Mail, she filmed a small role in the Massachusetts-based project, which reportedly wrapped towards the end of July. A day before her final post, Heche uploaded a video and told fans she was "rocking a new character" before describing her filming experience as "an absolute blast." As of this writing, the Lawrence brothers haven't addressed her death. However, the production company behind the movie wrote on Instagram: "We are saddened to hear of the passing of Anne Heche. She was a bright light on set and we are fortunate to have gotten to know her."
Since the news of her car crash and tragic death, fans have inundated both of her final posts with heartfelt messages. One fan wrote: "Wishing you peace, Anne. Thank you for sharing your acting gift with the world." Another fan commented: "You are important and you mean everything in the world to many."
The tributes roll in for Anne Heche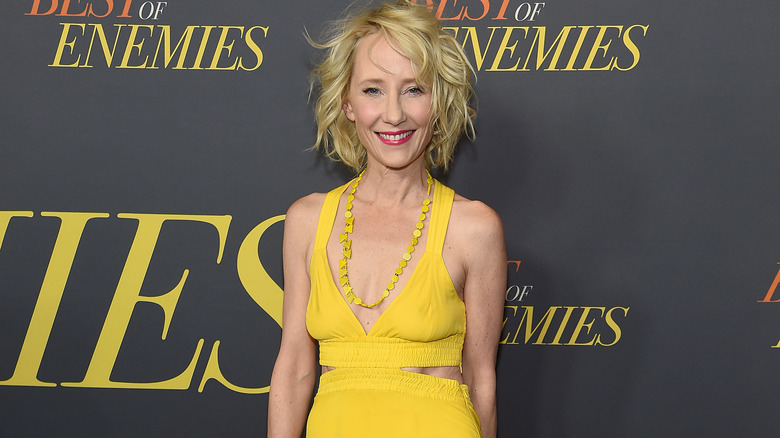 Jamie Mccarthy/Getty Images
Since the tragic news of Anne Heche's death made headlines, an array of tributes to the beloved star have steadily rolled in from some of her industry peers. "Guardians of the Galaxy" director James Gun wrote: "Honest to God, I think maybe the best acting performance I've ever seen in my life was Anne Heche in PROOF on Broadway." Ed Helms echoed similar sentiments and described the beloved actor as a "vibrant spirit and profound talent." Even Ellen DeGeneres, who dated Heche from 1997 to 2000, sent condolences. "This is a sad day. I'm sending Annes children, family and friends all of my love," she wrote on Twitter.
While the majority of the tributes highlighted Heche's impactful career and bright life, other individuals like actor Dedee Pfeiffer shined a light on the harmful effects of substance use. "My heart breaks for Anne Heche and for all involved in this tragic story," Dedee Pfeiffer wrote in a tweet. "Addiction is extremely complicated and layered." Pfeiffer's tweet might be in response to law enforcement telling the Los Angeles Times traces of cocaine were found in Heche's blood. Additionally, Heche was under investigation for a felony DUI at the time of her death, per CNN.
Heche's troubles are heartbreaking when you consider her advice to her younger self, as she told Backstage in 2020. "Listen to people," she shared. "Open up your heart enough to know that people are trying to help, because they are."