How Many Kids Does Lauren London Have?
s_bukley/Shutterstock
From her award-nominated performance in "ATL" to her part in "Without Remorse," actor Lauren London has taken on many roles throughout her life. However, arguably the one she takes most seriously is that of mother. 
In 2011, London told Rolling Out about her changing priorities after becoming a mother for the first time. "I want to be present, especially in the first years," she shared. London added that though motherhood had required a shift in her focus away from personal goals, she wouldn't change that for the world. As she told the outlet, "My grind isn't what it used to be — doesn't mean that it's not as good ... But it's not what it used to be, because my first priority isn't myself anymore, it's my son." 
More recently, London spoke about her parenting approach on the "Angie Martinez IRL" podcast. In particular, she shared how she was trying to help her kids deal with the untimely death of her partner, Nipsey Hussle. "Anything that I do that feeds my soul, I share with them," she explained. However, she also emphasized that she didn't want to force them to follow her lead. Rather, London was more concerned about giving them "the tools" to handle whatever life would throw their way. That seems to have paid off, as she shared that her kids are her "favorite human beings on planet earth." 
So, just who are London's favorite little humans, and how many does she have? 
Lauren London is a mother to two boys
Lauren London is a proud mom of two boys who both have some pretty iconic dads. 
London's first born, Kameron Carter, is the third child of her on-and-off boyfriend of over a decade, Lil Wayne. Their relationship ended in 2009, the same year Kameron was born. Although London and Lil Wayne broke up, they're both committed to co-parenting, and the actor has nothing but good things to say about her famous ex. In an interview with KathleenCross.com, she gushed, "My son's father is an intelligent, loving and lovable person who will always be a dear friend."
London became a mom of two in 2013, when she welcomed Kross Ermias Asghedom with late boyfriend Nipsey Hussle. Though Hussle's death prevented the couple from having more children, the actor has lauded him for being an amazing father while he was alive. In a June 2019 tribute posted on Instagram, she shared that his commitment to fatherhood was "one of the reasons I fell in love with you." 
While London tends to keep her family life relatively private, it's pretty clear she's one proud mama. Every now and then, her Instagram followers can catch a glimpse of her boys — and she makes it no secret that they've played a major part in dealing with her grief. As she wrote in an Instagram post in 2020, "This Love has saved me." 
Laura London has relationships with her kids' half-siblings, too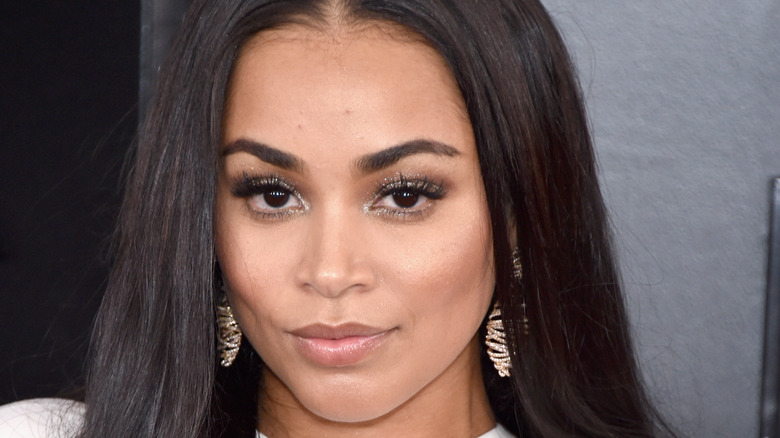 John Shearer/Getty Images
Despite the pregnancy rumors about Lauren London (which she has shut down), the actor is a mom to just two children. With that said, she does play an active role in her kids' half-siblings' lives.
Speaking to KathleenCross.com, London revealed that ensuring Kameron Carter had relationships with Lil Wayne's other children and their respective mothers was a priority for her. "We are all good-hearted women who love our children and we want them to know each other," she shared. London also added that she had built friendships with the women, even though initial awkwardness would have been understandable. Nivea B. Hamilton confirmed to VladTV that she and London became good friends through the experience, explaining both women recognized the kids' well-being needed to come first. "The children are here, d*mmit ... So, we're the best mothers that I've ever seen in a group with the same baby father," she said with a laugh. 
London also has a relationship with Kross Ermias Asghedom's half-sister, Emani Asghedom. However, London's relationship with Emani's mother, Tanisha Foster, isn't quite as cozy. According to documents published by The Blast, Foster is seeking full custody of her daughter, who is currently under Nipsey Hussle's family's care. In the documents, she accuses the family of favoring London. With London unlikely to respond, it's unclear what her view is on the matter. However, it seems this mama bear's top priority is keeping the peace.