What Really Happened Between Annabelle Wallis And Chris Martin?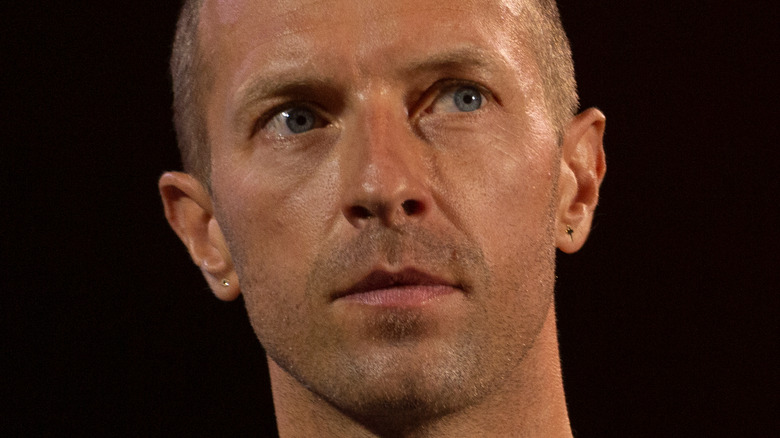 lev radin/Shutterstock
Chris Martin has been linked to many celebrities, and probably most famously his ex-wife, actor Gwyneth Paltrow. In 2015, the Coldplay singer was seen hanging out with British actor Annabelle Wallis in Manhattan, per Glamour. Martin had just split from "The Hunger Games" star Jennifer Lawrence at the time.
"He has moved on quickly and has been seeing Annabelle Wallis for about a month," an insider told Us Weekly about the relationship between the singer and the "Peaky Blinders" actor. "He visited her while she was filming in Vancouver and really likes her."
The relationship was kept very casual at first, though, per Daily Mail. Martin occasionally visited Wallis on the set of the new movie she was working on. "It's early days but Chris has made a lot of effort to see her," a source told the media outlet. People reported that the singer just wanted to have some fun, as he was still getting over his breakup with Lawrence. The casual fling soon turned into a two-year romance, even sparking some engagement rumors in the process.
The couple was on-again-off-again for two years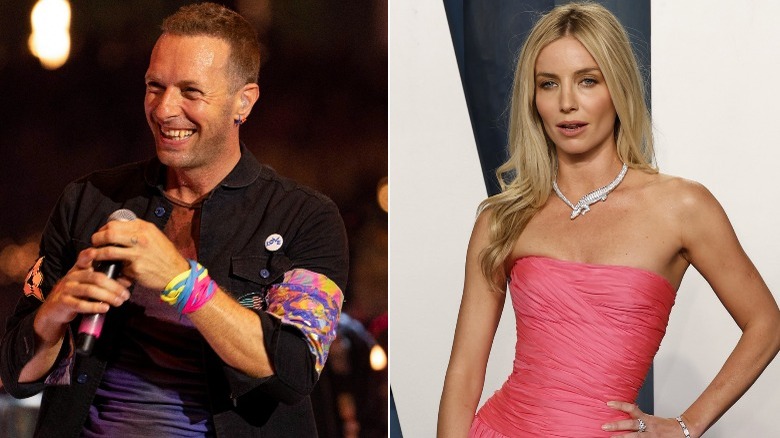 Shlomi Pinto & Frazer Harrison/Getty
In July 2016, "The Mummy" actor Annabelle Wallis posted a photo on Instagram that has since been deleted, per Page Six. The caption said, "Perfect dress for a wedding," but everyone was pointing out the big diamond ring on her ring finger, sparking engagement rumors with then boyfriend Chris Martin, who had just finalized his divorce with Gwyneth Paltrow.
In 2017, Grazia magazine reported that the singer and Wallis were "on a break" (via Times of India), as Martin supposedly "lost interest." The couple split that June, but got back together two months later when Wallis was seen at a Coldplay concert. "Their crazy work schedules make it difficult to see each other sometimes and they drifted apart," a source told The Sun in August 2017. "But recently they have been making more of an effort and have decided to give things another shot."
The insider mentioned the history the two have, and they were determined to spend more time together once their schedules cleared. But the reconciliation didn't last very long.
The romance ended, but the friendship stayed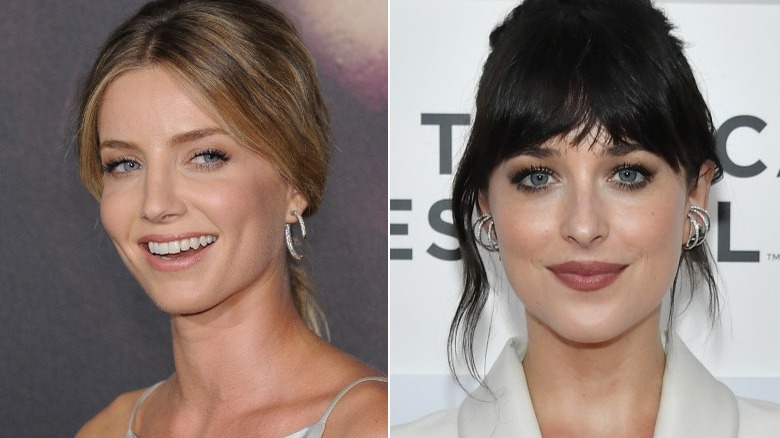 Roy Rochlin/Getty & DFree/Shutterstock
The rekindled spark between Chris Martin and Annabelle Wallis was short, as the Coldplay singer was spotted on a sushi date with "Fifty Shades of Grey" actor Dakota Johnson in October 2017. A source told People that the two were "cozy, laughing and affectionate" while they were enjoying each other's company. The singer remained close with Wallis, though, and there were no hard feelings after the breakup.
"Chris and Annabelle are still on good terms because she's close with his kids," an insider told Us Weekly. "Since he's started dating Dakota, he's only hung out with Annabelle platonically." The media outlet also mentioned that the "Malignant" actor is even friends with Johnson.
Wallis then moved on to "Star Trek" actor Chris Pine, as they confirmed dating rumors in 2018, per Entertainment Tonight. The couple broke up in early 2022 after nearly four years of dating. In July, the "Tag" actor was spotted on a walk with Marvel actor Sebastian Stan, per Daily Mail. The dating rumors started after an Instagram picture of the two kissing went viral in May. Neither one of them has confirmed a relationship. We wish both Martin and Wallis well in their new romances.