The Tragic Death Of Another World Actor Robyn Griggs
Actor Robyn Griggs has sadly died at the age of 49 — her death follows a 2020 cancer diagnosis. On August 13, the official Facebook page for the "Another World" actor confirmed the tragic news. "With a heavy heart, I am saddened to announce Robyn's passing," Grigg's publicist, who runs her page, lamented. "However, she is no longer suffering and would want us to remember that and the good memories."
Acting since the age of three, Griggs began her daytime TV career on the long-running soap opera "One Life to Live" with a six-episode character arc in 1991, per IMDb. But the role many remember her for is as Maggie Cory in the classic soap, "Another World," which Griggs played for two years. After the announcement of Griggs's death, one fan of the show pointed out that Griggs's fellow "Another World" actors Ray Liotta and Anne Heche have all sadly died this year.
"I think acting on the soaps taught me so much discipline," Griggs reminisced to Call Me Adam in 2021. "Working daily with such talented people helped guide me. I knew this is what I enjoyed and had a passion for. I had the privilege to work with amazing artists." 
Robyn Griggs wanted to inspire others amidst her cancer journey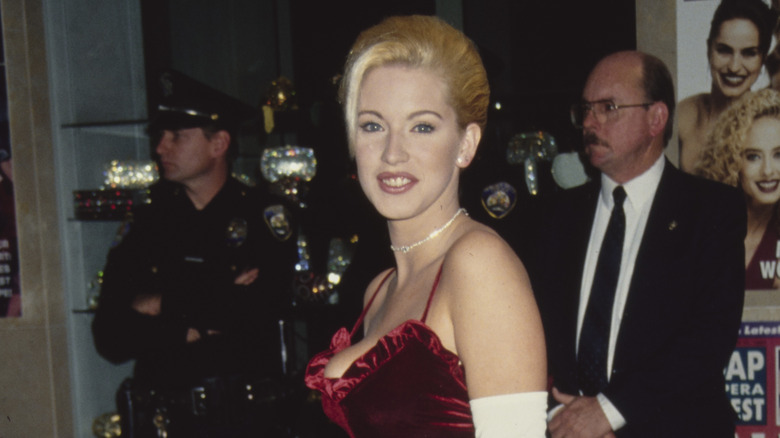 Michael Ochs Archives/Getty Images
In October 2020, actor Robyn Griggs told the world that she was diagnosed with stage 4 endocervical adeno — more commonly known as cervical cancer — through a fundraiser she started to help pay for her medical bills. Throughout her diagnosis and treatment, Griggs kept fans, friends, and family updated on her personal social media and official Facebook page. Sadly, on July 7, the actor revealed that her doctors found four new tumors in her body, and she decided to undergo treatment and chemotherapy.
"I told [the doctors] whatever it takes," Griggs wrote in her personal Facebook post. "I'm in for the fight. I'll be very sore, nauseous, etc, but who knows, maybe it works and relieves some pain. You never know."
Tragically, Griggs entered hospice care on August 11. Her publicist ran her official page and continued posting updates on Grigg's condition until her death. "I will never forget how open [Griggs] was to telling her story, and accepting of me helping her tell it," her publicist shared when she announced Griggs's death. "She wanted to help people and spread the word of her story to do it. I was honored to do so."