Who Is Chrissy Teigen's Sister, Tina?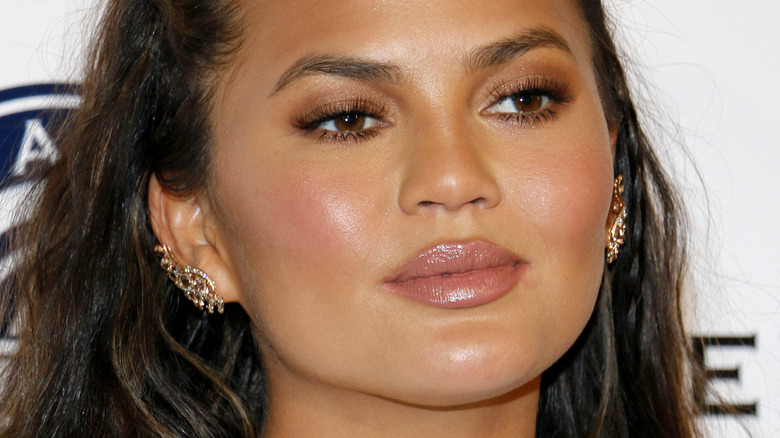 Tinseltown/Shutterstock
Model and television personality Chrissy Teigen puts family first in her life. In a 2019 Build Series interview, she opened up about the family dynamic she and her husband, singer-songwriter John Legend, share. "My family lives with us," Chrissy said. "We are one giant, bonkers household." During this chat, which promoted Chrissy's then-new cookbook, "Cravings: Hungry for More," she also explained that her family "really [does] spend all of [their] time in the kitchen." 
In a 2016 interview with Self, Chrissy answered questions about herself that are commonly searched on the internet, including whether or not she has any brothers or sisters. "I do have siblings. My dad has three children and my mom has a daughter, but we're all brothers and sisters of course," Chrissy said. Distractify reported that one of these siblings is Chrissy's sister, Tina Teigen. Tina is Chrissy's half-sibling, as their mom, Pepper Teigen, gave birth to Tina prior to her marriage to her ex-husband, Ron Teigen. Here's all you need to know about the sister of the author and social media star.
Tina Teigen is a family-focused mother of one
Chrissy Teigen might be one of the most popular celebrities around, but her sister, Tina Teigen, prefers to mostly stay out of the limelight. Tina doesn't appear to have any personal social media accounts, so the public is not often updated with details about her life. VegasMamas wrote in 2017 that Tina prefers to focus on "parenting, philanthropy, [and] family time." Distractify also noted that Tina married Corey Speaks, a motivational speaker, in 2014. The pair, who share one child together, daughter Pasha, later divorced. 
The same year Tina and Speaks tied the knot, Chrissy posted a picture on Instagram in honor of Tina's baby shower. "Celebrating my sister, Tina, and her little baby girl in Laguna!" Chrissy captioned the image, which showed herself, her mother Pepper, and Tina smiling at the event in front of an ocean view. Though Tina doesn't have her own account, Pasha has an Instagram page that keeps followers updated on the fun memories she shares with family. This includes posts documenting Tina and Pasha wearing cute matching outfits and Pasha spending time with her cousin, Chrissy and John Legend's daughter, Luna. And, every once in a while, Tina participates in creative projects with her famous family members.
Tina Teigen has appeared on shows with her family in the past
Despite her tendency to keep a low profile, Chrissy Teigen's sister, Tina Teigen, has made some public appearances in collaboration with her family. One of these occasions took place in 2019, when Chrissy and her husband, musician John Legend, participated in an episode of "Celebrity Family Feud," per USA Today. Their team consisted of Legend and his brother, Ron Stephens II, Chrissy, her mother Pepper, and Tina.
In addition, Tina contributed to a show in which Pepper showed off her cooking skills. According to Food Network, Pepper shared her recipes for Thai-American dishes in her 2021 special, "Getting Spicy with Pepper Teigen," in which Tina and other family members made appearances and helped Pepper prepare these meals. In a promo for the special, Tina spoke about how Pepper's cooking made an impact on both her and Chrissy during their upbringing. 
"[Pepper] is the absolute best cook I know, and, crazy enough, she's invited the cameras to come into her home to share all the amazing Thai dishes I grew up eating with my sister, Chrissy," Tina said. "All three of us love to cook, and Thai Food is always at the heart of it thanks to our mom." It sounds like Tina, Chrissy, and Pepper share some very special memories together as a tight-knit family!