Catherine Zeta-Jones' Daughter Is Her Twin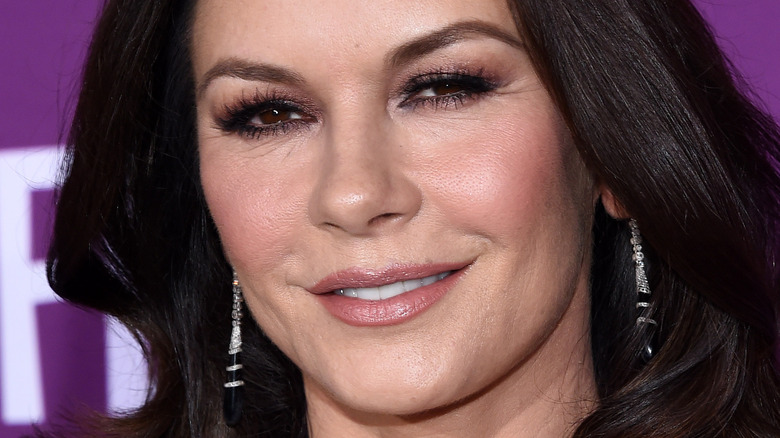 DFree/Shutterstock
Undoubtedly, Catherine Zeta-Jones is one of the biggest names in the entertainment industry and she had a booming career in the early 2000s. In 2003, the actor scored an Oscar win for her role as Velma Kelly in the hit musical-turned-movie "Chicago." But what made the award-winning moment even more special was at the time, Zeta-Jones was pregnant with her second child, Carys Zeta Douglas. During her speech, Zeta-Jones gave a shoutout to her husband, Michael Douglas, stating that she shared the Oscar award as well as her other "gift" with him —her soon-to-be daughter. 
Not long after winning the Oscar, Zeta-Jones gave birth to her first and only daughter, Carys (via People). Over the years, Carys has become a regular fixture on her mother's Instagram page, and it's easy to see the strong bond that the mother/daughter duo share. Zeta-Jones rarely misses the opportunity to dote over her daughter, and birthdays are no exception. "Happy 19th Birthday to my beautiful daughter (inside and out) Carys, everyday is a joy because of you. I love you with all my heart Mama," she wrote in an adorable Instagram post in April. She also shared another upload that included son, Dylan Douglas, her husband Michael, and Carys as she gushed over how happy she was for the quality time. "The band is back together! Happy, so happy! College campus!" the Oscar winner wrote.
And while Zeta-Jones shares plenty of love for her daughter Carys on social media, they also share another common thing — their looks.
Catherine Zeta-Jones and her daughter, Carys Douglas, are twins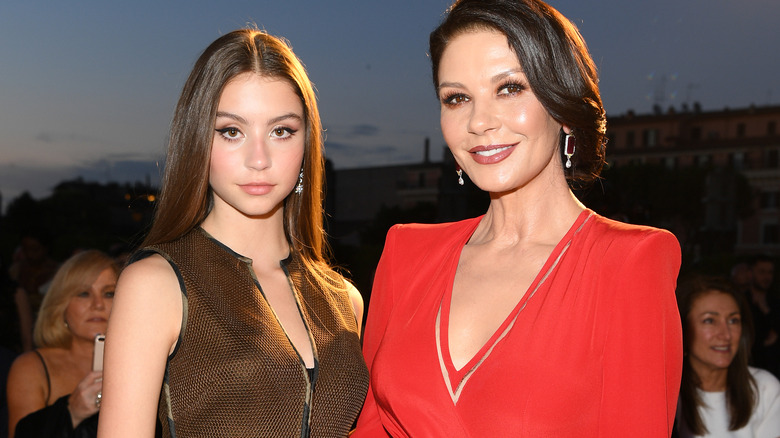 Daniele Venturelli/Getty Images
Catherine Zeta-Jones and her daughter share a close resemblance that is easily seen in photos. Whenever Zeta-Jones posts a shot with her lookalike daughter, it doesn't take too long for fans to comment on their similarities. In 2021, Zeta-Jones shared a sweet series of snaps to honor Cary's birthday. "Happy 18th Birthday Carys Zeta! You are everything, and everything is you. Thank you for the joy you bring me," she wrote on the upload. 
The first photo in the carousel featured a throwback shot of Zeta-Jones and a young Carys. In the second photo, Carys posed solo, but the resemblance to her mother in both images was uncanny. Fans took to the post's comments section to gush over their similar appearances. "Looks just like her Mam! Gorgeous ladies!" one follower wrote. "Wow she is a stunning looking beauty like you Catherine," another fan commented. "She gets her looks very strongly from you, love how close you two are. Michael and Dylan must be so proud of her as well."
Zeta-Jones also gave her daughter a shout-out on International Women's Day, and again, fans flocked to the comments section to point out how much they look alike. "I can see so much of you in your daughter! Plus a bit of Micheal Douglas, your husband! Truly beautiful, both inside and outside!" one fan raved. Is it just us or can you just not get enough of this twinning mother/daughter duo? 
Catherine Zeta-Jones gets nostalgic over Carys Douglas going to college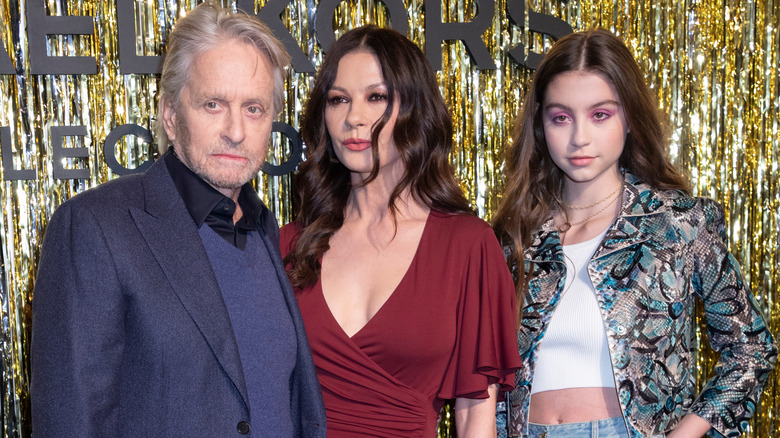 Sam Aronov/Shutterstock
For most moms, it's always a challenging task to bring your kiddos to college. Catherine Zeta-Jones has not been shy about sharing her kiddos growing up on social media, and it seems as though fans have been there for every milestone. 
In 2021, Zeta-Jones posted a sweet throwback video of her daughter talking about arctic animals. In true Zeta-Jones form, she also shared a lengthy caption as she gushed over her daughter's next phase of life. "My daughter Carys prepares for college!!! Very cute alert!!The road to higher education begins on the bathroom floor, with limited teeth, (thus the lisp) and a passion for books," she wrote on the upload. "Carys is packing her bags and I am looking at old videos don't tell her I posted this." How sweet is that?
Zeta-Jones also made sure to post a tribute to her daughter as she graduated from high school. The mother of two shared a shot with her husband, Michael Douglas, son Dylan, and Carys rocking a cap and gown on her graduation day. "Carys!!! What a proud day as our daughter Carys graduates with honors for her International Baccalaureate! You rock, and we love you," she beamed on the update. Of course, fans also commented on the post to share their well-wishes with the teen.
It's safe to say that Zeta-Jones is incredibly close with both of her kiddos, but her resemblance to Carys simply makes them two peas in a pod.