Ellen DeGeneres Has Touching Anniversary Message For Portia De Rossi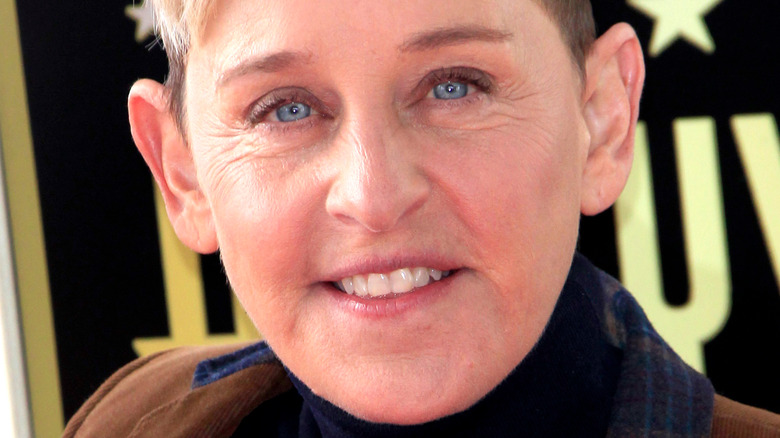 Kathy Hutchins/Shutterstock
Ellen DeGeneres and her wife, Portia de Rossi, share a sweet love story. De Rossi told "Oprah" she had feelings for DeGeneres in 2000 when they saw each other at a party, but explained she was too scared to act on those feelings because of the stigma. It wasn't until four years later, in 2004, that they reconnected at an awards show, and their romance started to bloom. "We saw each other and started talking, and that was it," DeGeneres told People in 2021 of the reconnection. "She opened up and said she'd been thinking about me. And it surprised me. It was a big deal for her to be seen with me."
Shortly after California made gay marriage legal, DeGeneres and de Rossi made things official by tying the knot in 2008. According to People, the couple kept things very intimate, inviting only a small group of people to watch them wed in a ceremony held in their backyard. "What can I say? I'm the luckiest girl in the world," DeGeneres said to the outlet after the wedding. De Rossi shared the same sentiments. "The love we felt from the people surrounding us, and the love we have for each other, made this the most beautiful and emotional day," she confessed. "And one that we'll never forget."
Since the pair tied the knot, they have not been shy about showering one another with love in interviews and on social media. In August, DeGeneres gushed over her wife on their 14th anniversary.
Ellen DeGeneres and Portia de Rossi celebrate 14 years of marriage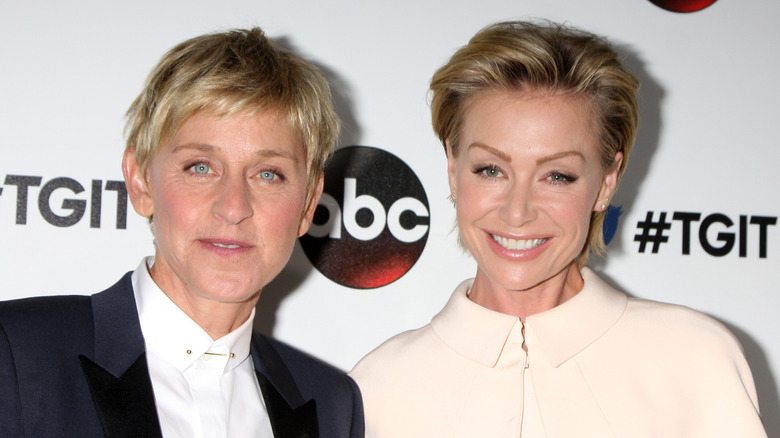 Kathy Hutchins/Shutterstock
Ellen DeGeneres is showing her love for her wife, Portia de Rossi, in a heartfelt way. The former talk show host took to social media to wish de Rossi a very public and adorable anniversary message. In the August 16 post, DeGeneres included a video montage that she called the "best of Ellen and Portia." The short video clip included silly moments between the couple, which is typical for DeGeneres. She kept the caption simple, writing, "It's good to be loved. It's profound to be understood. I love you, @portiaderossi Happy 14!"
Fans made sure to shower the happy couple with love by leaving comments on DeGeneres's post. "I remember all these clips, such a beautiful couple! Happy Anniversary," one follower wrote on the update. "That's beautiful! My eyes are salivating. Oh to be understood by someone I love," another Instagrammer commented. "Happy 14th Anniversary Portia & Ellen. Hope u will have many many more years together. Much love & happiness 2 u both. Hugs xoxoxxo," one more added.
De Rossi did not post about the couple's anniversary on Instagram, but the last post on her feed from May 26 fittingly paid tribute to DeGeneres amid her retirement from her wildly popular talk show. "To my utterly beautiful, supremely talented, insanely accomplished wife on the day of your final show.... I married an icon. I married my idol," she wrote, before stating how proud she was of her wife. What a nice tribute!