Did Kathy Griffin Really Get Banned From The View?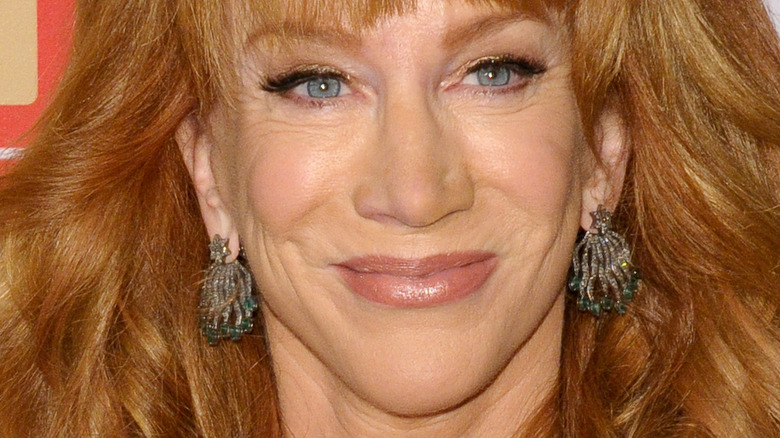 Press Line Photos/Shutterstock
Kathy Griffin and controversy go together like (insert "Grease" lyrics here), so it's no surprise that she's run into trouble over the years. But was she really banned from "The View"?
As longtime devotees to "The View" will know, Griffin has joined the panel on several occasions. Per IMDb, she's been a guest no less than 14 times. So, where do the scandalous rumors of her being banished from the daytime hit stem from? That would be Griffin herself. She's spoken about her excommunication from the hallowed set on many occasions and to numerous outlets. And more specifically, she's pegged "The View" OG host Barbara Walters as the reason why. 
In a 2012 "Conan" interview, Griffin revealed that she'd been issued "a lifetime ban" after upsetting Walters. "She will cut a b****," she declared. Though Griffin told Conan O'Brien that the ban came after she'd relayed a conversation they'd had off-air (concerning one Howard Stern), she subsequently told Marlo Thomas that she generally enjoyed toying with Walters. "Barbara Walters is really fun to p*** off because she really holds a grudge in a way that I admire," she laughed. Then, in 2014, she joked to HuffPost Live that she was relieved to have escaped the wrath of her supposed nemesis when she did return as a guest. "I'm happy to just survive Barbara Walters," she said, mid-eye roll. One thing we're dying to know, though, is if Walters (or anyone at "The View," for that matter) ever actually banned her. 
According to Barbara Walters, that would be a no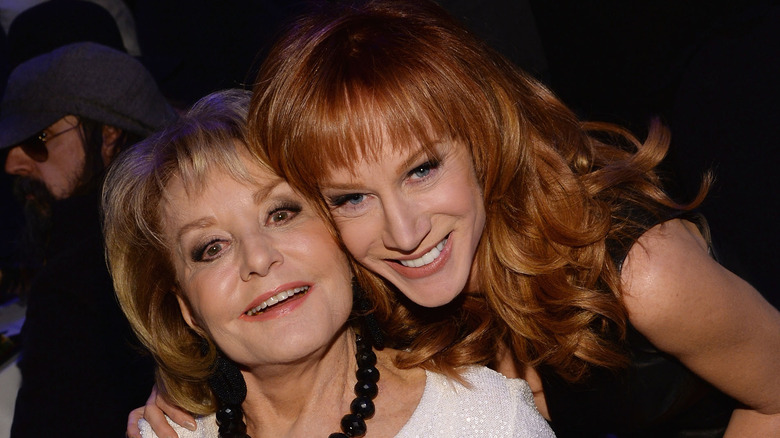 Larry Busacca/Getty Images
Kathy Griffin may believe Barbara Walters had her shunned from "The View," but according to Walters herself, that couldn't be further from the truth. 
When Griffin returned to "The View" for a 2013 episode, she took the opportunity to ask Walters if her supposed decree had been lifted. "Am I officially unbanned from the show? Because ... you personally banned me," she queried (via HuffPost). Walters' response? She'd done no such thing. In fact, she seemed blown away by the suggestion. After Griffin explained that regardless of Walters' feelings towards her, she had nothing but love for her, the incredulous host asked what made her think she didn't feel the same. Walters also delivered a stinger: "You do this every time you're on!" However, she was cut off by Griffin laughing that she believed both Walters and Oprah Winfrey "are trying to kill [her]." That prompted hysterical laughter from the audience — and a particularly hilarious look of resignation from Walters. 
It's worth noting that Griffin has a similar dynamic with Winfrey as she does with Walters. In an interview with "The View" alum Rosie O'Donnell, the host revealed that Griffin didn't believe she'd ever be allowed to be on "The Rosie Show." Reason being, it aired on OWN, and Griffin had made jokes about Winfrey in the past. Of course, Griffin was allowed on the show — so perhaps her issues with Walter come down to the same miscommunication. Cue Kanye West: "I guess we'll never know!" 
She definitely isn't banned from The View now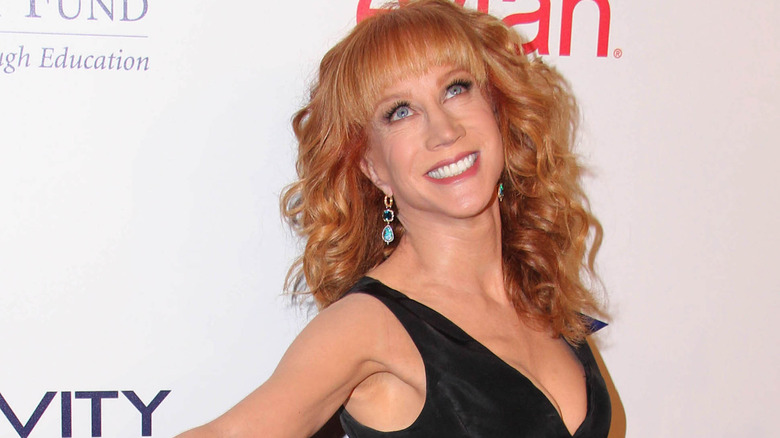 Kathy Hutchins/Shutterstock
Aside from her on-air denial, Barbara Walters has never addressed the rumors that she had Kathy Griffin banned from "The View." One thing's for sure, though: She definitely isn't banned anymore. Well, not at the time of writing, anyway. 
Griffin has been featured on "The View" several times in recent years. In fact, it was in a 2018 episode of the show when she revealed she was "no longer sorry" about the controversial Donald Trump picture that saw her canceled for a period. Three years later, she returned once again. This time, she provided an update on her life after what she called, "a helluva few years." That included good times — like getting married — and bad, such as her cancer diagnosis and heartbreaking suicide attempt. However, rollercoaster aside, Griffin's message was clear: She's back. And, in case there were any lingering doubts with regard to her presence on the show, Whoopi Goldberg was quick to confirm that the comedian was welcomed back with open arms. "We could not be happier to see her here," Goldberg affirmed. 
There's no word on whether that had anything to do with Walters having left "The View" a few years prior. Either way, at least for now, it's pretty clear that Griffin is a welcome guest host on the show. If there's one thing we know about Griffin, however, it's that she's no stranger to controversy, so we'll have to keep watching this space. 
If you or anyone you know is having suicidal thoughts, please call the National Suicide Prevention Lifeline by dialing 988 or by calling 1-800-273-TALK (8255)​.