Pete Davidson's Spotlight On The Kardashians Won't Be As Expected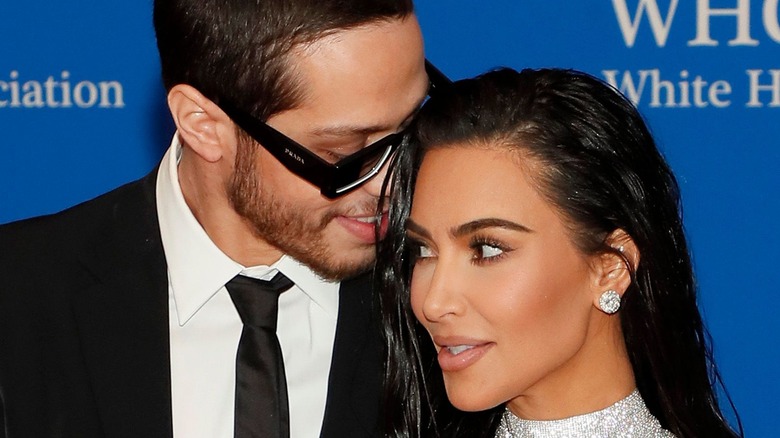 Paul Morigi/Getty Images
Ever since the Kardashian clan said bye bye to E!'s "Keeping Up with the Kardashians" and moved on to the sunnier climes of Hulu's "The Kardashians," fans have been asking one thing; when will Pete Davidson finally show up? Well, it seemed like fans were finally getting the answers to their Kardashian prayers in July when the former "Saturday Night Live" star popped up in a trailer for Season 2. In the teaser, Kim Kardashian and Davidson had a pretty flirty exchange as he made quite the splash in the Kardashian world (probably literally) when she invited him to have a shower with her, before leading him into the bathroom. Saucy!
But the much-anticipated appearance came under some bittersweet circumstances, as the trailer dropped just a few days before Kardashian and Davidson called it quits. Womp. E! News confirmed the split, citing an insider who revealed the twosome's busy schedules just made things too difficult. It sounds like things ended on pretty good terms though, as the inside source claimed they still had "a lot of love and respect for each other."
So, now we know Davidson definitely features in Season 2 of "The Kardashians" just how much cringing will we have to do over his airtime now the golden couple have gone their separate ways? Not a lot, it sounds like.
How much is Pete Davidson in The Kardashians Season 2?
Despite Pete Davidson making quite the appearance in "The Kardashians" Season 2 trailer, Page Six reports that fans shouldn't expect any long-drawn-out conversations between Kim Kardashian and her now ex, as he's hardly even in the new episodes. "He's in the background, but the reality world is not built for people like Pete," an insider pointed out, adding Davidson likes to keep his private life just that.
The news that Davidson won't be appearing a lot on the show came a few weeks after "The Kardashians" executive producer Danielle King admitted to Deadline's "Crew Call" that Kardashian never pressured her now ex to film with her and it was very much up to the comedian how involved he wanted to be. "If [the significant others] want to join in on the fun, more power to them; we're happy to cover that," King shared, adding, "[Davidson is] a high-profile person, he's an actor; like Kim has said before, when the cameras are rolling for him, it means performance time."
That came after Kardashian teased a possible cameo from Davidson to Variety in March when she clarified she had not filmed with her now former boyfriend at that point, but wasn't against the idea. "It's just not what he does. But if there was an event happening and he was there, he wouldn't tell the cameras to get away," she shared, before teasing the Season 2 appearance we now know came to fruition.