Maude Apatow's Big Break Came Courtesy Of Her Famous Dad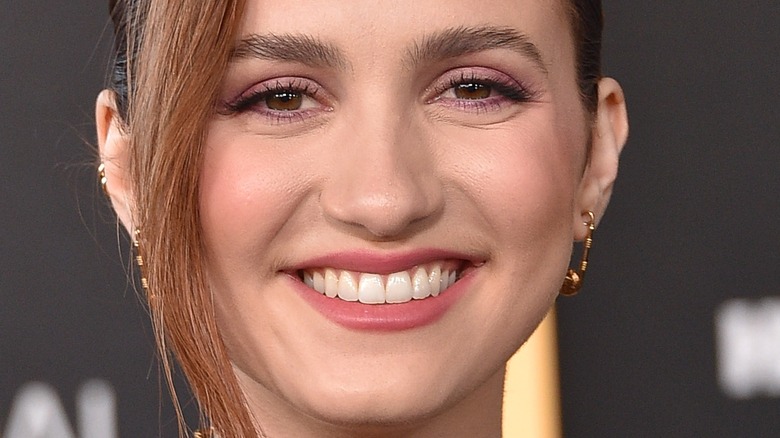 DFree/Shutterstock
In case you missed it, actor Maude Apatow comes from a pretty impressive family of actors. Her parents, Judd Apatow and Leslie Mann, are pretty famous in their own right — Judd primarily for producing hit comedies and Mann for starring in blockbuster films like "This is 40" and "Big Daddy." Maude and her sister, Iris Apatow, are pretty famous as well, and since Maude began her acting career, she has amassed a social media following of over 4.8 million and counting. In comparison, Judd has nearly 1 million Instagram followers, and Mann boasts about 850,000 fans.
Some people may recognize Maude from starring in a few Jergens commercials with her famous mother, and there's no denying their on-screen chemistry. It's clear that Maude gets a lot of things (like her looks) from Mann, and they also share beauty secrets with one another, which is pretty fitting considering the commercials. In an interview with Allure, Mann explained how Maude has come into her own, and she kind of looks to her and her sister Iris as influencers. "It used to be that Maude and Iris would always come in and steal all of my makeup, and now I go in and steal Maude and Iris's makeup," she confessed. "They've taught me everything beauty routine-wise."
While Mann and Maude are super close and have a lot in common, the star can thank her dad for helping her get her big break in film — thus launching a pretty sweet career so far.
Judd Apatow explains how he helped daughters act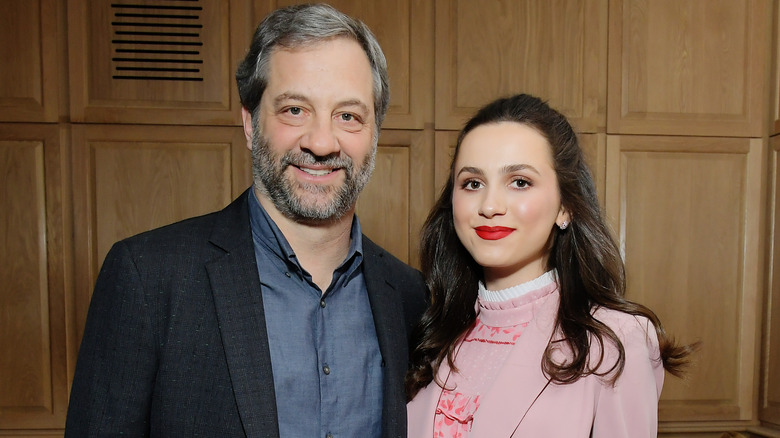 Charley Gallay/Getty Images
Maude Apatow can thank her pops, producer Judd Apatow, for giving her her big break. According to The Hollywood Reporter, Judd chatted with Conan O'Brien about casting his daughter, Maude, in one of his hit movies, "This is 40," which also happened to star his real-life wife, Leslie Mann, as well as his younger daughter, Iris Apatow. Judd's two girls also played minor roles in the 2007 film "Knocked Up" with Katherine Heigl and Seth Rogan. "They're not scared that cameras are around," he said. "They get sucked into what their real problems are with each other." Apatow also explained how he used their real-life drama to play the parts in the film. "Like, they're so annoyed with each other that they're not distracted by the fact that they're shooting a movie and it needs to go well, they're more concerned about whatever argument I'm trying to make them have on camera."
Apatow continued, giving a few examples of how he would get Maude to get fired up and angry at Iris, especially because she's the bigger sister. For instance, he told Maude to tell Iris that she can't watch "Lost" because she's too young. Of course, this caused a fight between the two girls, and the cameras caught everything. And a real-life sister fight is incredibly compelling.
Maude not only landed her first few roles thanks to her dear old dad, but those roles spiraled into a blooming acting career as Maude wants to follow in the footsteps of her famous folks.
Inside Maude Apatow's successful career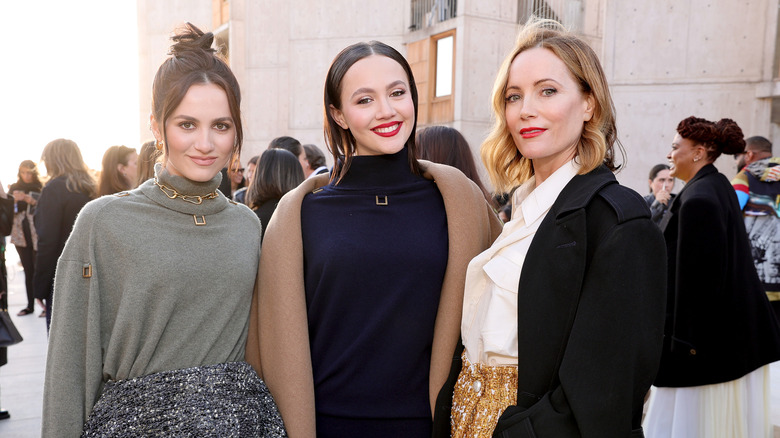 Emma Mcintyre/Getty Images
Maude Apatow has a few notable acting credits under her belt. After getting the nudge to act from her dad, the star landed a few wonderful roles, some that don't involve him and others that do. According to her IMDb profile, Maude has 12 acting credits to her name — including both movies and TV series. In 2015, she appeared in a few episodes of the HBO hit "Girls," Several years later, she landed a role in the TV mini-series titled "Hollywood." She's also appeared in "Euphoria" and "Pantheon," and in 2020, she scored a role in Pete Davidson's film "King of Staten Island."
In an interview with Variety, Maude said that while her famous father has a hand in helping her land roles in movies that he takes part in, she still wants to do things on her own. "I always want to make sure I can prove myself and that I'm right for it and that it's not just given to me," she said of her audition for "King of Staten Island," which Judd directed. Still, she's very well aware that some people believe all the roles she lands are the result of nepotism. "I didn't know if I wanted to do it because I knew people would give me s**t for it. But it's so special to me; I don't know when I'm ever going to work with my dad again, and he's taught me everything I know," she confessed. "He's my mentor. Why would I not do it?"