Inside Camille Kostek And Gisele Bundchen's Friendship
Ovidiu Hrubaru/Shutterstock
Gisele Bündchen and Camille Kostek are fast friends, and for good reason: their significant others are football royalty. Tom Brady and Rob Gronkowski have spent many years together playing in the NFL for the New England Patriots before moving to the Tampa Bay Buccaneers. 
Gronkowski initially joined the Patriots in 2010 and has had quite the bonding experience with the pro-baller. Brady has redefined the NFL and eventually took Gronkowski under his wing during the early stages of his career. "I would say basically the friendships are developed over football," Gronkowski shared with 247 Sports in September 2018. He continued to explain the pair have bonded on and off the field in order to have the "best chemistry" and to "be on the same page." The feeling is mutual, as Brady has shared his admiration for Gronk as well. "I think that speaks to our relationship and I feel as strongly about him as he does about me," Brady told NBC Sports that same month. "I love the guy. He has had a big impact on my career personally [and] professionally."
The pair has had such an impression on each other's lives and has had nothing but wins on and off the field. Their friendship doesn't end there, either, as their significant others also followed suit.
Gisele Bündchen and Camille Kostek have fun together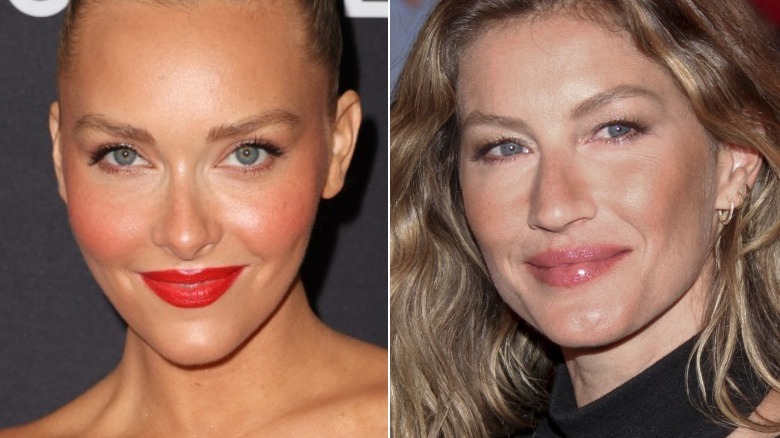 Tristar Media & Alexander Tamargo/Getty
Making friends when your partner is an athlete can be challenging, but not for Gisele Bündchen and Camille Kostek. Their significant others, Tom Brady and Rob Gronkowski, have the ultimate bromance, so it's only right that the beauties are close as well.
In February 2021, Kostek and Bündchen decided to have a little fun by recreating the hilarious video previously posted by their leading men years prior. In the social media clip, the models shared a video of them celebrating their significant other's big Super Bowl win that year. In the video, the two are glowing with excitement and wearing Buccaneer gear in support of the big news. What better way to celebrate such a joyous occasion? As fans would know, the short clip was more than a celebratory moment, it was actually a re-creation of an iconic, viral video their partners made in January 2019. Set to Diddy's single, "Bad Boy For Life," the models posed on the field doing similar poses that their counterparts once did. 
Fans immediately connected the dots and took to the comments to share their thoughts. "Now we need all 4 of y'all," one fan commented. Another stated, "this is the content I didn't know I needed." It's clear that the Sports Illustrated model and cookbook author have developed a tight bond with each other which stems from their relationship with their partners who are basically attached at the hip.
Gisele Bündchen and Camille Kostek have a lot in common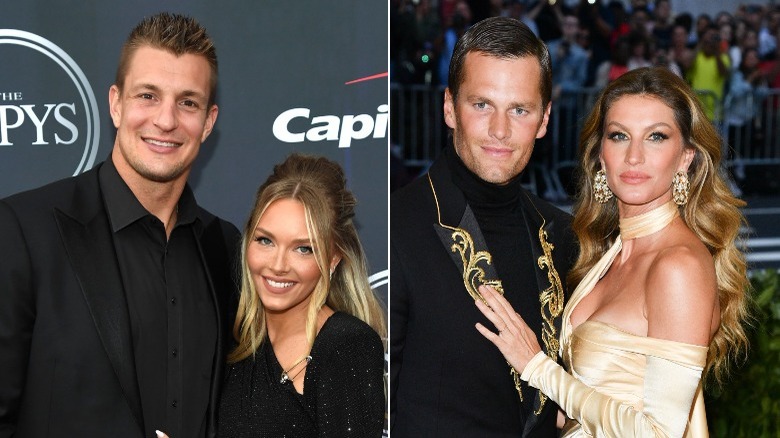 DFree/Shutterstock & George Pimentel/Getty
Gisele Bündchen and Camille Kostek have more in common than you think. They both have a strong relationship with their devoted partners. Bündchen has been married to Tom Brady since 2009. Over the years, Brady and Bündchen have been extremely vocal about their admiration for each other.
In an interview with People in June, Brady shared that Bündchen is an "amazing wife" and admitted that she's a "great influence" on him. "I think without her, there's no way I could be doing what I'm doing," Brady shared. "It takes an amazing partnership to do it." While the pair has had their ups and downs, a source revealed to Us in May 2020 that the long-standing couple has "gotten even closer over the years by being open and honest with one another and by committing to each other and prioritizing their family."
Naturally, Gronk and Kostek have a strong bond as the couple has been going strong since 2015. While the pair are not married as of this writing, they "work, live, [and] travel together." In an interview with Us Weekly in April, the former NFL cheerleader admits that she is not "stressed" about getting engaged, and already calls Rob her "partner" regardless. She also shared that they are "blessed to wake up next to each other every single day!" One way or another, Bündchen and Kostek are destined to be in each other's lives.