Here's What Teresa Giudice Really Looks Like Without Makeup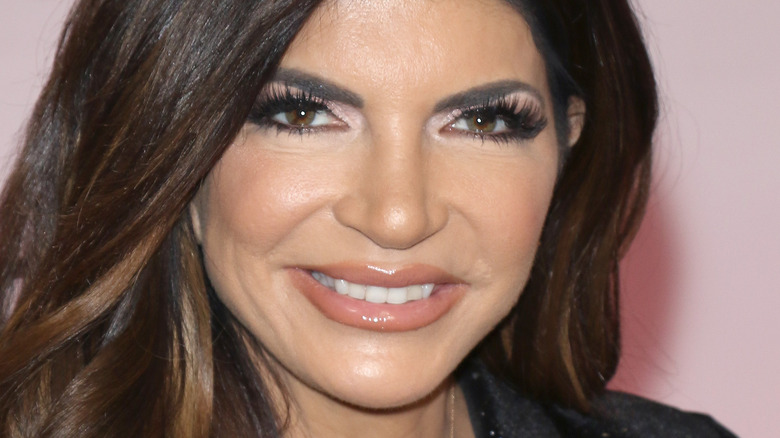 Jim Spellman/Getty Images
When Teresa Giudice tied the knot in August, her massive mound of curls stole the show. On "Radio Andy," hairstylist Lucia Casazza revealed that the uppermost portion of her wedding look was sculpted from over 1,500 hairpins and thousands of dollars worth of real human hair. But "The Real Housewives of New Jersey" star didn't just spend a lot of time and money on her keratin cathedral — her makeup artist, Priscilla DiStasio, painted a masterpiece on her face using over a dozen different cosmetic products, as she revealed on Instagram.
Even when she's not getting made up for a special occasion, Giudice is willing to shell out the big bucks for her glam. In 2018, Glamour reported that she spends over $22,000 a year on makeup, beauty treatments, and skincare products. On cosmetics alone, she shells out over $3,000 — and this isn't counting the lotions and potions that she uses to prep her canvas. "You know what I do? I always buy two of everything, so if I'm traveling I have an extra set," Giudice revealed. One of her biggest obsessions is lipstick, and she's also a fan of using lip liner to create the illusion of larger lips.
Unsurprisingly, it's rare to see Giudice without makeup on Instagram, but on occasion, she'll show her fans what is underneath it all.
The secrets behind Teresa Giudice's makeup-free look
In 2019, Teresa Giudice shared a series of Instagram photos that earned her an avalanche of praise for her flawless and seemingly bare skin. While we can't be certain that Giudice didn't sneak a little something onto her face, many of her followers assumed that she was rocking a makeup-free look. "WOW! You do not need all the makeup ... you are naturally beautiful!!!" one fan wrote in the comments. "You look so much younger with this natural look!! I love it!!" another remarked.
Giudice doesn't just use makeup to enhance her appearance. Speaking to Glamour in 2018, she revealed that she gets lash extensions about twice a month to give her eyes a dark, fluttery frame without having to apply mascara. "I don't need to wear as much makeup with them," she dished. To minimize the appearance of her pores, she gets Hyrdrafacials, and, yes, she's admitted to using Botox. "I look so much better now compared to when I first started doing the show. I feel great," she said of the results. Another cosmetic procedure she has embraced are lip fillers. During the 2021 "Real Housewives of New Jersey" reunion show, she fessed up after host Andy Cohen commented on her plumped-up pout. She said that she was satisfied with the results — as was her husband, Luis Ruelas. "He loves sucking on them," she revealed, per Bravo.
How Teresa Giudice stayed glam in prison
In a 2021 Bravo Insider video, Teresa Giudice showed her fans just how much of a makeup fanatic she is by letting them see what her vanity looks like. Almost every inch of its surface was covered with products, and she had separate drawers for her collections of foundation and eye shadow. "I look like I'm a makeup artist, that's how much makeup I have," she said.
When Teresa went to prison in 2015, she didn't get to bring her makeup stash with her — or the glam squad that gets her camera-ready for "The Real Housewives of New Jersey." But she didn't have to go cold turkey on the cosmetics. Per Page Six, the prison commissary's offerings included a number of Wet & Wild makeup products and various foundations. After visiting her mom in prison, Teresa's daughter, Gia Giudice, told E! News, "She just looks so amazing. ...They just had her makeup done." (She didn't reveal who "they" was.) In a post-prison interview with People, Teresa stated, "The only time I wore makeup was when my family came to see me."
Teresa revealed that the prison actually had a salon, but some of her fellow inmates served as her volunteer hairstylists at the start of her sentence. She also told Vulture that the commissary sold boxed hair dye, and while she couldn't get a manicure, according to People, she could get her hands on some illegally obtained clear nail polish.