The Story Behind Donald Trump Jr.'s Controversial Appearance On The View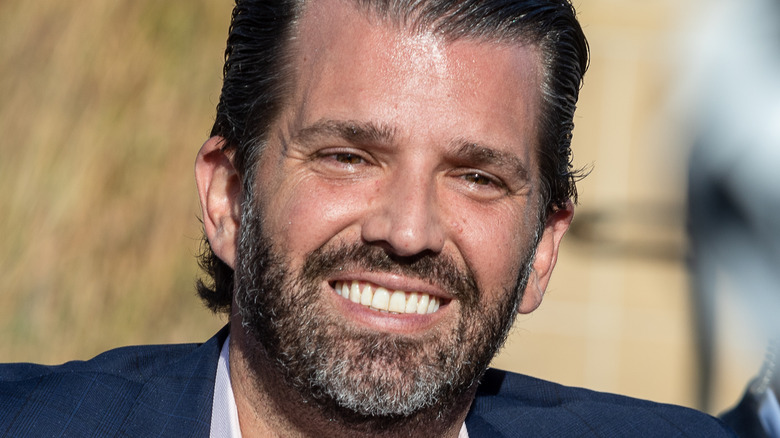 Chris Manning/Shutterstock
Donald Trump Jr. — eldest son of former president Donald Trump — is a controversial figure, both online and in real life. While he was a major figure in his father's 2016 and 2020 presidential campaigns, he has also garnered heavy criticism for his promotion of numerous unfounded conspiracy theories over the years, nepotism, and publicizing of his numerous (sometimes illegal) hunting trips. He has also been one of the largest figures in attempting to overturn his father's loss in the 2020 election, and even advocated for "total war" after the results had initially been tallied. 
Naturally, when Trump Jr. appeared on ABC's "The View" in 2019 alongside his girlfriend, Kimberly Guilfoyle, it became highly contentious — especially given co-host Meghan McCain's cynical views on his father, largely stemming from Trump's attacks on her own father, John McCain, during the 2016 campaign. Although Guilfoyle and Trump Jr.'s appearance certainly made headlines for its drama, it turns out that there is an even more dramatic story of what went on behind the scenes. 
Whoopi Goldberg yelled at The View's audience during Donald Trump Jr.'s appearance
Although "The View" is well-known for its diversity of perspective among its panels, the hosts gave been largely anti-Trump since the real estate mogul's announcement of his initial presidential run in 2015. However, Donald Trump Jr.'s 2019 appearance on the show — which took place under the backdrop of his father's first impeachment – was marked by both supporters and opponents in the audience, as both cheers and boos could be heard in response to several of Trump's remarks throughout the episode. 
However, it became clear during a commercial break that lead moderator Whoopi Goldberg was not fond of the booing, and even admonished the audience for jeering Trump and his girlfriend. The motivations of Goldberg, who is generally quite liberal, were largely technical rather than ideological. "The booing is f***ing us up," she told the audience, according to The Hollywood Reporter. "It's messing with everyone's mic. You can grimace and all that. All we hear is booing." 
This is not the only time Goldberg has scolded the audience for their booing, which seems to be all but prohibited in the studio. She similarly chastised the audience in early 2022 when they booed former Trump advisor Kellyanne Conway, and several audience members claimed in August 2022 that Goldberg did not give the audience a chance to boo their new conservative permanent co-host, Alyssa Farah Griffin, upon her first introduction to the panel. 
The View co-hosts brought their beef to the audience
Although Donald Trump Jr.'s nearly half-hour-long interview with the ladies of "The View" was contentious and, at some points, heated, the political divide within the audience may have been even more prominent. According to The Hollywood Reporter, the first few rows of the audience that day were largely pro-Trump, with one pro-Trump audience member even asking, "Who killed Epstein?" during a commercial break, likely suggesting that one of the Clintons ordered convicted sex offender Jeffrey Epstein killed in prison, a conspiracy theory which Donald Trump has touted. Apparently, co-host Meghan McCain turned to this audience member at one point and said, "If you can let me speak, I would appreciate it."
In addition, after the audience continued to boo despite Whoopi Goldberg's reaming of them for doing so, the show's warm-up comedian shouted out during a subsequent commercial break, "No booing, no yelling out. No booing, everybody."
However, not all of the audience was pro-Trump. Upon Goldberg's announcement that the segment with Trump Jr. and his girlfriend was ending, one audience member yelled "Praise the Lord!" Another audience member — despite calling herself a "non-Trump person" — told The Hollywood Reporter that she was glad the eldest Trump child had appeared on the show, largely because she enjoyed seeing him squirm. "I think it's good," she said. "Let him be uncomfortable." This sentiment largely tracks with the majority of the show's base, which is overwhelmingly Democratic, per The New York Times.