Will Smith's Jokes Are Going Strong In His Social Media Return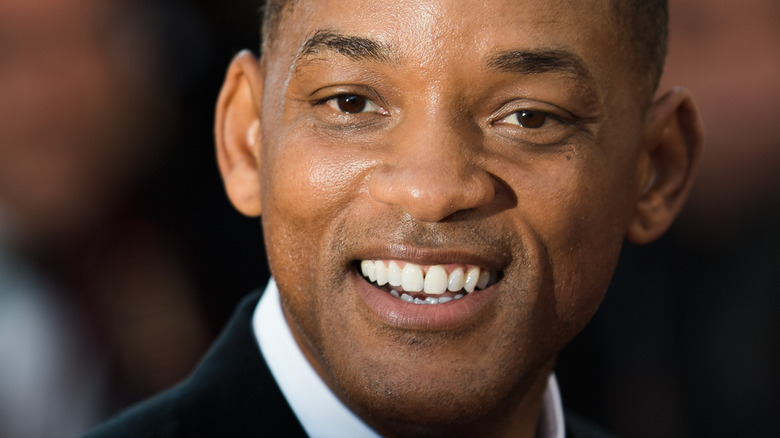 Matthias Nareyek/Getty Images
Nobody puts Will Smith in the corner! After he rushed the stage during the Oscars and smacked Chris Rock's face, Hollywood insiders predicted the incident could spell the end of Smith's career. However, just months after the infamous slap that was heard around the world, Smith continues to slowly make his way back into the public spotlight.
Rock's jokes about Jada Pinkett Smith's baldness had pushed Smith over the edge. She lost her hair as she suffers from alopecia, which Rock allegedly wasn't aware of at the time. "The joke was funny. It wasn't hilarious funny, but I know that if he knew that she had alopecia, he wouldn't make a joke about that," the comedian's brother, Kenny Rock, told People. Smith was immediately contrite over his behavior. He took to social media to apologize for his actions and unsuccessfully attempted to speak directly with Rock to tell him he was sorry.
But, it seems Rock may never forgive Smith for linking his name to an event that the pop culture world will never forget. "It sucks that it is now part of his life forever," a source told Hollywood Life. The actor paid the price for his poor behavior. Smith was hit with an Oscars ban, preventing him from attending Academy Awards-related events for ten years. And NME reported he was losing film projects left, right, and center. However, he's managed to maintain his sense of humor. In fact, Smith's jokes are going strong in his social media return.
Will Smith is crawling back into the spotlight
Will Smith appears ready to put the past behind him and move forward in life. Smith has emerged from the Oscars fallout with a new state of mind. "Will is in a really good place, as good as it can get at this stage," a source told Us Weekly. They said he feels "a huge weight has [been] lifted off his shoulders." Smith's optimistic about the future and ready to put himself back out there again.
Well, one thing's for sure, his sense of humor is back with a bang, and Smith's jokes are going strong in his social media return. A recent Instagram video had the actor's fans crawling on the floor in laughter — which is ironic as the video involved a tarantula crawling on the floor, albeit not laughing. It all started after Will and his son Trey Smith spotted the giant arachnid ambling across the floorboards.
"What the whole hell? That is a big-a** spider!" Will exclaimed. And he wasn't kidding, at that point anyway. He delegated Trey to be the tarantula whisperer. "You're young and strong," Will told him. "You can handle the bite." It took three men to finally remove the giant creepy critter, something Jada Pinkett Smith could have probably done solo — just sayin'. "We're selling the house," Will decreed. The video received over 900,000 likes in a day and thousands of comments. "Welcome back," one fan wrote.