Body Language Expert Reveals Subtle Changes In Will And Jada's Relationship After Oscars Slap - Exclusive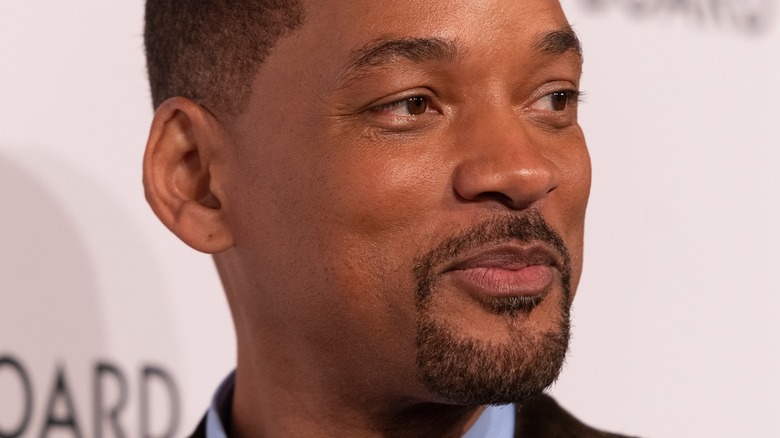 lev radin/Shutterstock
After the release of his much-discussed apology video, it looks like Will Smith and Jada Pinkett Smith are out and about in public for the first time since The Slap. As the two A-listers undoubtedly already know, all eyes are on them to see if there are any clues as to how they're both feeling about making a return to public life. So we talked to Jess Ponce III — body language expert, communication coach, and author of "A.W.E.S.O.M.E.," — who tells Nicki Swift that he's noticed subtle changes in the couple's behavior. 
"Naturally, they want to get past the incident and move forward with their career and lives. But, going about their day to day activates in public now has an added layer of stress," Ponce says. "While they are no strangers to the constant attention, every move is now under a different type of scrutiny. People are looking for certain signs. For example, how much of a protector is Will? How much does Jada rely on him? Is she mad at him?" 
There are multiple ways to interpret Will and Jada's behavior
Looking at a clip of Will and Jada Pinkett Smith on their first public outing since The Slap, Jess Ponce III says you can read their body language in a variety of ways. "Will is walking steadfast with intent. His pace is somewhat casual, but he is noticeably purposeful and aware of his surroundings," Ponce explains. By contrast, "Behind him is Jada hanging on to his shirt. She seems self-conscious and somewhat uncomfortable." Ponce also points out that you don't see any bodyguards immediately visible, which makes them look slightly vulnerable. 
Ponce suggests that one could derive a sense of protectiveness from Will, who appears more alert and comfortable than Jada. Maybe, Ponce says, Will is trying to shield his wife from the photographers. But that's not the only way to look at it. You could also look at this clip and sense a lack of intimacy between them. Ponce explains, "They are not holding hands. Rather, she is just following him. Is she holding onto his shirt because she's anxious he might do something?" After all, she was the one who supposedly pushed Will to apologize, even though he "never wanted to," according to an insider for Us Weekly. "It would be impossible for him to move forward successfully unless he [addressed the slap]," they said in August.
Will Smith and Jada Pinkett Smith are clearly uncomfortable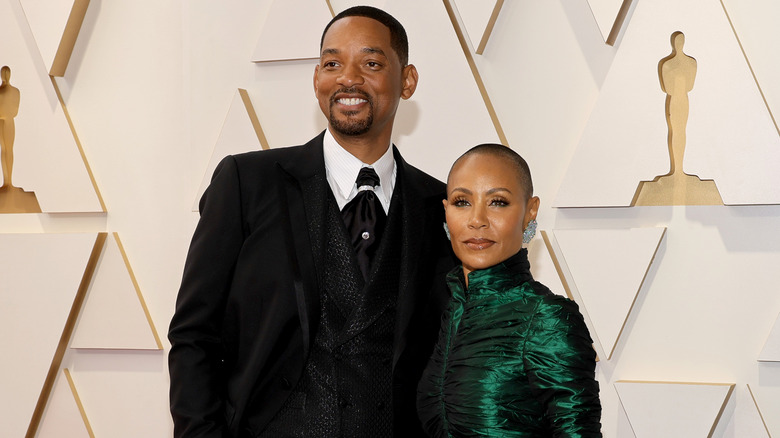 Mike Coppola/Getty Images
At the end of the day, Jess Ponce III says what you glean from the clip with regard to Will Smith and Jada Pinkett Smith's relationship really comes down to "how much you want to like or dislike them." But there are some clues about their body language that Ponce says are unmistakable. "Any which way you chose to look at it, there are some undeniable cues. It is awkward. She is not comfortable. He is trying to appear natural. They are both self-conscious." Ponce adds, "To me, these non-verbal protective cues have been amplified since the incident with Chris Rock. It has impacted how they engage others and one another."
If Will and Jada are having marital troubles since The Slap, they definitely haven't told the public about them. Back in April, an insider told Us Weekly that Jada was not "angry" with her husband after the incident, but she wasn't pleased about it, either. "It was in the heat of the moment and it was him overreacting," the source said. "He knows that, she knows that. They're in agreement that he overreacted." 
Does this clip show that they're not quite as in-step as they seem? You decide.