Priyanka Chopra Shares Rare Glimpse Of Her Daughter With Nick Jonas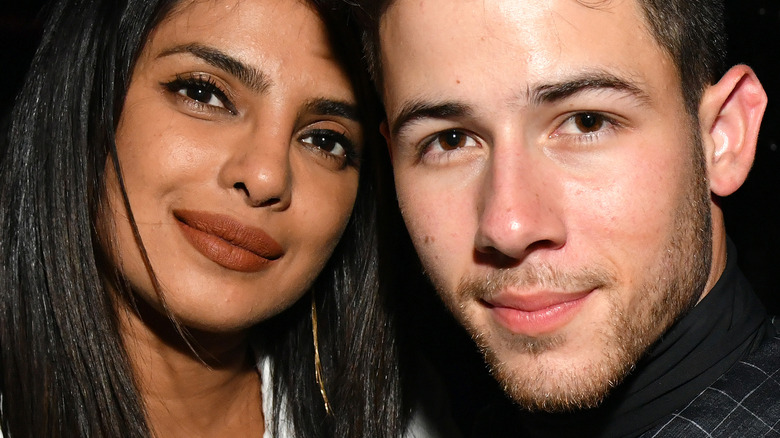 Craig Barritt/Getty Images
Fans of singer Nick Jonas and "Baywatch" star Priyanka Chopra have been on baby watch ever since the couple broke their surprise birth news on Instagram in January. At the time, the only detail the parents shared about their new addition was that a surrogate carried their baby, and their request for privacy was a strong hint that photos and updates of their little one would be few and far between.
Chopra is also careful about what she shares on social media in general, explaining to Vanity Fair, "It's a very vulnerable feeling, actually, that if I post a picture, everything that's behind me in that picture is going to be zoomed in on, and people are going to speculate." But there was another potential reason her and Jonas' baby announcement didn't include a photo. On Mother's Day, Jonas shared an Instagram update with fans that read in part, "After 100 plus days in the NICU, our little girl is finally home." His post included a family photo, but his daughter's face was obscured behind a heart emoji.
TMZ learned that Chopra and Jonas' daughter is named Malti Marie by obtaining access to her birth certificate, and the top of the tot's head made an appearance in a birthday tribute to Chopra's mother. Now, the "Quantico" star is sharing another peek at her pride and joy.
Nick Jonas and Priyanka Chopra's daughter can already accessorize like a pro
On August 21, Priyanka Chopra shared a sweet Instagram snapshot of Malti getting a cuddle from her mom. Malti's face was turned away from the camera, but she was all dolled up for her impromptu tableside photo shoot. Her ruffled white onesie was color-coordinated with Chopra's collared shirt, and a stretchy beige headband adorned her head. She also sported a black cord bracelet around her wrist. Chopra's post included a second photo of her daughter's tiny feet pressed against her face. It revealed that Malti was rocking another stylish accessory: a wee beaded anklet with heart charms. "Love like no other," Chopra's caption read. 
In July, a source told Hollywood Life that Chopra and Nick Jonas want some more of that love in their life. "Having a big, close family is the most important thing to both of them," the insider dished. Before she even met her daughter, Chopra confirmed that she would like for Malti to have siblings. "I do want children, as many as I can have," she told The Times in January 2021.
Luckily, she and Jonas see eye-to-eye when it comes to family size. Pre-fatherhood, Jonas shared his thoughts about becoming a parent, telling E!, "It's going to be a beautiful journey, and I hope for many." Looks like Malti better find somewhere good to stash her accessories.