Body Language Expert Peels Back The Layers Of Hoda Kotb And Savannah Guthrie's Rumored Feud - Exclusive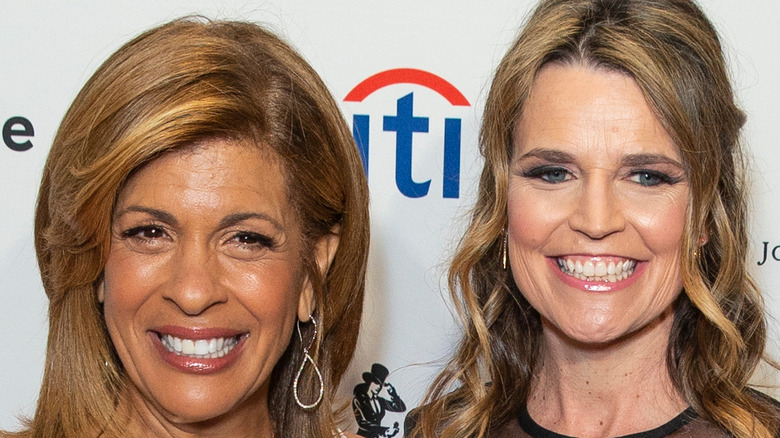 lev radin/Shutterstock
Fans everywhere rejoiced when Hoda Kotb was chosen to replace Matt Lauer as the co-anchor of the first hour of NBC's "TODAY" with Savannah Guthrie, the two becoming the first all-female anchor team in 2018. Per The New York Times, this new lineup was well-received by audiences, beating out ABC's "Good Morning America" for the first time in five years.
Guthrie herself seemed thrilled about the news, stating, "This has to be the most popular decision NBC News have ever made and I'm so thrilled." She then addressed Kotb specifically "as a partner and a friend and a sister." All seemed to be going well in the partnership until rumors of a feud began to circulate in July 2022.
During the morning programming, fans took notice of Guthrie acting coldly towards Kotb during a cooking segment, snapping at her to "move on." Additionally, a source close to the production told The U.S. Sun that Kotb and Guthrie "can't stand each other." Guthrie sees herself "as a real news person," while she views Kotb as more of a television host. Even so, the co-anchors' chemistry seems to have imploded with more and more awkward on-screen moments.
Body language expert Jess Ponce III breaks down successful television hosting
Dimitrios Kambouris/Getty Images
While the simple answer would be for Hoda Kotb or Savannah Guthrie to exit the lead anchor role amid their feud, NBC's "TODAY" relies on both women to bolster their popularity. As for how to rehabilitate the situation, body language expert Jess Ponce III explained how the pressures of hosting live talk shows can lead to awkward moments on-camera.
"As a former TV producer who has spent years working with talk show co-hosts, I have to say the job is far more challenging than it appears," Ponce told Nicki Swift exclusively. "Not only do you have to engage with guests, represent the interests of the viewers at home, entertain and inform your audience, you are tasked to do all of this with a partner." Ponce then elaborated that live shows add more pressure because "of time constraints." Working with another co-host is difficult as well, given that the "on-camera presence together needs to come across seamless, easy, and natural."
"In the instance of Hoda and Savannah, you have two experienced on-camera personalities," Ponce, author of "A.W.E.S.O.M.E.: 7 Keys to Unlock the Speaker Within," told Nicki Swift. While both have years of on-screen experience, Guthrie and Kotb have "distinct backgrounds," with Guthrie being more of a journalist and Kotb more of a personality. "With the right direction it indeed is a seller duo, but without guidance there are challenges," Ponce asserted. 
Jess Ponce III suggests how the hosts could improve their presence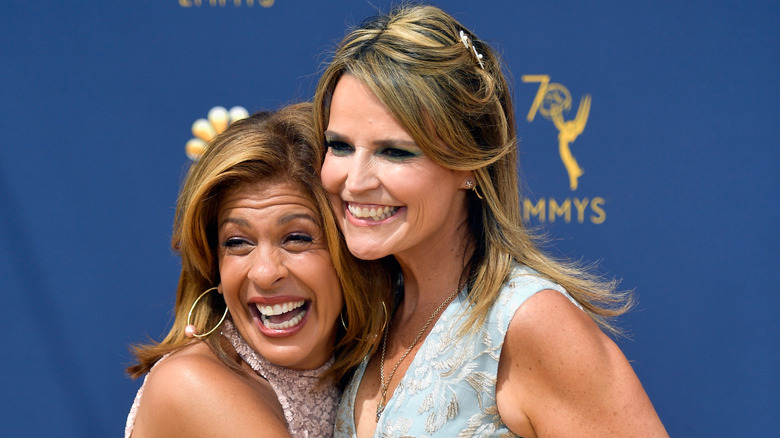 Matt Winkelmeyer/Getty Images
While two opposite personalities can complement each other, they also run the risk of clashing. With Hoda Kotb and Savannah Guthrie, what started off as the former is quickly devolving into the latter. According to Jess Ponce, the tensions between the two could be resolved with "cooperation" and "delineation of roles."
"That does not mean that one is the overall lead, but rather in certain circumstances one does take the lead," he told Nicki Swift exclusively. Ponce then shifted to discussing the uncomfortable cooking demonstration, in which Guthrie comes across coldly as she hurries along Kotb and guest Elizabeth Heiskell. As for how the anchor addressed the others, Ponce felt Guthrie simply took "the role of timekeeper" because it was "something natural for her."
"Could she have said it differently? Sure," Ponce added. "But was she being mean to Hoda? Not at all." Kotb was more engaged because of her background in hosting, while Guthrie was more focused on taking the lead from a structure standpoint. Ponce chalked up the awkwardness to poor production. "NBC needs to give them a winning scenario. This confusion, or natural tension, also happens when all the hosts are together," he said. 
The body language expert concluded that the hosts simply need a "winning solution" from NBC, as they are "both committed and professional." Ponce concluded, "Any perceived conflict is driven by lack of clarity, not by a lack of respect or admiration for one another."