What Really Happened Between Travis Barker And Rita Ora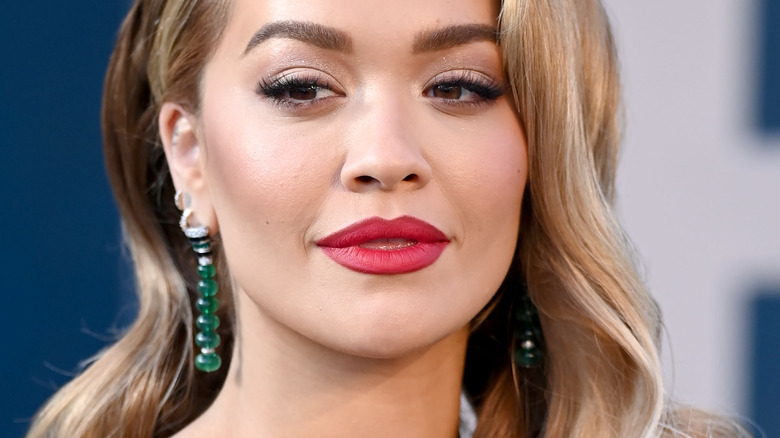 Lionel Hahn/Getty Images
Travis Barker and Kourtney Kardashian gave new meaning to PDA when they went public with their relationship. From red carpet make-out sessions to handsy, private plane Insta-shots, these two lovebirds, who tied the knot in a glamorous Italian wedding in Spring 2022, have brought the public along for every single milestone. The intensity of their relationship makes it hard to remember that the Blink-182 drummer was one-half of a string of celebrity romances before he met the eldest Kardashian sibling. For instance, he and singer Rita Ora (who's now married to director Taika Waititi) were once involved in a brief (and we do mean brief) courtship that didn't quite rival the public nature of his relationship with the "Kardashians" star but definitely came close.
US Weekly was the first to report that Barker and Ora were dating in 2015. The publication cited a source with ties to Barker, who stated, "[Barker's] really into [Ora.] He likes interesting women and she's beautiful." The same source noted that their mutual love for music is what cemented their bond. 
A few weeks later, Barker followed up with US Weekly and while he didn't explicitly confirm a relationship, he did share that he and Ora met at the Power 106 All-Star game. "We just took a photo together, but obviously she's stunning and she's awesome," Barker added. "Of course, Rita Ora was like the only hot cheerleader at the whole spot, so you couldn't help but notice her."
Soon after, more public affirmations followed.
Travis Barker gushed about Rita Ora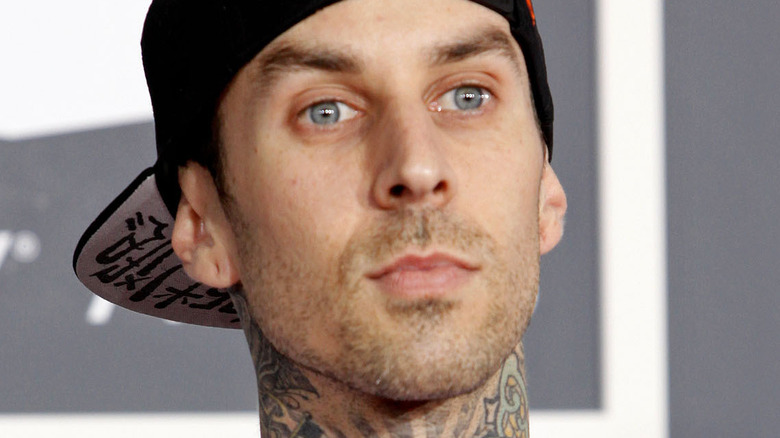 Joe Seer/Shutterstock
Officially, Travis Barker and Rita Ora dated for about three weeks (via Daily Mail UK). During that time, the couple managed to pack in plenty of social media content. For instance, Barker memorialized the short-lived couple's first official meeting in a black and white Instagram snapshot, which he captioned: "Me and the beautiful @ritaora at @power_106 #Power106AllStars." Pleased by the sweet shoutout, Ora posted the same picture to her Instagram account, replying: "Nice to see you too." Around the same time, Barker further gushed about Ora. In a now-deleted People interview, the drummer had nothing but glowing things to say, via PopSugar, "I mean, she's awesome. She's one of those great things that happen that you're like: 'Whoa, wasn't expecting that.' And I just never second-guess it. Just enjoy it."
Shortly after, In October 2015, Barker and Ora showed up separately to a Knott's Berry Farm Halloween event; however, Entertainment Tonight reports that the two linked up inside, where they spent time with Barker's children from a previous relationship. The same report states that the former "X Factor" judge got on well with the kiddos and that she was "really sweet" to them. Despite their fall fun, the relationship was over before Halloween that year. A source claimed that Barker said: "I don't have that longing to be in a relationship 24/7." A short statement for an even shorter relationship.
Travis Barker and Rita Ora's messy drama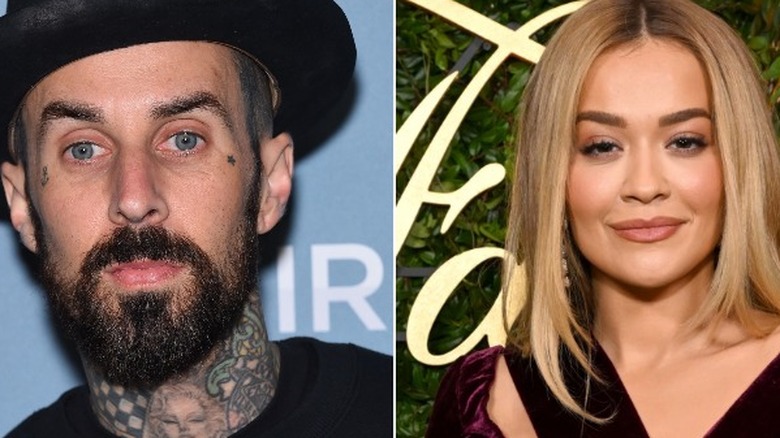 DFree/Shutterstock & Michael Kovac/Getty Images
Despite the relationship's brevity, Travis Barker and Rita Ora still experienced a bit of messy relationship drama. During the courtship, Barker's ex-wife, Shanna Moakler took to the press and shared some really negative revelations about their relationship. "Our marriage was plagued by his addictions to pills and other women," she shared with Daily Mail UK. She added, "He constantly cheated on me. Living with him was like being on a rollercoaster –- he's a Jekyll and Hyde character. I wish Rita good luck –- she'll need it."
While Barker never responded to Moakler's coarse words, he did address rumors that he was living with her while dating Ora. "One word for that: just thirsty. Thirsty. I have no connection to my baby's mama except that she's the mother of my children. I don't know where those rumors are coming from. That's the craziest thing I've ever heard," Barker shared with US Weekly, according to Contact Music.
And while Ora and Barker have been over for years now, they share another common thread: Robert Kardashian. Yes, that's right, before Ora dated Kourtney Kardashian's current husband, she dated her brother, who even got a tattoo of her, via IB Times. In spite of any possible awkwardness, the Kardashian family has welcomed Travis Barker with open arms if their hit Hulu show, "The Kardashians," where he and the reality star flaunt their love in front of the entire family, is any indication.