How Miranda Kerr Found Herself In The Middle Of A Diamond Scandal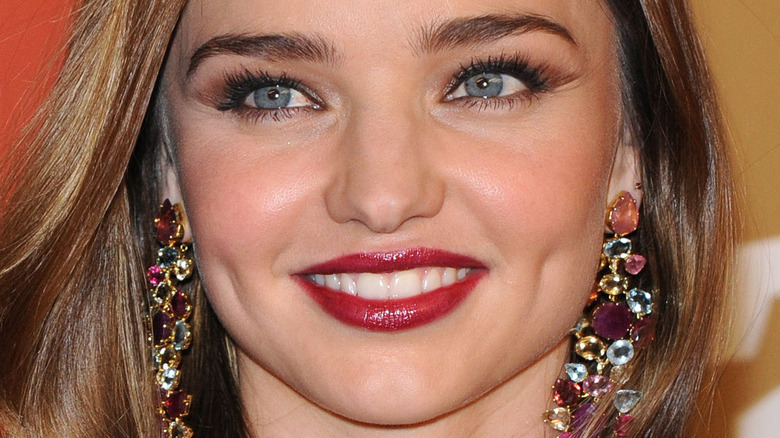 DFree/Shutterstock
How on Earth did Australian supermodel Miranda Kerr end up entangled in a multi-billion dollar (yes, that was a b) international embezzlement investigation? It's a long story that goes all the way back to her post-divorce life in 2014. 
The former Victoria's Secret Angel has been married to Snapchat CEO Evan Spiegel since 2017, and the pair even purchased a $120 million dollar Los Angeles mansion together in August 2022, per Architectural Digest. 
Prior to her marriage to the tech CEO, Kerr was married to "Pirates of the Caribbean" star Orlando Bloom. After three years of marriage and one son, they parted ways in 2013. Since their divorce, Bloom and Kerr have co-parented their kid peacefully, and Kerr has even grown close to her ex's new wife, pop star Katy Perry. The Kora Organics founder revealed that the two couples are good friends during a podcast interview on "Ladies First with Laura Brown." Kerr said that "Evan and Orlando really get along just as well as Katy and I."
Life seems peaceful now, but it was only a few years ago the cover girl made headlines for her links to the billionaire businessman who's since become a fugitive from justice.
A shady ex-boyfriend put Miranda in a tough position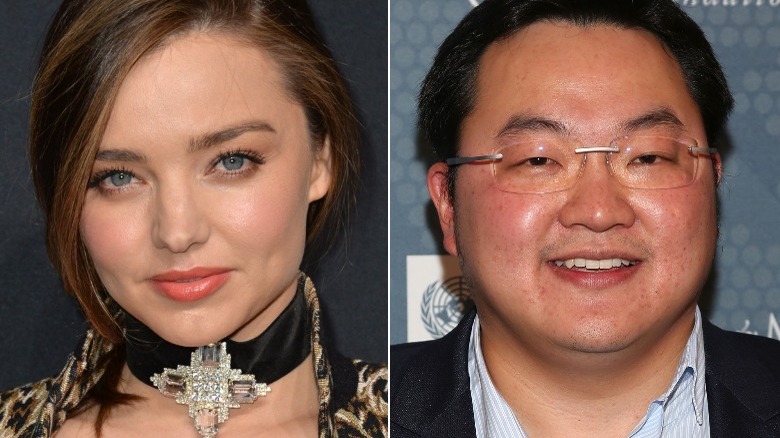 Taylor Hill/Getty & Featureflash Photo Agency/Shutterstock
Miranda Kerr may be friends with her ex-husband Orlando Bloom, but there's another ex out there that she's not so friendly towards. That ex-boyfriend would be Jho Low. 
Low was a high-flying businessman until his role in the massive 1MDB embezzlement scheme was uncovered. Per the Washington Post, Low is accused of stealing billions of dollars from a Malaysian government-owned development fund, called 1MDB. The scheme landed former Malaysian prime minister and 1MDB co-founder Najib Razak in prison on corruption charges (per Reuters), while Low has been on the run for his part in the plan since 2018. 
His attempts to court Miranda Kerr in 2014 made headlines when, as noted by Page Six, it was revealed that the businessman had spent millions on the model. His extravagant gifts to her included a heart-shaped diamond pendant worth $4.5 million, and a pair of earrings that retailed at $1 million. If receiving jewelry from a man since accused of being the mastermind of a major scandal wasn't enough, the diamonds weren't the only gift Low gave to Kerr, whom he reportedly dated for only a year. She also received a custom-built, see-through grand piano. According to The New York Times, such a piece could cost anywhere from $170,000 to more than $1 million.
Per Page Six, Kerr wasn't the only celebrity Low was using his ill-gotten gains to get close to; the financier also gifted Leonardo DiCaprio priceless Hollywood memorabilia.
... but, she was happy to cooperate wherever possible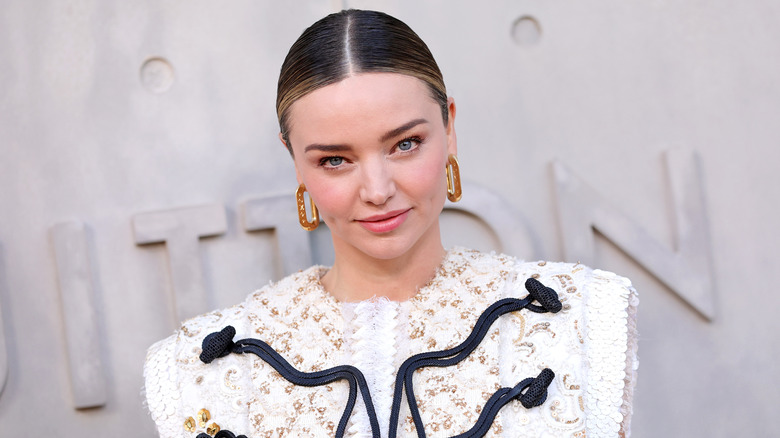 Emma Mcintyre/Getty Images
Despite the scandalous headlines, Miranda Kerr herself was never accused of any involvement in Jho Low's misdeeds. As Page Six reported when the story first broke, sources said she was happy to comply with the authorities — and had every intention of surrendering the gifts, even before she'd been asked to do so. Just over a week later, The Wall Street Journal confirmed that Kerr had given the jewelry over to the government. 
However, when it came to returning the priceless piano, things got a little more complicated. According to The New York Times, Kerr was willing to forfeit the piece, but its placement presented a sticky situation. Or, rather, a stuck one. Upon receiving the piano, Kerr had been encouraged by the manufacturer to enclose the space it was placed, to protect it. She did so, and as a result, the instrument was stuck in the house she lived in at the time. Speaking of the situation to the outlet, an official explained, "If you move it, you might damage it, and then you have to restore it." 
Four years on, we're not sure if the authorities chose to take the risk — or the piano.