Inside Lucy Hale's Little-Known Connection To Selena Gomez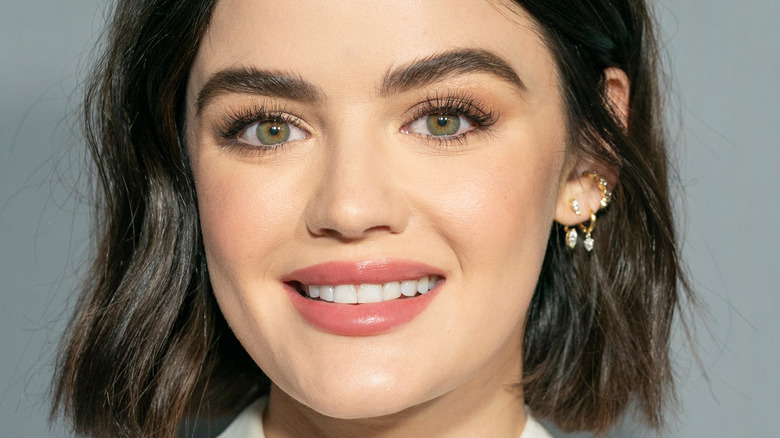 lev radin/Shutterstock
Lucy Hale and Selena Gomez are two prominent actors, who emerged as young TV stars in the 2000s. While Hale found fame through roles in projects like "Pretty Little Liars," Gomez's stardom skyrocketed with her starring role in the Disney Channel series "Wizards of Waverly Place."
In 2015, Hale appeared on "Late Night with Seth Meyers" and revealed that she has sometimes been mistaken for Gomez in the past. "I thought it was really cool at the time because it was when [Gomez] was dating Justin Bieber, and I would put on my sunglasses and ... people would come up to me and actually think I was her," Hale said. "And I would pose for the pictures. I would go with it."
Back in 2011, Hale took to Twitter to reveal one of these mix-ups, writing, "Someone was seriously convinced I was Selena Gomez today and tried to take my phone because they wanted to call justin beiber. Ohh life." The celeb doppelgängers definitely bear a strong resemblance to one another. In recent years, Hale elaborated on a connection shared between her and Gomez that is not often spoken of publicly.
Lucy Hale dated a co-star of her doppelgänger, Selena Gomez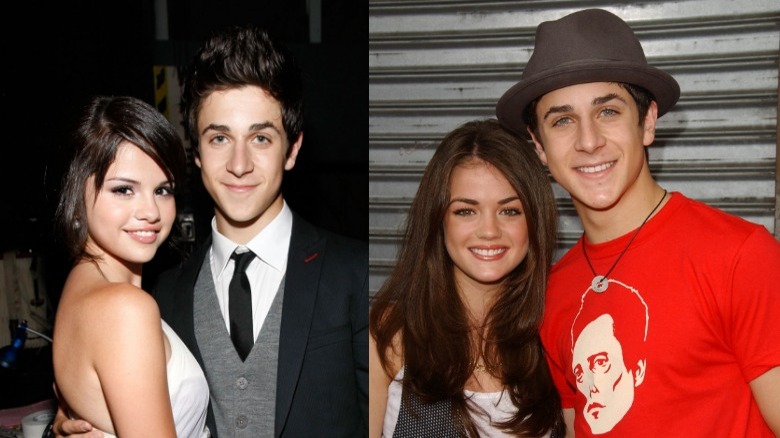 Michael Buckner/Getty & s_bukley/Shutterstock
Lucy Hale has opened up about how she and her celeb look-alike, Selena Gomez, used to run in similar circles during their years as teen stars. Hale did a 2020 interview with Wired in which she answered questions that are often searched about her on the internet. One of these inquiries happened to be, "Is Lucy Hale related to Selena Gomez?" In response, the "Truth or Dare" star first jokingly stated, "I am. We're actually twins, and we don't like to talk about it a lot in public."
Hale then explained that she previously hung out with Gomez and guest starred on "Wizards of Waverly Place" on two occasions in 2007 and 2008. During this period, Hale was dating David Henrie, another star of the show. "My long-term boyfriend at the time played [Gomez's] brother on 'Wizards of Waverly Place,' so I would see [Gomez] all the time," Hale said.
Gomez was asked about her resemblance to Hale while she was being interviewed by Mike Adam of "The Run Down" in 2011. The actor stated that Hale and Henrie used to be an item, and in regards to comments on how they look similar, Gomez said she and Hale "got that [comparison] when [they] hung out together." She isn't the only star Hale has been said to resemble, however.
Selena Gomez is just one of Lucy Hale's celebrity look-alikes
Past co-stars Lucy Hale and Selena Gomez certainly share some similarities in the looks department. In addition to this doppelgänger, Hale has said that she has more look-alikes in Hollywood. In 2017, Hale was asked who her "Definite doppelgänger" is by W magazine. Hale then listed four names, saying that she is "a mixture of Selena Gomez, Sarah Hyland, Mila Kunis and Maisie Williams." 
In Hale's 2015 "Late Night with Seth Meyers" interview, Meyers held up a side-by-side photo comparison of Hale and Hyland to display their physical similarities. Hale explained that Hyland is "a friend of [hers]," and in regards to the comparison, Hale said, "I'll take it. It's cool." Maybe this look-alike scenario can lead to a new Hollywood project. Hale jokingly alluded to this notion in a 2018 Instagram post. The photo she shared was a selfie of her and Hyland, which she posted with the caption, "Anyone tryin to cast some sisters?"
If Hale ever does pursue a doppelgänger collab, we'd be totally here for it!