Why Justin Bieber Once Had To Apologize To Bill Clinton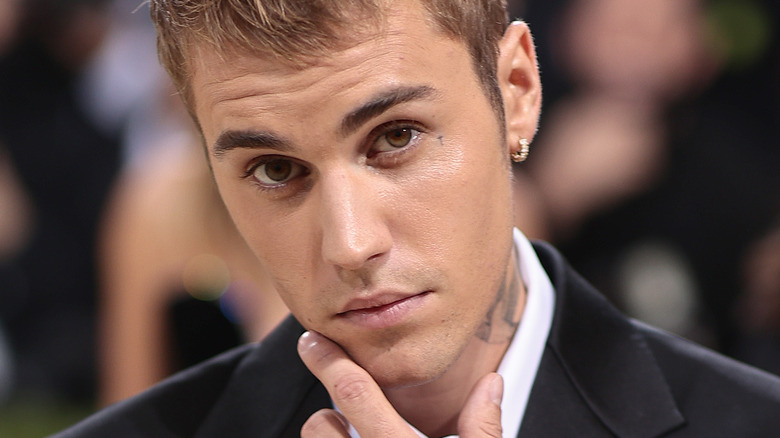 Dimitrios Kambouris/Getty Images
Canadian pop star Justin Bieber may be making headlines for his marriage to famed model Hailey Baldwin as of late, there was a time in his life when the emerging young artist was the subject of much ridicule, and as a result, went through a rather rebellious phase around 2013-2014. This included the singer lashing out at the media, and even getting arrested on suspicion of DUI in 2014. This phase got so extreme, Bieber reflected in 2015, per Complex, that he felt he "shouldn't even be on the planet still." He recalled, "I was doing anything."
One of these famous incidents took place in 2013 when Bieber was only 19, and involved a drunken Bieber, a mop bucket, and former U.S. President Bill Clinton. Though this incident made big headlines at the time, the subsequent interactions between Bieber and Clinton flew under the radar and involved an apology (and some surprisingly kind words) from the former president himself. 
Justin Bieber once spewed profanities at Bill Clinton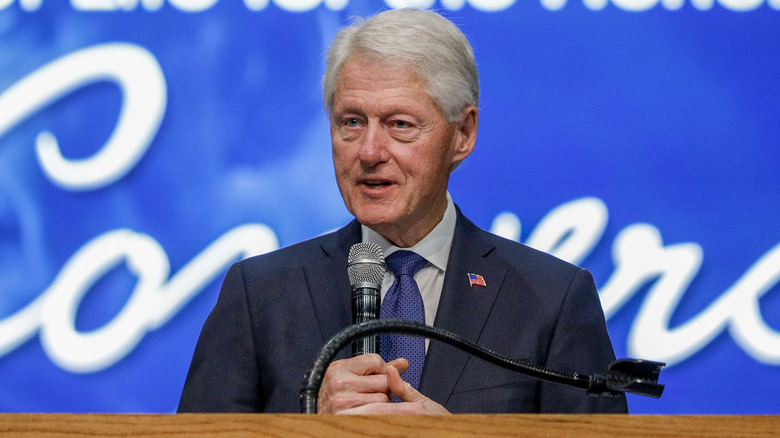 Bill Pugliano/Getty Images
In 2013, Justin Bieber made headlines when he was filmed urinating into a bucket in a New York City restaurant. TMZ reported that Bieber and his friends were leaving a nightclub, but decided to exit through the restaurant kitchen, where a likely intoxicated Bieber decided in a spur-of-the-moment decision that he needed to use the restroom, but decided to do it in a nearby mop bucket instead. 
At the end of the video, as Bieber and his friends were exiting the restaurant, Bieber can be seen spraying a picture of former President Bill Clinton with cleaning agent, and yelling, "F*** Bill Clinton!" 
This video, along with many other controversial decisions and actions by the young artist around that time, caused some controversy with the public. Naturally, once he had time to clear his head, Bieber took to Twitter to apologize to the former president only hours later. In the tweet, he also revealed that the two of them spoke privately (which Clinton's aide later confirmed). "Thanks for taking the time to talk Mr. President," Bieber wrote. "Your words meant alot." He then followed that with a hashtag, calling Clinton a "#greatguy."
Bill Clinton appears to have forgiven Justin Bieber
Though former President Bill Clinton never made a public statement about Justin Bieber or the controversial video of Bieber cursing him, there were news reports that he had accepted the young pop star's apology in the hours after he issued it publicly. 
A source close to Clinton told E! shortly after Bieber posted his tweet that the former president did not take too harshly to Bieber's actions, saying something along the lines of, "If that is the worst thing you have ever done, all is well." In addition, the outlet reported that Bieber even offered his services to Clinton's Global Initiative. Clinton, however, responded by telling Bieber that he should "focus on the good that he can do for the world." 
Another source confirmed to Extra at the time that Clinton did indeed accept Bieber's apology. In addition, Clinton apparently told Bieber to "be conscious of the friends" he has, perhaps a nod to the fact that it was one of Bieber's fellow partygoers who leaked the video in the first place.