How Jimmy Fallon Lost His Chance To Go Out With Nicole Kidman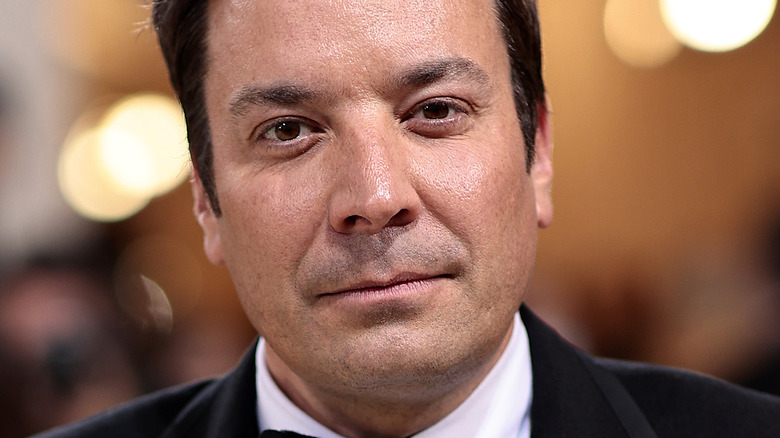 Dimitrios Kambouris/Getty Images
Jimmy Fallon and Nicole Kidman have had their fair share of Hollywood romances. Kidman was previously married to Tom Cruise, and later dated celebs like Lenny Kravitz before tying the knot with Keith Urban. Fallon, on the other had, was rumored to have had relationships with stars like Winona Ryder and Jordana Brewster in the past, and he's now married to film producer Nancy Juvonen. 
In a 2015 interview with Elle, Fallon spoke about what it's like to see his famous exes when they visit "The Tonight Show." "It's a little weird in my head," Fallon said. "I go, 'That was odd.' But I never ended anything badly. It almost makes it easier to have a conversation." He added that it's a "fun" experience to catch up with his former flames during these interviews. But, when she appeared on "The Tonight Show" herself, Kidman made an admission regarding her past romantic feelings for Fallon, which left the host and comedian completely shocked.
Jimmy Fallon 'had no clue' he was on a date with Nicole Kidman
Jimmy Fallon and Nicole Kidman just weren't meant to be! Kidman visited "The Tonight Show" back in 2015 and revealed how Fallon missed his shot at a relationship with her. The performer explained that she and Fallon had a mutual friend named Rick who tried to help link them up. After Rick got wind that Kidman had a crush on Fallon, he stepped in and arranged for the two to meet at Fallon's apartment. Fallon, however, was told that the meeting was professional, with the focus of discussing Fallon potentially having a part in Kidman's then-upcoming movie reboot of "Bewitched." 
Kidman said that Fallon didn't show any romantic interest in her during the meeting. "I just remember, I liked you," Kidman said, which elicited a stunned expression from Fallon. The "Lion" actor went on to state that Fallon "didn't say anything" to her at the time and ended up putting on a video game. "And so after about an hour and a half, I thought, 'He has no interest. This is so embarrassing,'" Kidman added. Fallon then stated, "I had no clue at all," before adding, "I am in shock right now." Of course, the anecdote has since become a sort of inside joke between the two stars, according to The Week.
But Kidman wasn't the only Hollywood star who would've dated Fallon, he learned in a separate "Tonight Show" conversation.
Jimmy Fallon and Kate Hudson also could've been a match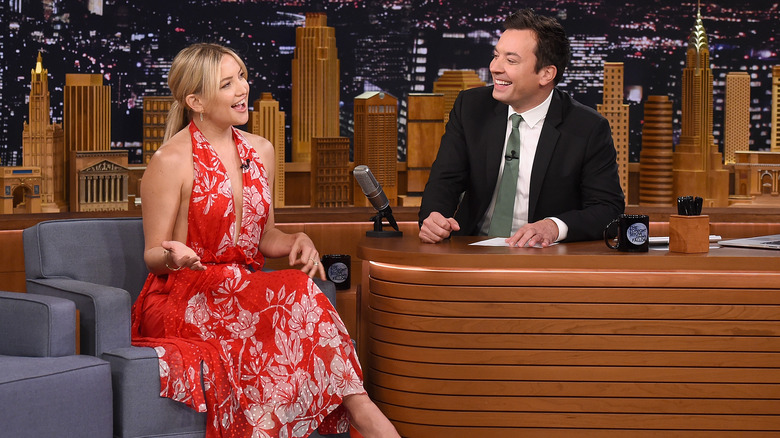 Jamie Mccarthy/Getty Images
Things didn't work out between Jimmy Fallon and Nicole Kidman and Fallon missed his opportunity with another famous face, as well. In 2018, Fallon and "Tonight Show" guest Margot Robbie played a game in which they both answered a series of personal questions. One of the inquiries presented was, "Do you have a co-star you thought you could've dated but didn't?" Fallon answered with Kate Hudson, his co-star from "Almost Famous."
Hudson then spoke to Fallon during a "Tonight Show" interview in 2020. During the chat, Hudson revealed how she also felt she and Fallon could've dated. Fallon and Hudson were "hanging out all the time" as they worked together, Hudson said. But, although they got along well, the relationship never turned romantic, as Fallon never made his feelings known. "You gave me no indication," Hudson said, adding, "Jimmy, if you would have actually made a move ... I would have totally gone there." The "Truth Be Told" star also said she eventually thought to herself, "'Oh, well, [Fallon's] not into me like that.'" Soon after, Hudson began dating her now ex-husband, musician Chris Robinson, and is now in a relationship with singer and Lightwave Records founder Danny Fujikawa. It looks like all's well that ends well in matters of the heart!