The Truth About Heather Dubrow And Heather Rae El Moussa's Friendship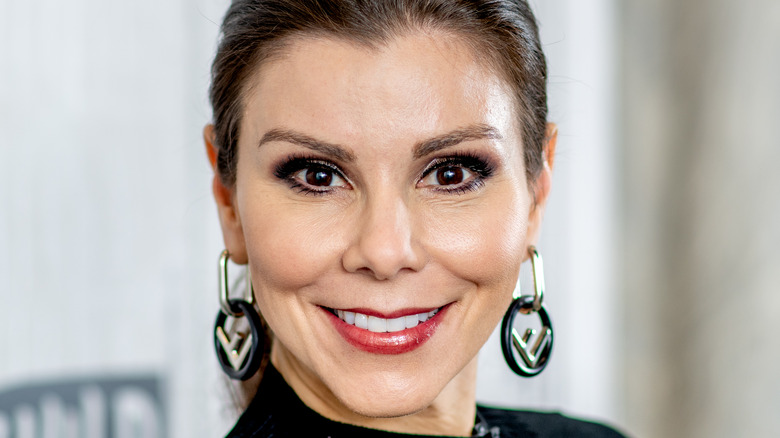 Roy Rochlin/Getty Images
Opposites may attract in romance, but in friendship common bonds bring people together. Take the burgeoning friendship between reality stars, Heather Dubrow and Heather Rae El Moussa. Not only do they share the same first name, but they are both reality TV veterans who star on glamorous reality shows — "The Real Housewives of Orange County" and "Selling Sunset," respectively. 
Plus, they're also married to partners who work in their same fields. Dubrow's husband, Terry Dubrow, is a plastic surgeon who's appeared on several reality shows, such as "Botched" and "The Swan." Likewise, El Moussa's husband, Tarek El Moussa works in real estate like she does. In 2023, they'll star in their own house-flipping show together (via Today). 
However, many different factors go into nurturing and sustaining a friendship. And despite the fact that these stars have dealt with more than their fair share of feuds on their own shows, it appears that Dubrow and El Moussa have found common ground with each other.
Heather Dubrow and Heather El Moussa value quality time
In our smartphone-obsessed world, it can be hard to form genuine bonds with people. This is especially true for people in the spotlight, who have to constantly wonder if they're being secretly recorded and spied on. Thankfully, this is a problem that Heather Dubrow and Heather Rae El Moussa don't have to deal with — at least not with each other. 
Recently, the fast friends took to social media to celebrate an intimate outing. El Moussa posted a photo of herself, Dubrow and three other girlfriends dressed in formal attire on Instagram. "POV: You got invited to dinner with great friends, got all dressed up in beautiful, sparkly gowns, have no phones allowed at the dinner table so you all could focus on connecting and great conversation, and ate fresh food in a stunning home together. I think dinners like these are my new favorite," she wrote. 
However, luxury dinners aren't the only way they get in their quality time; they also connect over luxury homes. El Moussa and Tarek El Moussa put their combined real estate experience to good use, as they were recently spotted showing Dubrow and her husband condos in Hollywood, according to the New York Post. Given the hefty $12 million price tag on some of the condos, according to a source, the Dubrow's can rest easy knowing the commission will go towards friends. 
Heather Dubrow has an inclusive approach to friendship
It's no secret that reality stars have hard times keeping and maintaining friendships, so it's rather refreshing to see Heather Dubrow and Heather El Moussa's friendship thriving. And although some might find it odd Dubrow is friends with someone younger than her, she's actually pretty opened minded where her friendships are concerned. No stranger to drama, Dubrow found herself having to defend her relationship with her "Real Housewives of Orange County" co-star, Gina Kirschenheiter, whom she became fast friends with (via Bravo).
"I think it's important to have friends younger than you, older than you, different walks of life, different ethnicities, different socioeconomic backgrounds, different everything, because why would you want to be with people who are all exactly the same," she shared during an episode of her podcast "Heather Dubrow's World." She added, "First of all, that's incredibly boring. And second of all I like to learn and as much as I can be a big sister to Gina, I learned a lot from her too and I get so much from her and that friendship." It seems that Dubrow has taken these same ideas into her friendship with El Moussa, given she's had no problem allowing the "Selling Sunset" star to lend her expertise to her condo search. 
When it all comes down to it, friendship is about connection — something that Dubrow and El Moussa seem to have figured out.