What's The Age Difference Between Alec And Hilaria Baldwin?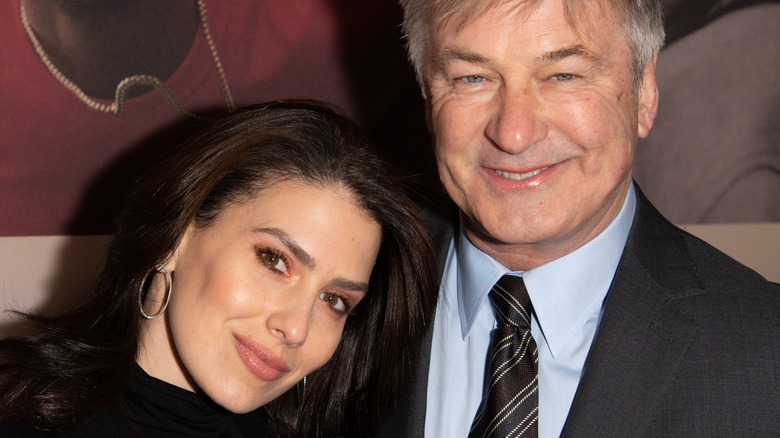 Ron Adar/Shutterstock
The marriage between Alec Baldwin and Hilaria Baldwin has faced public scrutiny for numerous reasons, including Hilaria's unwavering support of Alec amid the controversy surrounding the fatal shooting on the set of his film "Rust" in 2021. In a poignant Instagram post almost a year removed from the shooting, Hilaria shared a photo of her presumably holding Alec's hand with a caption that read, "I am not going anywhere. Take all the time to be sad. I am here."
Despite various concerns from fans, as well as buzz that Hilaria has been hiding part of her upbringing to seem like someone she isn't, the Baldwins appear to be happily married. The couple shares six children together with one on the way (as of this writing!). Alec also has an older daughter from his marriage to Kim Basinger, Ireland Baldwin.
Notably, the couple is also in an age-gap relationship. Although this isn't an uncommon element of many romantic relationships, especially in Hollywood, it turns out that the difference in Alec and Hilaria's respective ages is larger than fans might believe. Some might recognize, however, that Alec is technically old enough to be Hilaria's father himself.
The couple has a 26-year age gap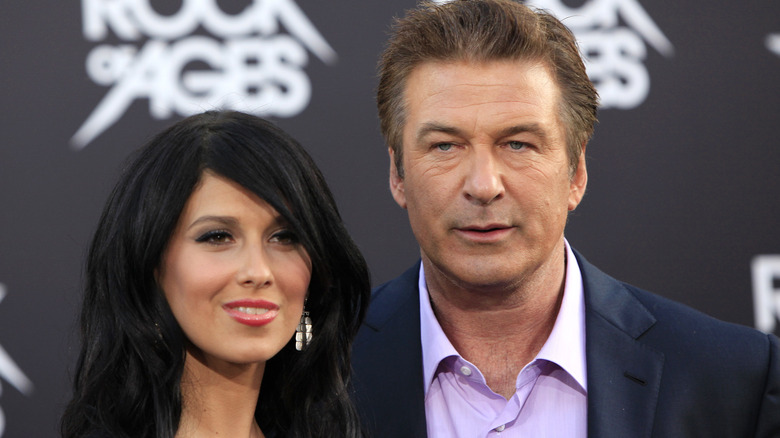 Joe Seer/Shutterstock
While it might be difficult to believe, Alec Baldwin and Hilaria Baldwin have a 26-year gap between their ages. In an article reporting on their wedding, Hilaria told the British magazine Hello! (via Us Weekly) that she didn't anticipate ending up in a relationship with someone so much older than her. She expressed, however, that "you cannot help who you fall in love with."
Alec was similarly complimentary of his wife and described how he knew that Hilaria was the one for him in his wedding announcement in The New York Times. "I've dated a lot of people since my divorce and have thought a lot about what I wanted and what I wanted to do. I thought about it too much, I suppose," he opined to the outlet. "I wasn't really ready to take that chance and to act until I met Hilaria."
At the time of their wedding, Hilaria was 28 years old, while Alec was 54 years old.
Their marriage shows that love knows no age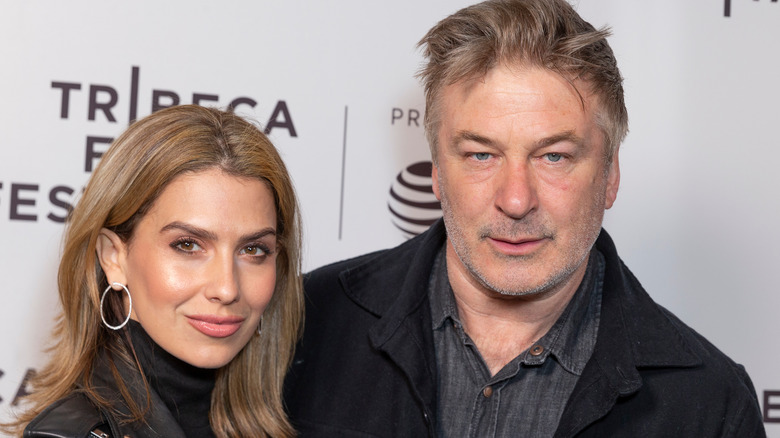 lev radin/Shutterstock
Some might think that such a large difference in their ages would make them less compatible with one another, but Alec Baldwin and Hilaria Baldwin have expressed that their age gap marriage works for them.
While appearing as a guest on an episode of "Literally! With Rob Lowe," Alec explained that his parenting style differs from that of Hilaria because of their age difference and said, "My wife prevails, if you will, but we do not always agree because I'm still much older than my wife" (via Today). This might seem like a drawback when raising children together, but Alec also insisted that he likes his marriage as it is. "I hit the jackpot as far as that's concerned, because I wound up having a lot of kids with a woman who's a great mom," he added on the same podcast.
Hilaria, meanwhile, has said on an episode of People's "Mom Talk" that husband Alec is more "old school" than she is about parenting their children."'You're the mom, you take care of the kids, and then I will come and go and I will read a book with them every once in a while' kind of thing,'" she described Alec's parenting style.