What Really Happened Between Jana Kramer And Brantley Gilbert?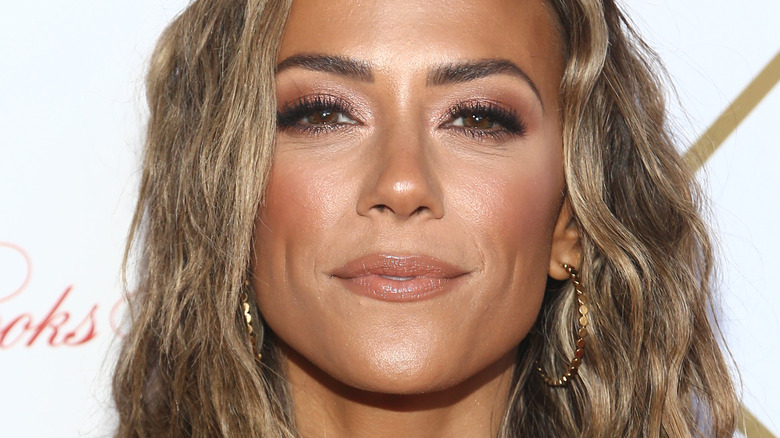 Tommaso Boddi/Getty Images
Country star Jana Kramer has had a rough go of things in the romance department. The "I've Done Love" singer filed to end her third marriage with ex-NFL star Mike Caussin in April 2021, following six years of marriage. "I've fought ya'll. I've loved hard. I've forgiven. I've put the work in. I've given everything I have, and now I have nothing else to give," Kramer wrote on Instagram, acknowledging that the time for fighting was at an end. News of their split wasn't a shock, as Us Weekly revealed that Caussin had been unfaithful years earlier. Despite Caussin's stint in rehab for sex addiction, and the couple's decision to renew their vows, their relationship had run its course.
Prior to Caussin, Kramer was married to Michael Gambino and Johnathan Schaech, per HollywoodLife. However, Schaech told fans in a Reddit AMA (via People) that "Jana and I had a wedding but we were never married. ...She wanted a singing career and that was what she was focused on." Despite the failed relationships, Kramer hasn't let past pain tarnish her joy. Just look at her 2015 track, "Love" for proof, where she sings, "I still believe in fairy tales / I still believe in picking flowers ... Love, love, love, I still believe in you."
Sweet lyrics aside, fans will have to go back in time to find Kramer's last happy relationship. Even though it ended in a split, she still has positive things to say about ex-boyfriend Brantley Gilbert.
Jana Kramer has regrets about Brantley Gilbert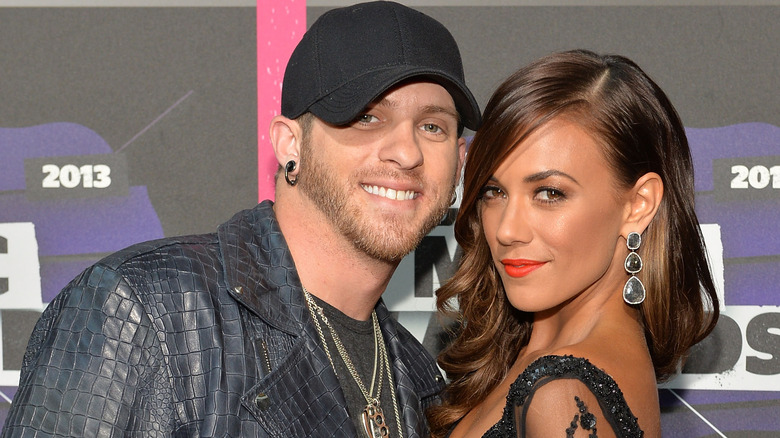 Rick Diamond/Getty Images
In 2013, People reported that country music stars Jana Kramer and Brantley Gilbert were engaged after Gilbert popped the question at Nashville's Ryman Auditorium Theater. "We could not be happier," the pair told the outlet. "We are so excited to share this special time with our loved ones and cannot wait to start the rest of our lives together." But less than a year later, Taste of Country confirmed that Gilbert and Kramer had ended their relationship, with both parties blaming their respective careers. "They are both so busy now," a source told People of the split. "They are both on the road and have to spend a lot of time apart, which isn't ideal for any couple, let alone a couple trying to plan a wedding." The insider also denied any reports of "foul play," making it sound like the pair had naturally drifted apart.
For Kramer, it was a period in her life that she regrets. On a 2020 episode of her podcast, "Whine Down With Jana Kramer," she told her then-husband that she wasn't healthy enough to be in a relationship with Gilbert at the time. "I wasn't the best version of myself in that relationship. I just wasn't. I always have a little bit of regret that I didn't handle things better," she admitted. Gilbert's now married to Amber Cochran as of this writing, per The Boot. "You'll hear her in most of my songs," the country star added.
Brantley Gilbert moved on with Amber Cochran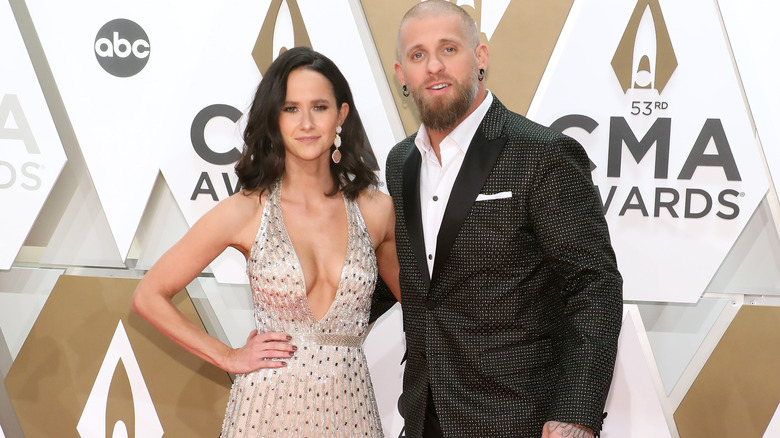 Taylor Hill/Getty Images
Jana Kramer might have regrets about how things ended with Brantley Gilbert — and it turns out, he remembers the "Whiskey" singer fondly, too. "That little girl's wonderful," he told radio station 100.7 The Wolf (via The Boot). "I love her to death. ...She's going to make somebody a wonderful, wonderful wife, and a wonderful, wonderful mother. But between she and I, the situation does exist where it just didn't work." Previously, Gilbert opened up to Taste of Country about his fear of commitment. "[Jana and I] went for broke, man. We went hard, we went fast," he explained, although he wasn't clear about why he and his former fiancée called time on their relationship.
Maybe it had something to do with Gilbert's long-standing feelings for his wife, Amber Cochran. The couple knew each other before Gilbert coupled up with Kramer, and as he told The Boot, Cochran "always had a very, very, very big piece of [his] heart." Acknowledging that he couldn't fully give himself away when Cochran was at the back of his mind, Gilbert said, "There's nothing like having somebody that loves every single bit of you, and that you love the same way, to actually really share it with."
Gilbert and Cochran share two children, Braylen Hendrix and Barrett-Hardy Clay, according to People. Today, they seem happier than ever and often post sweet tributes to each other on Instagram. Seems like everything worked out for the best in the end!