How Dove Cameron Really Felt About Being A Disney Channel Star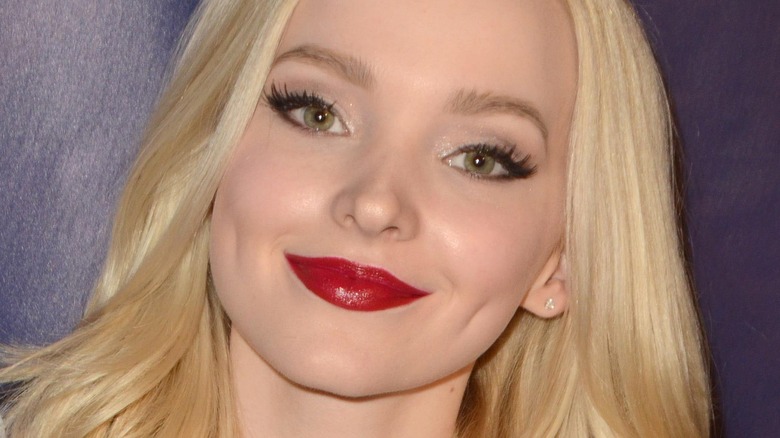 Kathy Hutchins/Shutterstock
The pitfalls of being a child star have been well-documented. Whether being typecast (or not cast at all), dealing with substance use issues, or just struggling to transition from into more mature roles, this path is full of potential downsides. While not everyone who finds fame at a young age becomes embroiled in public trials and tribulations, this hasn't been the case with Dove Cameron. The 26-year-old, who got her big break as a dual character on Disney Channel's "Liv & Maddie," has broken the Disney mold and become a mainstream pop idol. But her Disney days weren't the easiest. 
"I never had that moment where I was like, 'I'm a Disney girl,'" Cameron shared with the Los Angeles Times. "I never looked at Miley [Cyrus] or Demi [Lovato] or Selena [Gomez] or Zendaya or Bella [Thorne] or anybody — Hilary Duff or anybody that came before me — I never looked at them and thought, you and me ... same." Cameron went on to say that she felt like an "outlier" who didn't belong. "I had huge impostor syndrome."
Unfortunately, it's not surprising that Cameron has complicated feelings about her Disney past. According to People, Cameron's father died by suicide just months before Disney offered her the starring role in "Liv & Maddie," her hit TV show. "I knew what was being offered and I was barely functioning," said Cameron. "I wasn't a person. But the switch [to work] delayed my processing and it was probably a bit helpful honestly."
If you or anyone you know is having suicidal thoughts, please call the National Suicide Prevention Lifeline by dialing 988 or by calling 1-800-273-TALK (8255)​.
Hollywood almost destroyed Dove Cameron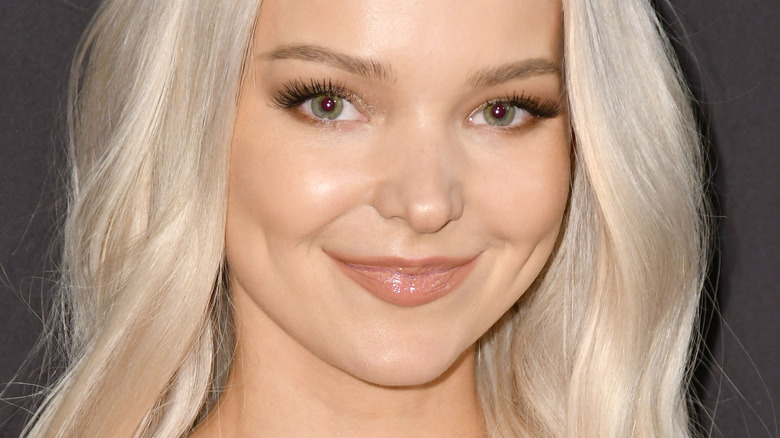 Quinn Jeffrey/Shutterstock
Like many of her Gen-Z peers, Dove Cameron has been particularly outspoken about her various struggles, whether personally or professionally. In August 2020, Cameron opened up to Story + Rain Magazine and said that, originally, she was looking forward to migrating to Hollywood, but her experience didn't live up to her expectations. "I opened my heart and all my ventricles, all of my sensitive spots, to this space that's the wild wild west in terms of what you're going to receive," Cameron told the publication. The "Descendants" star also shared that she dealt with anorexia and was involved in a "terrible" relationship. While she refrained from naming and shaming the guy she was talking about in this interview, the timing points towards Ryan McCartan. 
According to Us Weekly, Cameron met McCartan while filming "Liv & Maddie," and the two got engaged in 2016. Unfortunately, the engagement was short lived, as Cameron called things off six months in. Later, McCartan took to his Instagram stories and implied, without naming Cameron, that she stepped out of their relationship. "Within two weeks, my fiancée cheated on and left me, I almost died from food poisoning, and Donald Trump was elected president," McCartan wrote. Cameron, however denied the accusations in a vague post of her own, reposting a quote that said, "When a toxic person can no longer control you, they will try to control how others see you."
If you or anyone you know is struggling with addiction issues, help is available. Visit the Substance Abuse and Mental Health Services Administration website or contact SAMHSA's National Helpline at 1-800-662-HELP (4357).
Dove Cameron struggled with losing Cameron Boyce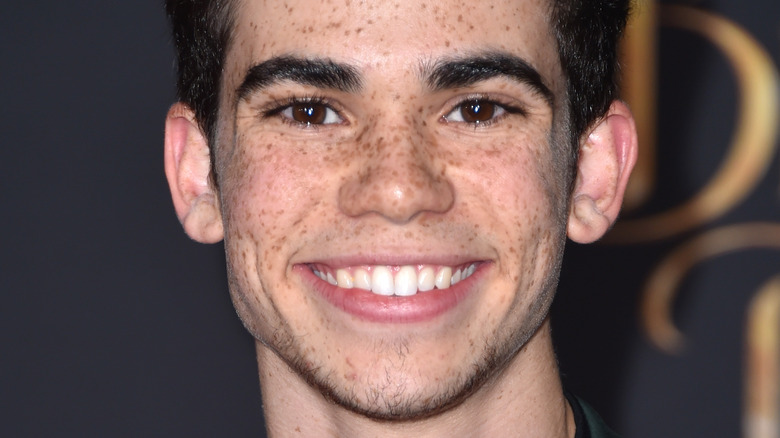 Frazer Harrison/Getty Images
Unfortunately, Dove Cameron's father's passing isn't the only tragedy she faced during her tenure with Disney. Cameron Boyce, a fellow Disney kid who rose to fame on programs like "Jessie" and "Descendants," died from complications with epilepsy in 2019. And while his passing shocked the world, Dove, who'd worked with him on "Descendants," was particularly close with him. Following the news, the "Liv & Maddie" star posted a heartfelt tribute to Boyce to social media. "Cameron was magic — an earth angel," she wrote in a now-deleted Instagram post (via PopSugar). "Over the last six years, since he was only 14, Cameron talked me down from countless ledges, talked me through eating disorders, helped me out of a dark relationship and through endless breakdowns." She went on to call him "the most talented person most of us will ever know" and praised his kindness.
Two years later, Dove opened up to People about her relationship with Boyce. "People who didn't even know him were rocked by his death. He was just someone who should never end, let alone end so early and disturbingly and unjustly," she said. "It's the only death I've experienced that I can't find a soft place to land around it."