Chris Rock Shares His Icy Take On What Will Smith's Oscars Slap Revealed
Matt Winkelmeyer/Getty Images
On March 27, pop culture enthusiasts gathered around their televisions to tune in to the 94th Academy Awards. While the show delivered incredible moments like Beyoncé's "Be Alive" performance and Ariana DeBose's win for Best Supporting Actress, it also included the infamous "Oscar slap" between Will Smith and Chris Rock. Since that fateful day, the shocking incident has remained within the news cycle due to various new developments.
On July 29, the "I Am Legend" actor released a formal apology to the comedian in a video statement on YouTube. "Chris, I apologize to you. My behavior was unacceptable, and I'm here whenever you're ready to talk," he said. "There is no part of me that thinks that was the right way to behave in that moment."
While Smith has opened up about the slap through various public platforms, Rock has remained relatively low-key about his feelings aside from his occasional jokes. "Anyone who says words hurt has never been punched in the face," he reportedly said during a comedy performance in New Jersey (via Us Weekly). However, on September 2, the "Everybody Hates Chris" star finally broke his silence regarding the incident and let's just say he doesn't hold back. 
Chris Rock says Will Smith is 'as ugly as the rest of us'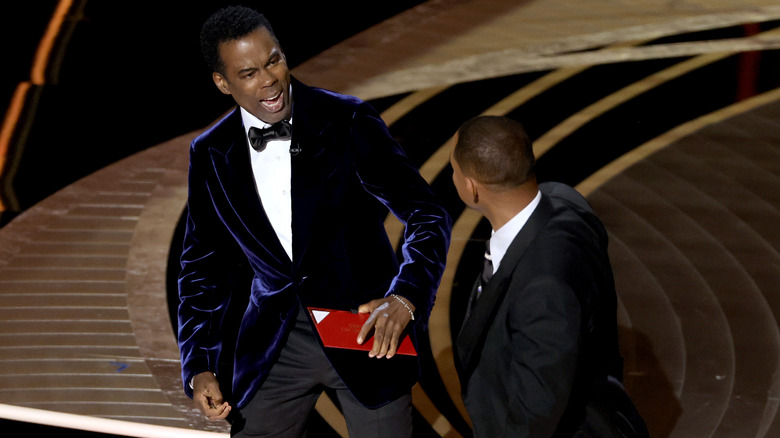 Neilson Barnard/Getty Images
After nearly seven months since the infamous "Oscar slap," Chris Rock has finally opened up about the incident and Will Smith. According to Daily Mail, the "Madagascar" star broke his silence while performing standup alongside Dave Chappelle. When "The Chappelle Show" star asked if the slap "hurt," Rock was quick to respond. "G***amn right ... the motherf***er hit me over a bulls**t joke, the nicest joke I ever told," said Rock. "Will did an impression of a perfect person for 30 years, and he ripped his mask off and showed us he was as ugly as the rest of us." Towards the end of his spiel, Rock said he hopes Smith "doesn't put his mask back on" before saying he sees himself in "both men."
The "Oscar slap" controversy has undoubtedly made a mark on the two beloved actors and their futures at with the Academy Awards. Due to his shocking actions, Smith resigned from his Academy position on April 1, per CNN. Smith was also given a 10-year ban from any events relating to the Oscars. As for Rock, the comedian revealed during a comedy show in Phoenix that he turned down an offer to host the 2023 Academy Awards. When elaborating on his decision, he made a controversial joke in which he said returning would be like O.J. Simpson's ex-wife, Nicole Brown Simpson, going "back to the restaurant" before her eventual slaying (via AZ Central).