Justin Bieber's Awkward Hot Mic Moment That Was Caught On Live TV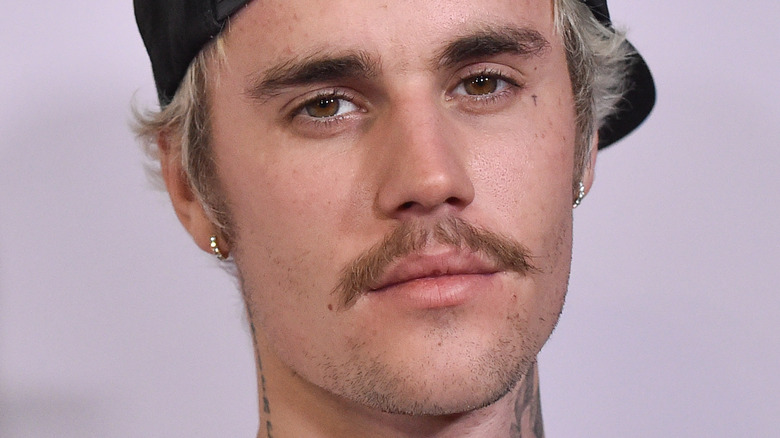 DFree/Shutterstock
Celebrities are just like us — sometimes they lose their cool, too. They're also human, after all, and sometimes cannot contain their feelings during high-tension situations.
The most recent example would be Will Smith slapping Chris Rock right on the Oscars stage after the comedian made a joke about Jada Pinkett Smith. Will took offense at Rock's bit at the time, leading him to get into a physical altercation with the "Grown Ups" actor. There was also that time when Alec Baldwin found himself in a faceoff with the paparazzi. In 2013, he made headlines when he tackled a photographer in New York City. He was unapologetic about it, though, as he said the photographer was following his family around. "We had had it with this guy," Baldwin admitted on "The Late Show with David Letterman" (via The Wrap). "So I stopped and I frisked him."
These moments are sometimes unavoidable, so we can't really blame our favorite stars when they act out of character. Justin Bieber made the same mistake in 2015 when he was caught blasting a camera crew member during an appearance on "Today."
Justin Bieber clashed with a cameraman during a live performance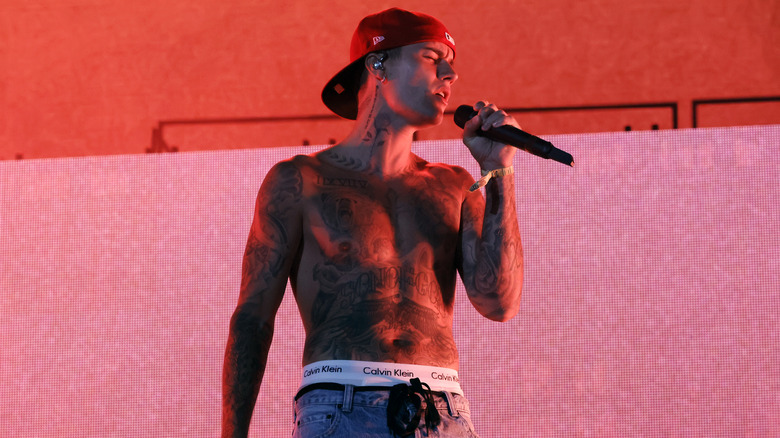 Kevin Winter/Getty Images
Justin Bieber couldn't help but snap at a cameraman when he was performing on "Today" in 2015.
After singing his new single "What Do You Mean" in front of a live audience at Rockefeller Plaza, he expressed disappointment over how it turned out. "Next time I won't dance because the camera's here the whole time. Might as well not dance. What do I do this for if they're just gonna..." he was caught ranting, before the producers abruptly cut to commercials. The issue seems to have been resolved right after, as he was able to perform the rest of his songs without a hitch.
Bieber never addressed what had happened, but the incident was just days after he had cried on the MTV Video Music Awards stage. "Last time I was at an award show, I was booed. I think I've worked so hard on this album. I've worked so hard at just becoming the man I want to become," he explained during an appearance on "The Tonight Show Starring Jimmy Fallon" in 2015. "Stepping into situations, you just can't help but feel judged. I was just feeling judged and wanting to win so badly and just wanting to do what I love so badly that I just put everything on the line." Perhaps he only lashed out at the time as he wanted his performance to be perfect?
Justin Bieber has been accused of being a diva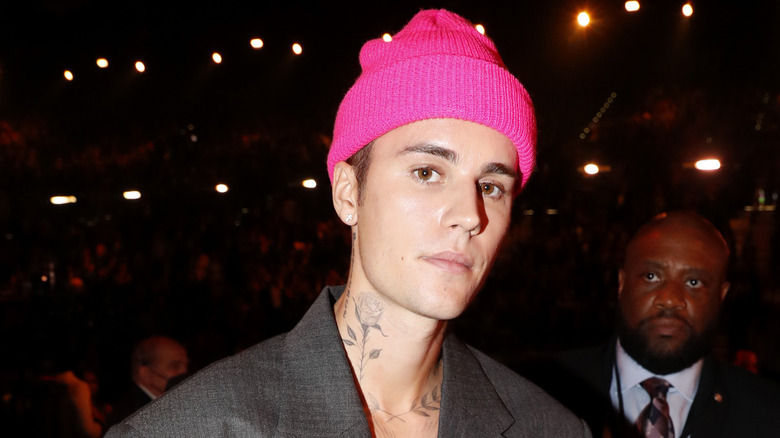 Johnny Nunez/Getty Images
Losing your cool from time to time is one thing, but being a diva? That's a whole other story.
In 2017, fans learned that the "Sorry" singer has a long list of demands when he goes on tour, some of which are borderline unreasonable. In a copy of his rider obtained by music journalist Arjun S. Ravi, it was revealed that Justin Bieber asks for a lot on the road, including a personal chef whose dishes are named after Bieber's hits, a private jet and a Rolls Royce on standby and a hotel suite adorned with purple carnations. He also apparently requests 10 containers filled with his favorite items, including a PlayStation, a ping pong table and, apparently, a washing machine.
It's unclear whether or not the list of crazy demands is real, as his team never released a statement about its validity. Perhaps we'll find out when he resumes his world tour, which was postponed when he was diagnosed with Ramsay Hunt syndrome. According to his wife, Hailey Bieber, the singer is ready to make a comeback. "One thing I know for certain is you can't keep this guy down," she wrote on her Instagram Story (via People).