Inside Beyoncé's Close Relationship With Her Mom Tina Knowles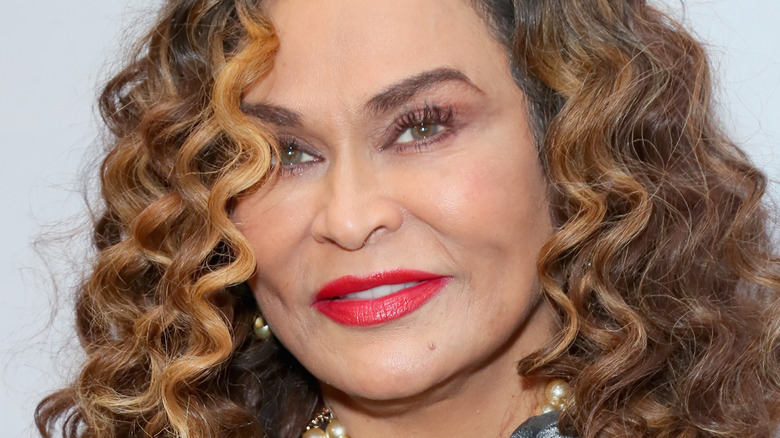 Leon Bennett/Getty Images
Long before Beyoncé was born, her mother, Tina Knowles-Lawson, was living a life that would make her the ideal parent of a future pop powerhouse. According to Texas Monthly, Knowles-Lawson took up singing as a teen and got a small taste of what her daughter would experience someday with Destiny's Child, but Knowles-Lawson's group, the Veltones, didn't go on to become a household name. She later traded her microphone for a makeup brush, working for Shiseido Cosmetics before opening a successful Houston beauty salon, according to The New York Times.
As the daughter of a seamstress, Knowles-Lawson added one more useful talent to her skillset. "I was always doing everybody's hair, doing their makeup. I made all my friends' prom dresses," she told "Renaissance Man" host Jalen Rose (via the New York Post). Her ability to sew would come in handy when Destiny's Child's luggage got lost ahead of an event, and after Wyclef Jean complimented the coordinating ensembles Knowles-Lawson created by altering some camouflage clothing, she found herself with a full-time job designing the group's wardrobe.
"Like my grandmother, she used her talent and her creativity to give her children their dreams," Beyoncé said of her mom's adeptness with a needle during her 2016 CFDA Awards speech, per E! News. However, the two women's close relationship is held together by so much more than the threads of their familial passion for fashion.
Beyoncé and her mom have supported each other through good times and bad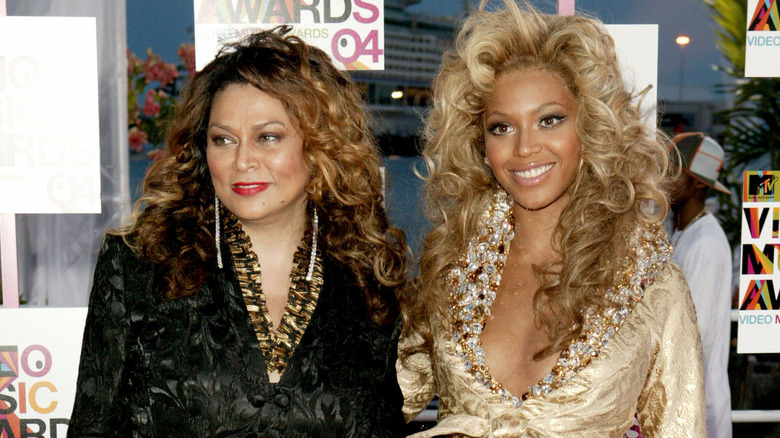 Dave Hogan/Getty Images
Beyoncé's first name is actually her mother's maiden name, as Tina Knowles-Lawson revealed on Heather Thomson's "In My Heart" podcast. Being named after a parent can cause a lot of pain if the bond between parent and child is ever severed, but it seems that nothing can come between Beyoncé and her mom.
When Beyoncé and Jay-Z got married in 2008, Knowles-Lawson was given a task of tremendous importance: designing her daughter's wedding gown. However, the bride later threw a bit of shade at her mom, hinting that she wasn't happy with her work. "She said, 'When my daughter gets married, I'm gonna let her pick out her own dress,'" Knowles-Lawson recalled in an appearance on "Today." 
When Knowles-Lawson divorced Mathew Knowles in 2011, Beyoncé and the ex's other daughter, Solange Knowles, found a way to cheer their mother up. "I called them crying and you know, they all came," Knowles-Lawson told ABC13. "We had a slumber party, we watched old movies all night and ate ice cream — it was very healing." Happier times were ahead for Knowles-Lawson, whose daughters witnessed her wed new love Richard Lawson in 2015, per TMZ. And we're just guessing Bey was thrilled for her mother. "I hope you have everything in your life that your soul desires. Mama, I love you deep, deep!" the singer wrote on Instagram in celebration of Knowles-Lawson's birthday in 2021.
Fashion remains a family affair for Beyoncé and Tina Knowles-Lawson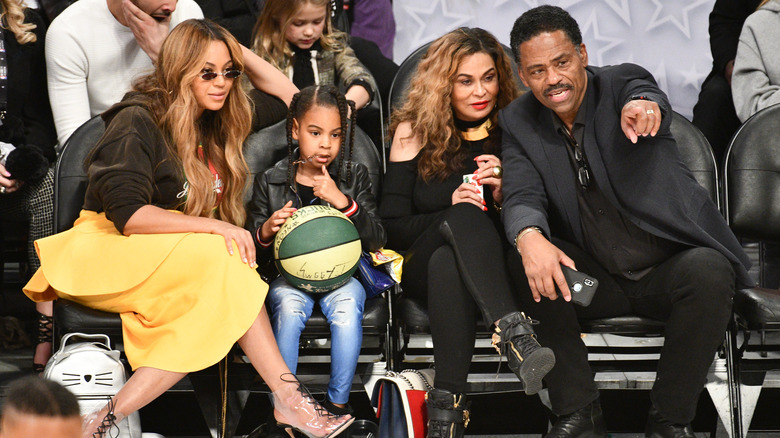 Allen Berezovsky/Getty Images
In 2004, Beyoncé and Tina Knowles-Lawson teamed up to bring their style to the masses with their own clothing line, House of Deréon. The brand bears the maiden name of Knowles-Lawson's mother, per AP News. Beyoncé explained why she wanted to collaborate with her mom in an interview with CNN. "It's so great for us to be able to do it together, number one because we get to spend time together, and two because we have such respect for each others' taste," she stated. More than a decade-and-a-half later, Knowles-Lawson would help Beyoncé promote her Ivy Park clothing collection by modeling some of the pieces herself. Beyoncé added children's clothing to the label, so it was a given that her own kids — Blue Ivy, Rumi, and Sir — would follow in their mother and grandmother's fashionable footsteps by serving as models, too.
In an interview with Oprah Daily, Knowles-Lawson spoke about her grandkids' style. "Well, they are little fashionistas, and they have definite determination about what they like and what they don't like," she revealed. "They absolutely give input on the brand."
But while Beyoncé might be instilling the same love of fashion in her kids that her mother fostered in her, Knowles-Lawson taught her daughter that living a good life is not all about glitz, glamour, and great tailoring. "My mom has always told me that beauty fades but inner beauty is forever," Beyoncé told Cosmopolitan.