Inside The Rumored Drama Between Carrie Underwood And Taylor Swift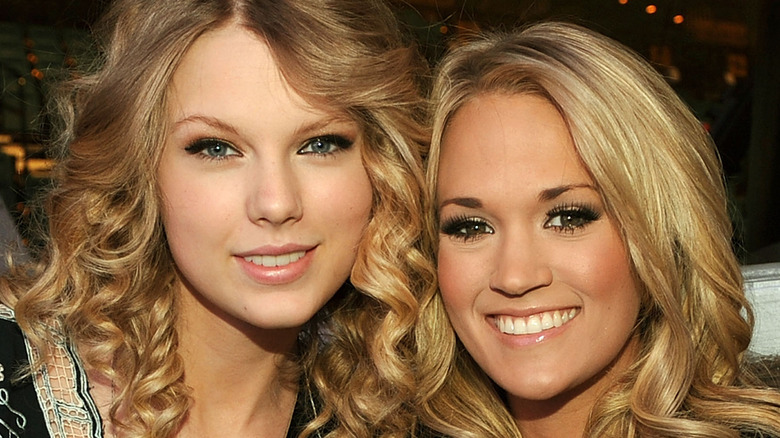 Rick Diamond/acm2009/Getty Images
The world of country music is a small one — and though there are always new boots on the ground, it's the queens of country that we constantly see popping up on the radio and at major awards shows. Here's where Carrie Underwood stands alone. As of 2019, The Tennessean reported that the "American Idol" alum had hosted the Country Music Awards for the past 12 years before she passed the torch. Along with pulling hosting duties for over a decade, Underwood is known for rocking stunning outfits on-stage. From sparkly minidresses, to feathers, to dramatic ball gowns, there's nothing that the country crooner can't pull off. And we haven't even mentioned her catalogue of accolades, including the multitude of Grammys, ACM Awards, CMT Music Awards, and more ...
Of course, when we're talking about successful country music artists, we have to bring up Taylor Swift. Though the "Blank Space" singer made the crossover into the pop genre earlier in her career, she's still seen as a country darling. Swift is also one of the most decorated musicians of all time, and "is the first and only woman solo artist to win the Grammy for Album of the Year" thrice," per Grammy.com.
Another thing Swift is known for is her feuds. This star has had "Bad Blood" with plenty of others in the entertainment industry, including Katy Perry, Kim Kardashian, Justin Bieber, and reportedly, even Underwood. So, why don't the country titans see eye-to-eye?
Carrie Underwood made fun of Taylor Swift's relationships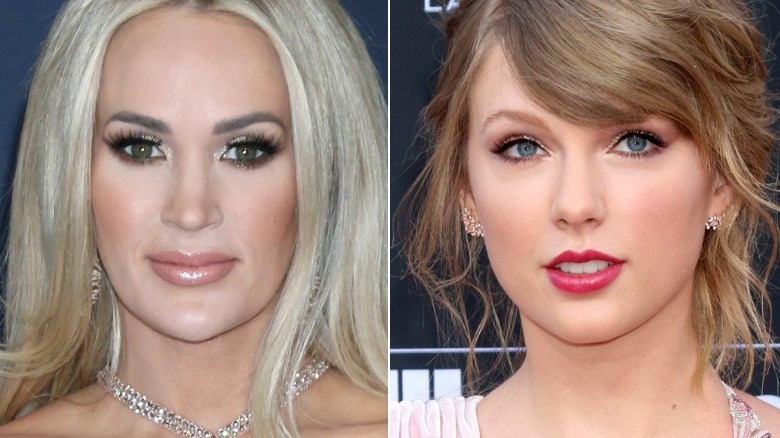 Kathy Hutchins & Kathy Hutchins/Shutterstock
The alleged feud between Carrie Underwood and Taylor Swift dates back to 2011, when CMA co-hosts Brad Paisley and Underwood poked fun at Kim Kardashian's 72-day marriage to Kris Humphries, plus Swift's infamously short-lived relationships. "I'm going to love you forever, or 72 days ... as long as Taylor Swift is with her current boyfriend," they sang (via Us Weekly).
The following year, Swift was once again fair game at the CMAs after breaking up with her then-boyfriend, Connor Kennedy. "The greatest trade of the year had to be the Kennedy family. They somehow traded Arnold Schwarzenegger for Taylor Swift," Paisley joked (via the Daily Mail). When he wondered aloud whether they were going to get back together, Underwood referenced Swift's No. 1 hit single, "We Are Never Ever Getting Back Together." "Never, never never. Never ever," she replied. Things were frosty enough between both Swift and Underwood that they requested to be seated away from each other at the 2013 Grammy Awards.
Underwood remained dismissive of Swift's boyfriends, even years later. In 2016, An insider speaking to Radar Online that year (via OK! Magazine) claimed the "Dirty Laundry" singer had referred to Swift's romance with DJ Calvin Harris as a "faux-mance." "Things have become icier than ever between them because Taylor overheard back-stabbing snickers that Carrie disrespected Calvin ... Normally, Taylor wouldn't care too much about backstage babble. But Carrie really rubs her the wrong way," the insider added.
Carrie Underwood denied rumors of a rift with Taylor Swift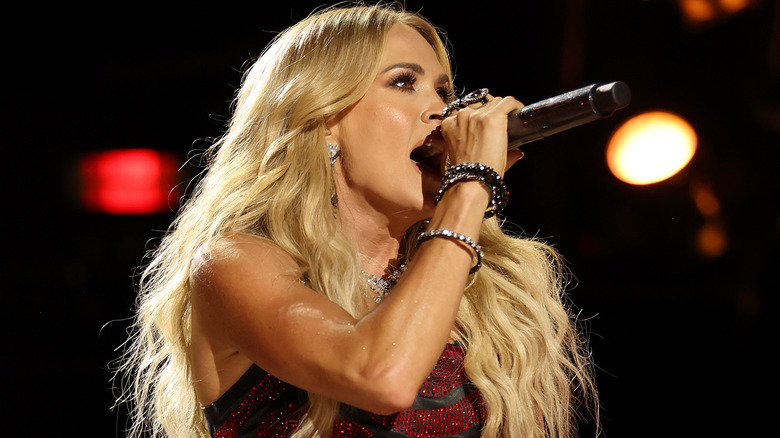 Jason Kempin/Getty Images
Though many speculated about Taylor Swift's "Bad Blood" with Carrie Underwood, Underwood maintained they didn't have any kind of relationship. "I'm not close to [Swift]. We run into each other at events. We're never in the same place at the same time," she told Radar Online in 2013. The country crooner also shot down reports of a feud when she sat down with Gayle King for a "CBS This Morning" interview (via Taste of Country). "In every magazine, in pretty much every newspaper or on gossip TV shows, they can just get away with it by saying 'a source said' or an 'insider said,'" Underwood explained. "I've read the most ridiculous things about myself when people do that."
In fact, Underwood seemed keen to put the rumors to bed. In the same "CBS" interview, she praised Swift for her willingness to experiment musically. "I really like, 'I Knew You Were Trouble,'" she said. "It sounded a lot different for [Swift]. I liked the branching out. She's trying some different sounds." And, in June, Underwood featured Swift's "We Are Never Ever Getting Back Together" in a game of song association for ELLE Magazine.
Swift hasn't weighed in much on the perceived drama, but she did hint that Underwood hurt her feelings with that CMAs jab. In 2012, she told The New York Times Magazine that viewers didn't see her reaction, because "[The cameras] don't pan to you if you're not laughing."