The Creator Of Friends Claims This Was The Show's Worst Guest Star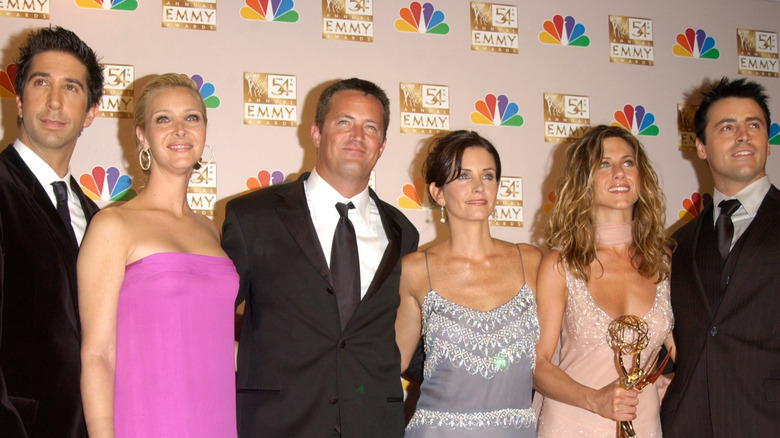 Featureflash Photo Agency/Shutterstock
The following article includes allegations of domestic abuse and sexual assault.
While NBC's "Friends" was well-known for its fair share of guest stars over the years, it has also caught the attention of fans recently for some intriguing behind-the-scenes info. This was most prominent in the so-called "Friends Reunion" in 2021, when several of the show's six main cast members made a number of noteworthy revelations, including that David Schwimmer and Jennifer Aniston, who played the iconic Ross and Rachel, had real-life crushes on each other, that Matthew Perry, who played the sardonic and sarcastic Chandler Bing, felt like he would "die" if the audience didn't laugh at him, and that Katie, the Capuchin who played Ross's monkey Marcel, was incredibly difficult to work with. 
There have also been other quite serious revelations about the show and its production which have gone more under the radar. This includes some fascinating declarations about one of the show's worst guest stars, as revealed by several producers — and the answer is probably one you wouldn't expect.
Jean-Claude Van Damme was 'unprepared and arrogant' on set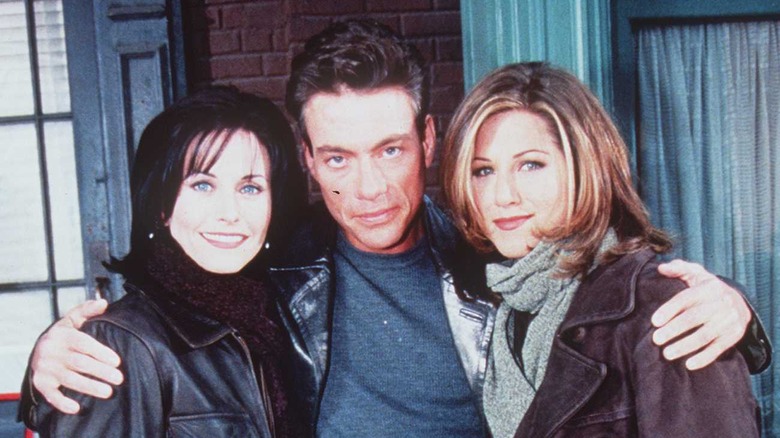 Getty Images/Getty Images
Jean-Claude Van Damme made his guest appearance on "Friends" in 1996 in the second season episode entitled "The One After the Superbowl" (which also happened to be the show's most-watched episode ever). In the episode, Van Damme played himself, the object of Monica and Rachel's affection after they run into him on set of one of his movies. They come to realize he is a "jerk," however, after he first flirts with Rachel instead of Monica, then decides to go on a blind date with Monica only because he believed she had agreed to a threesome with Drew Barrymore. 
As it turns out, Van Damme was not that much different off-screen than he was on. In 2021, several "Friends" producers revealed that Van Damme made working on set very difficult, per the Hollywood Reporter. For one, he arrived on set several hours late, then snapped at producers when they asked him if he had any questions. Former NBC executive Warren Littlefield compared him to the Capuchin who played Marcel, saying that it would be appropriate to ask, "Who's more difficult to work with, him or the monkey?"
Michael Lembeck, who directed the two-part episode, called him "unprepared and arrogant," while creator and executive producer David Crane said that the version of himself he played in the episode "wasn't necessarily different than how he was in real-life." This became even more clear upon learning about his behavior around his female co-stars. 
Jean-Claude Van Damme made his co-stars uncomfortable during kissing scenes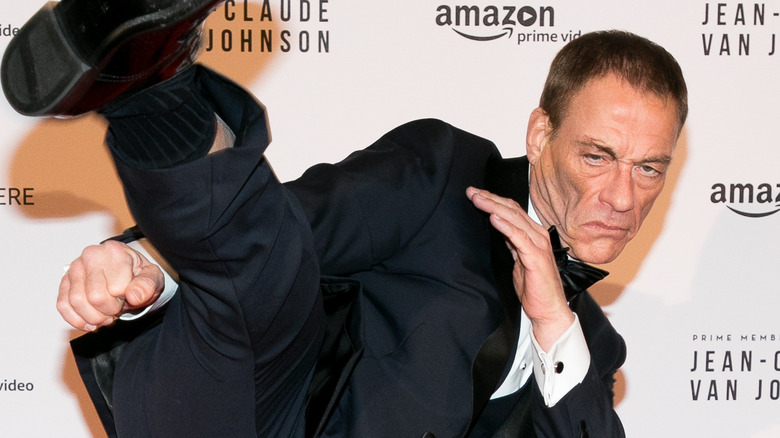 Marc Piasecki/Getty Images
While speaking to The Hollywood Reporter, "Friends" executive producer Kevin Bright and director Michael Lembeck made some troubling revelations about how Jean-Claude Van Damme behaved on set during his guest appearance. 
Apparently, Jennifer Aniston approached Lembeck during shooting and asked him to ask Van Damme "not to put his tongue in my mouth when he's kissing me." Lembeck did so, only to have Courteney Cox come up to him shortly thereafter and request the same thing. "I couldn't believe it!" Lembeck recalled. "I had to tell him again, but a little firmer." Bright said that they had to ask him to stop using tongue "several times." 
These are not the first troubling accusations made against Van Damme. In 1993, the actor faced a lawsuit from a fellow female actor who alleged he conspired to set up a "sexual trap" for her on set of a movie, forcing himself on her while two other associates of his watched. Van Damme said at the time that this accusation was "totally without merit." Then, in 1997, per E! News, his wife, Darcy LaPier, who was in the process of divorcing him, accused him of serious physical abuse. According to the divorce filings, Van Damme was addicted to cocaine and regularly beat her — even to the point of hospitalization, leading her to feel "too afraid" for her safety to remain with him.
If you or anyone you know has been a victim of sexual assault, help is available. Visit the Rape, Abuse & Incest National Network website or contact RAINN's National Helpline at 1-800-656-HOPE (4673).
If you or someone you know is dealing with domestic abuse, you can call the National Domestic Violence Hotline at 1−800−799−7233. You can also find more information, resources, and support at their website.