What Prison Was Really Like For Paris Hilton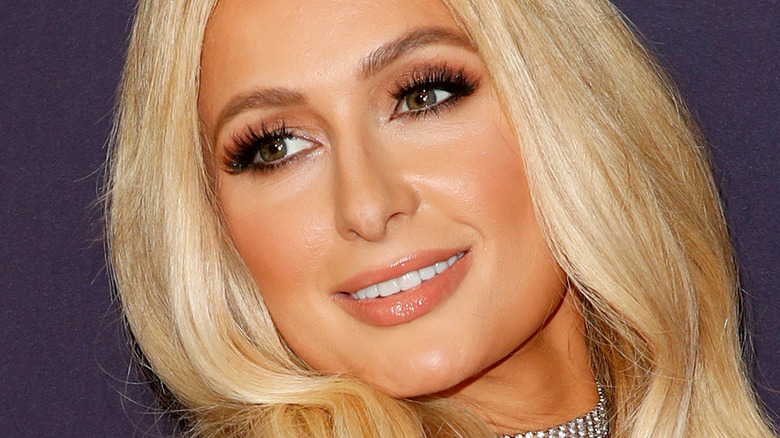 Kathy Hutchins/Shutterstock
Pop culture was rocked to its core in 2007 when Paris Hilton was sentenced to serve 45 days in jail for a probation violation — but what has she said about the experience? 
As a refresher, per Reuters, Hilton's legal woes began in late 2006. The heiress was arrested for reckless driving, and months later, she pleaded no contest to the charges. She was subsequently given a three-year probation period, but just one month later, Hilton found herself in trouble with the law once again. This time, she'd been driving without headlights and once the responding officers realized her probation meant a suspended driver's license, a judge ordered her to serve time. However, that was just the start of the drama. 
Mere days after turning herself in, Hilton was reassigned to house arrest for undisclosed medical reasons, according to The Guardian. That said, the small victory was short-lived. As ABC News reported at the time, chaos ensued when the sheriff who ordered her house arrest came to blows with the judge who had sentenced her in the first place. As noted by the outlet, Superior Court Judge Michael T. Sauer complained, "At no time did I approve the defendant being released from custody to her home." Just like that, Hilton was sent back to the Century Regional Detention Facility. And, though she was let out after 22 days for good behavior, according to Reuters, it's clear the experience made a mark on the star. 
Paris Hilton vowed to use her time behind bars for good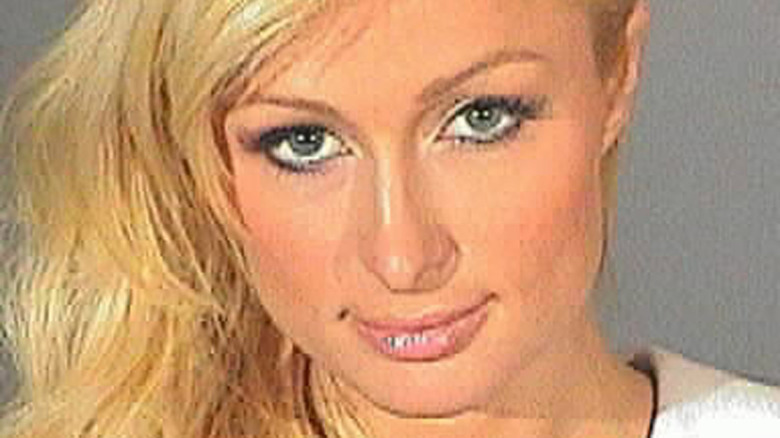 Handout/Getty Images
Understandably, Paris Hilton was distraught at the prospect of going back to jail after her short-lived house arrest. However, once she did return, the DJ was determined to find the positives in the situation, even if they were few and far between. 
Speaking to Larry King after her release, she revealed that she'd taken a lot of the time to work on herself. "I just went with the motto, 'Don't serve the time, let the time serve you,'" she shared. Hilton also pointed out that even though she would rather not have had the experience, she felt like it was meant to happen. "I feel like God does make everything happen for a reason," Hilton acknowledged. As for the other positives, Hilton noted that while she was confined in her own cell, the few interactions she had with other inmates were always pleasant, as was the staff. In a separate interview with Ryan Seacrest done via telephone before her release, she shared similar sentiments — and even noted that the other inmates were nothing short of "really nice and supportive."
However, even with the positives, she's often joked about the food served at the detention center. "The food is horrible!" she laughed to Larry King, pointing to a "mystery meat" in particular. However, she knew that wasn't the end of the world. "It's jail food. It's not supposed to be good," she nodded. 
...but she hasn't forgotten the media's response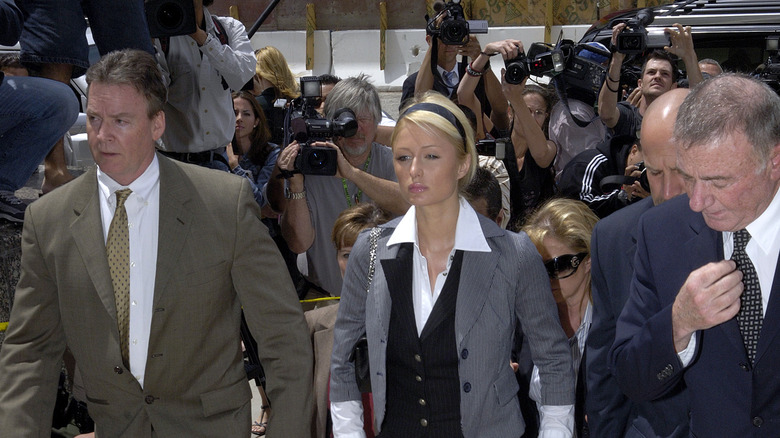 Toby Canham/Getty Images
Paris Hilton may have seen the positives during her time in jail, but she hasn't forgotten the way she was treated by the media in the wake of the ordeal. 
Far from it, she's recently shone a spotlight on the cruelty she endured. Speaking to sister Nicky Hilton Rothschild in an episode of the "This Is Paris" podcast, she reflected back on a David Letterman interview, in particular. According to Hilton, Letterman's team reached out after she was released. Hilton's camp initially refused, but eventually relented, because she "felt like it was a safe place." After all, she had been on the show in the past, and Letterman's team had promised there would be no jail-related questions. However, he reneged on that ... on live TV. "It was like he was just purposely trying to humiliate me ... during commercial breaks, I would look at him ... like, 'Please stop doing this.'" she recounted. Worse still, while Letterman would agree to stop during those breaks, he'd get right back into the questions when the cameras started rolling again. "It was just very cruel and very mean," she said.
Letterman ultimately apologized to Hilton on-air during a 2008 episode of "The Late Show." He also joked, "Myself, never having been in prison, I understand that it's probably ... not fun." Her reply? "Oh, no." It's safe to say, positives aside, jail isn't an experience Hilton hopes to repeat anytime soon!