Who Is L.C. On Claim To Fame?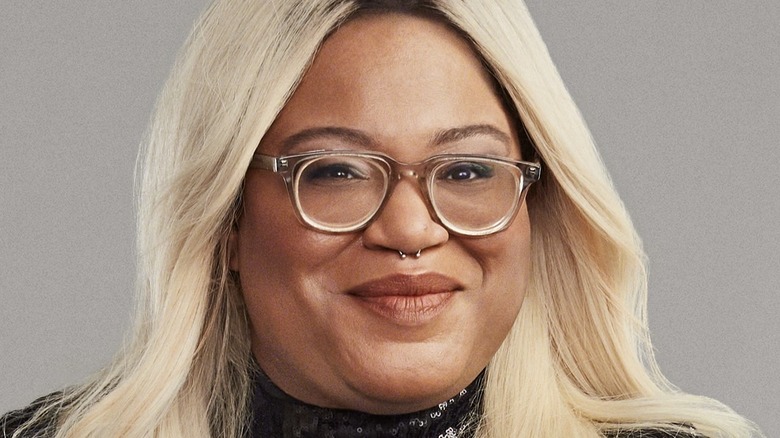 Maarten de Boer/ABC
On the ABC reality series "Claim to Fame," the relatives of the rich and famous live together and complete challenges while trying to determine which celebrities their housemates are related to. Singer Kevin Jonas and TikTok star Frankie Jonas host the show, and the brothers told People that they were given no insider info about the contestants' family trees before the competition began. "We were playing along just as much as the contestants," Kevin said.
As the show has progressed, viewers have learned the identities of many of the contestants. Each week, a guesser can send a castmate home by correctly connecting them to their celebrity relative. However, if the guesser is incorrect, they're the one who is sent packing. Some of the eliminated competitors include Simone Biles' sister, Laverne Cox's twin, and Whoopi Goldberg's granddaughter, per People.
After her elimination, Tiffany Haddish's sister, Jasmine English (who went by the name Kai on the show), expressed her hope that one particular contestant would outfox the remaining competition. "L.C. is my girl. She is the whole package and has all the tools to win this game. So of course I want her to win the whole thing and I am rooting for her," English told Newsweek. L.C. proved to be a pro at fooling her castmates, but viewers didn't have to wait for her to be eliminated to learn who she's related to.
L.C.'s sister is actor Keke Palmer
L.C., whose real name is Loreal Palmer, informed viewers that she's the older sister of former Nickelodeon star Keke Palmer in the August 1 episode of "Claim to Fame," per CBS8. However, the mother of three outright lied to her castmates to mislead them, using her resemblance to actor Laurence Fishburne to her advantage. In Episode 8, [2:33] she recalled telling another final four contestant, Lark, that she's named after her father, whose name actually is Lawrence. She revealed that her siblings — Lawrence, Lawrencia, and Lauren — are also named after her dad. However, Lauren is better known as Keke.
According to USA Today, Loreal is actually responsible for coming up with the nickname that would become Keke's stage name. Before the Palmer family moved to Los Angeles so that Keke could pursue her dream of acting, the child-star-to-be consulted with her older sister. "I asked her, 'Please?' I knew she was excited about going to high school and I didn't want to take that away from her — but I really wanted my dream to come true," Keke recalled. "She said, 'You're really talented, and I think this could be good for you.'" Two years after Keke's acting career began, she got cast alongside Fishburne in the movie "Akeelah and the Bee." For a "Claim to Fame" clue, Loreal referenced her younger sister's breakout role by dressing up in a sassy bee costume and strutting her stuff on a runway.
Keke Palmer's career came between her and her sister
In her book "I Don't Belong to You: Quiet the Noise and Find Your Voice," Keke Palmer revealed that a rift formed between her and her older sister when the Palmer family left their old life behind and headed to Hollywood. Keke was clashing with their parents and didn't feel like her sibling had her back, but she later reached a realization. "I wasn't thinking then that she was going through a difficult time herself," Keke confessed.
Keke and Loreal Palmer would eventually make amends. Speaking to ET, the "Nope" star expressed excitement over Loreal's "Claim to Fame" casting, saying, "I'm so proud of her." She also shared some words of advice for her sister. "She's gonna have to keep her lips zipped. We have similar cadences, the Palmer cadence is what we call it," she stated. And this isn't all they have in common — just like Keke, Loreal can sing. Fans can hear a small sampling of her vocal talent by checking out an audio clip that she shared on Instagram. "Many of you may know that I sing and write music, but because of the way my anxiety is setup I never release anything," she wrote in the caption. However, according to her IMDb page, Loreal did write and record an original song for "Akeelah and the Bee" — so her only claim to fame isn't simply being the sister of a celebrity.