Here's What Zendaya Looks Like Without Makeup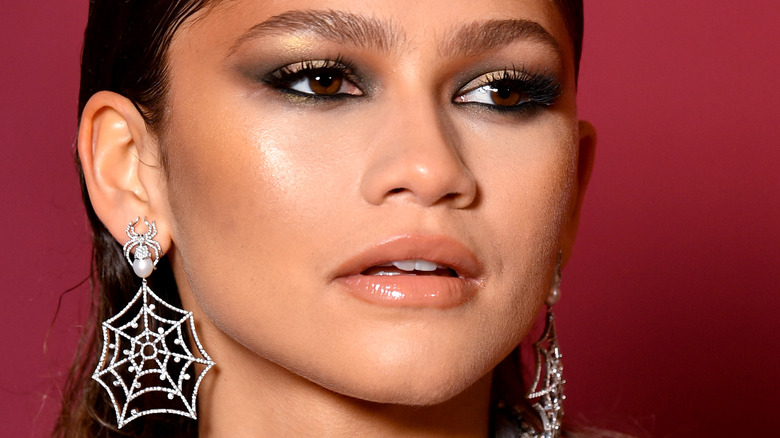 Gareth Cattermole/Getty Images
Zendaya is a household name across the globe. If she's not known for her vast acting career, she is also known for her singing, dancing, and modeling career as well. It seems like everywhere you go, you can't escape Zendaya's reach. Especially now that she has two new movies, "Dune: Part Two" and "Challengers," coming out in 2023 per IMDB. You might've also seen Zendaya in your local beauty store or across a billboard, thanks to her 2019 partnership with Lancôme. What's even more impressive is she became Lancôme's youngest global ambassador in their company's history, according to WWD.
Wearing multiple career hats at once can overwhelm anyone, but it seems like Zendaya is juggling these jobs with ease. But, all of that perceived perfection is a part of Zendaya's allure. In 2018, she discussed with Cardi B for CR Fashion Book how much pressure it can be for her to be "perfect" all the time. "Sometimes, as a young person in this industry, I put a lot of pressure on myself to do the right thing. I think this is a flaw of mine," Zendaya said. "I get so afraid to make the wrong decisions, but I have to understand ... I'm not going to always be perfect."
Even though Zendaya isn't looking for perfection from herself, her youthful glow in her Instagram selfies looks damn near close to it. But under all of that artistic flair and allure, is the bombshell beauty still breathtaking while bare-face?
Zendaya is a natural beauty
Zendaya is known as a classic Hollywood beauty. However, in this photo that Zendaya posted on her Instagram in 2019, she looks a little less like a femme fatale, and more like an adorable homegirl-next-door that you can hang with on a Tuesday (call us, Z!!). Zendaya is typically sans-makeup if she's not working. "I'm very proud of my skin and my face, and I have no problem not wearing makeup. I don't wear makeup because I feel like I need to cover myself up or because I don't feel confident," Zendaya told Elle in 2016. "I wear makeup because it's fun; it's like painting on my face." 
We've also seen Zendaya bare-faced in gritty form, showing a range of emotions on her Emmy award-winning TV show, "Euphoria." Zendaya plays a troubled, drug-addicted teen navigating her life and relationships in suburban California. That's a complete 180 from Zendaya's real life — she said in a 2019 LA Times interview that she has never done drugs or consumed alcohol.
Avoiding drugs and alcohol can do wonders for your skin's overall health, but also having money and access to a great skincare routine usually helps too. Zendaya's skincare routine isn't completely inaccessible though. "Usually I'll just cleanse, tone, moisturize, and move on. I'll incorporate different serums or whatever else every now and then," she told People. "I think it's good to switch up your skincare so that your skin doesn't get too used to it."
Zendaya's skincare secrets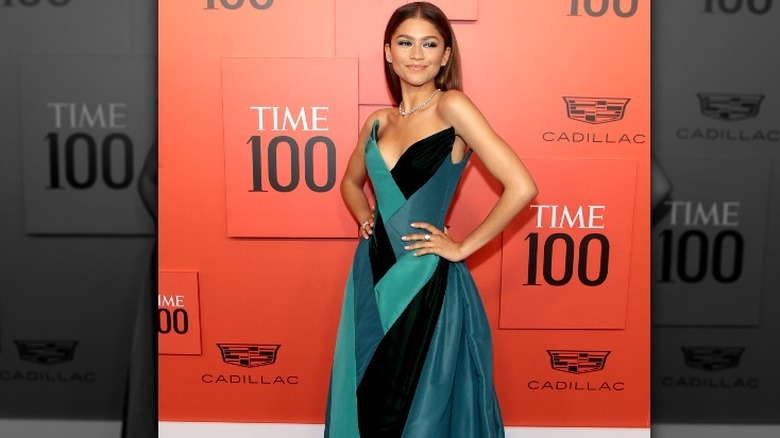 Dimitrios Kambouris/Getty Images
The Emmy-award-winning actor's ethereal glow doesn't solely come from her genetics, an insane amount of wealth, or an intentional self-care routine. Zendaya is also really young, even though she's been on our TV screens since she first starred on Disney Channel's TV show, "Shake It Up," at 14 years old per Capital FM. On September 1st, Zendaya turned 26 and celebrated the milestone with a reflective post on Instagram. "I get to spend the day responding to the most beautiful messages (sorry I'm a little late) thank ya'll for filling my heart with so much love, I couldn't be more grateful 💕 Here's to 26!" she said. Zendaya also casually rang in her birthday by having a private, intimate dinner with her boyfriend, "Spider-Man: No Way Home" actor Tom Holland, in New York City per People.
Holland is on a social media break since August 14th, so there wasn't a typical heart-warming birthday post from Z's Spidey-bae. However, the superstar couple spoke to GQ in November 2021 about the increasing invasion of their privacy as a couple. "The equal sentiment [we both share] is just that when you really love and care about somebody, some moments or things, you wish were your own," Zendaya explained. "I think loving someone is a sacred thing and a special thing and something that you want to deal with and go through and experience and enjoy amongst the two people that love each other."
Wise words from a young superstar.