Inside Whoopi Goldberg And Ana Navarro's Complicated Relationship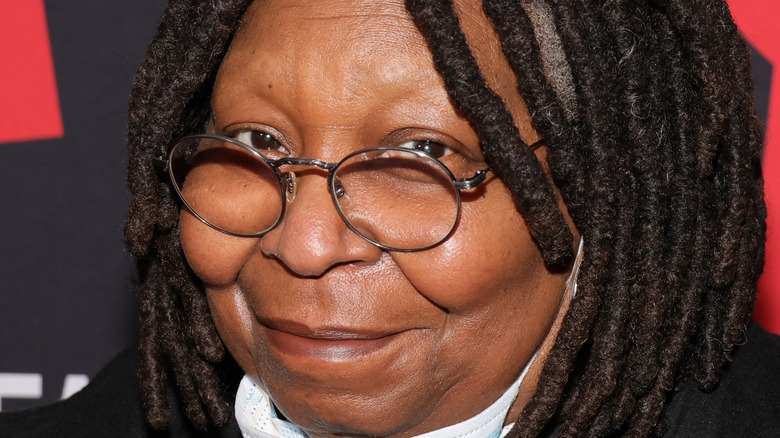 Dia Dipasupil/Getty Images
ABC's "The View" is widely known and renowned for its evocative and ideologically diverse commentary on politics and current events, driven from a primarily female perspective. Among the show's most prominent co-hosts include actor Whoopi Goldberg, who has been a permanent member of the show's cast since 2007 (via IMDb). Goldberg now acts as lead moderator. Ana Navarro, a prominent anti-Donald Trump voice in the American conservative movement who is widely known for her colorful commentary, is on the panel as well. However, in August 2022, it was announced that Navarro, who has been a prominent guest star on "The View" for years, would be replacing Meghan McCain as a full-time, permanent co-host. 
Although Goldberg, widely considered a more liberal-minded member of the panel, and Navarro may have their differences politically, their relationship is much more complicated than that, and might not be entirely what you'd expect. In fact, Goldberg has even encouraged Navarro to run for office, while Navarro has defended Goldberg on air multiple times.
Ana Navarro defended Whoopi Goldberg after Holocaust controversy
Whoopi Goldberg is known for making her fair share of faux pas, especially after 15 years on live television. Perhaps the most recent — and noteworthy — instance of such a gaffe was in January 2022, when she declared on air that the Holocaust was "not about race." In the episode, her co-host Ana Navarro pushed back against her, saying "But it's about white supremacy. It's about going after Jews and Gypsies and Roma." Goldberg faced much backlash for her comments, and was even temporarily suspended from "The View." 
However, despite their many political differences, Navarro stood up for her in the aftermath of this controversy. She told CNN at the time that she "knows what's in [Goldberg's] heart," and that she is "not an anti-Semite." She went on to say that "when you have five women, discussing complex topics, in five-minute segments on unscripted, live TV, sometimes things come out the wrong way. We are human and make mistakes. The difference between us and others is, we acknowledge it and try to correct it. Whoopi clarified and apologized without caveats."
Indeed, Goldberg did apologize for her remarks, saying after her reinstatement, "I regret my comments as I said, and I stand corrected. I also stand with the Jewish people, as they know and y'all know." 
Whoopi Goldberg once gave Ana Navarro a standing ovation
In November 2016, long before Ana Navarro became a full-time permanent co-host on "The View" and shortly before that year's presidential election, she made an appearance on the daytime talk show to defend her position as an anti-Donald Trump Republican. After a montage of her appearances on CNN, in one of which she castigated pro-Trump talking head Scottie Nell Hughes when she defended Donald Trump's "grab 'em by the p****" comments, Whoopi Goldberg applauded Navarro, even giving her a standing ovation, which the rest of the crowd followed. 
Goldberg then went on to even promote the idea of Navarro running for public office as a Republican. "Maybe a smart, strong woman from Florida is what we need," Goldberg said. "We want an opposition that is strong and says, 'Hey no, we can do it this way,' ... this other bulls*** is just not working the way we want it to." Goldberg also invited her to "come back any time." 
In addition, Goldberg's Holocaust controversy is not the only time Ana Navarro has stepped in to defend her liberal-minded co-host. In a 2021 episode, guest star Barbara Corcoran made a joke at the expense of Goldberg's weight, claiming that she would take her pants when Goldberg was done with them and "make two pairs." Navarro stepped in to defend Goldberg, responding in reference to Corcoran's dress, "Sara Haines and Jill Biden wore that dress already on TV."