The One Thing That Hurt Tom Cruise The Most In His Divorces
Max Mumby/indigo/Getty Images
Even four decades into his career, Tom Cruise remains at the top of his game. His latest film, "Top Gun: Maverick," has surpassed "Avengers: Infinity War" at the box office in terms of sales, garnering a whopping $683 million in North America alone, per Variety. Many of Cruise's films have also become cultural touchpoints, including "Jerry Maguire," "Interview with A Vampire," and of course, the "Mission: Impossible" series.
Cruise is an undeniable superstar and a bonafide legend by every definition of the word. Naturally, many fans have taken a special interest in his personal life including his relationships. While he keeps a low profile now and is reportedly single, he was married three times to three different women: Mimi Rogers from 1987 to 1990, Nicole Kidman from 1990 to 2001, and Katie Holmes from 2006 to 2012.
Each of Cruise's marriages has been intriguing, to say the least. For instance, Rogers was reportedly one of the reasons why the actor joined Scientology, as her father was one of founder L. Ron Hubbard's original disciples, per The Hollywood Reporter. His subsequent marriages, however, were arguably more controversial, as both happened during the height of his popularity. And, judging by what has been reported in the media, his breakup with Holmes impacted him the most.
Katie Holmes reportedly blindsided Tom Cruise with divorce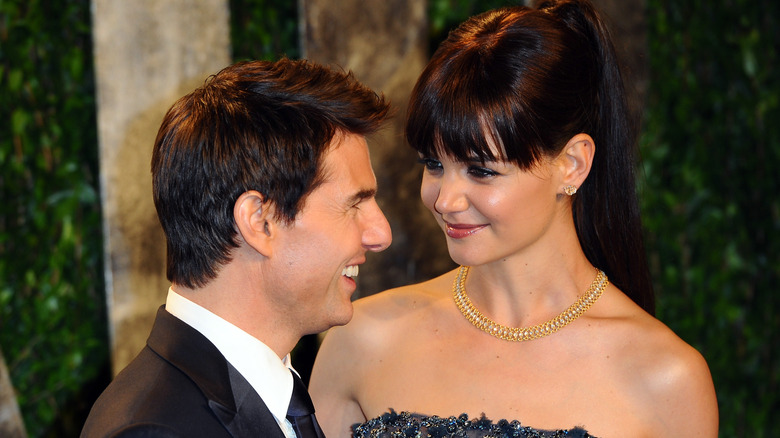 Anthony Harvey/Getty Images
Tom Cruise and Katie Holmes' marriage was something many fans thought would never meet its end. There was even a time when Cruise famously professed his love for Holmes in an interview with Oprah Winfrey, with the actor jumping on Oprah's couch to everyone's astonishment. They got married in 2006, a few months after their daughter Suri was born, and when they announced their separation in 2012, many scratched their heads. Apparently, no one saw it coming — including Cruise.
In an interview with a German TV network in 2013, Cruise admitted that he was blindsided by the divorce. "I didn't expect it," he confessed at the time (via CBS News). "I had an unbelievable amount of time to think about it," he noted. Much about the breakup has been kept under the wraps, but it's widely speculated that it's because of Cruise's involvement with Scientology. In his defamation trial with Bauer Media, the actor appeared to support this claim when asked if one of the reasons behind the split was his controversial religion. "Did she say that? That was one of the assertions, yes," he said (via Page Six).
Holmes also apparently had a calculated plan to break things off with Cruise. With the help of her father, they planned a fool-proof exit strategy, with Holmes moving to a new apartment, changing numbers, and cutting off communication with Cruise completely, per People. This stunned the actor, according to a source. He "was a happy man and thought he had a happy life," they told the outlet. "He keeps asking, 'What's happening?'"
Tom Cruise couldn't see Suri after divorcing Katie Holmes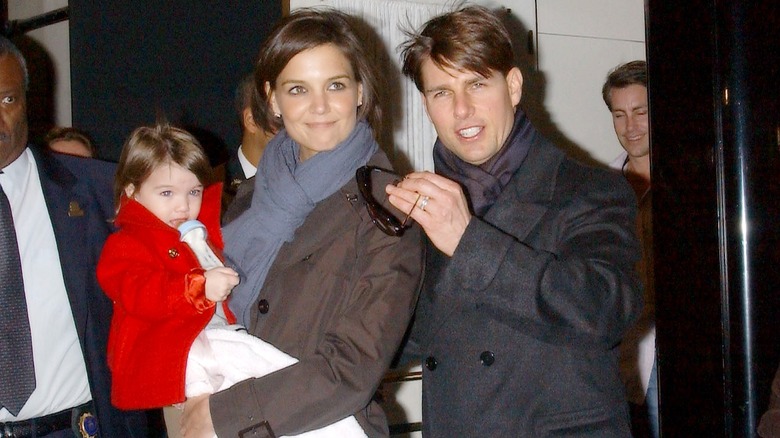 Arnaldo Magnani/Getty Images
When Katie Holmes was pregnant with Suri, Tom Cruise was so excited that he bought a sonogram machine so he could see her every day. And when she was born, they seemed to have a healthy relationship, but it all changed when he split from Holmes.
Reports say that Cruise and Holmes hammered out the details of their divorce in a record time of 11 days, with Holmes being granted sole custody of Suri and Cruise being awarded 10 days of visitation per month. But Cruise has not been exercising his rights, according to an insider. In 2016, InTouch Weekly revealed that Cruise had not seen his daughter in 1,000 days — or more than two years — as he claimed he was busy. "They used to Skype and text, but that trailed off drastically," an insider dished. "He uses his film commitments as an excuse, but the truth is that doesn't hold much weight with Suri anymore." Apparently, it was also due to Scientology. "Tom eats, breathes and sleeps Scientology," they added. "He's disconnected from Katie, and then de facto from Suri, because of her connection to Katie. He hasn't seen her since she was 7."
But, Cruise is adamant that he will always prioritize Suri. "Things change and there is different agreements, like in any divorce, where you work out schedules," he said in a deposition in 2013 (via People). "It's just a different set of circumstances. It certainly does not mean that I've abandoned my daughter."