The Hilarious Way Jennifer Lawrence Just Teased Bethenny Frankel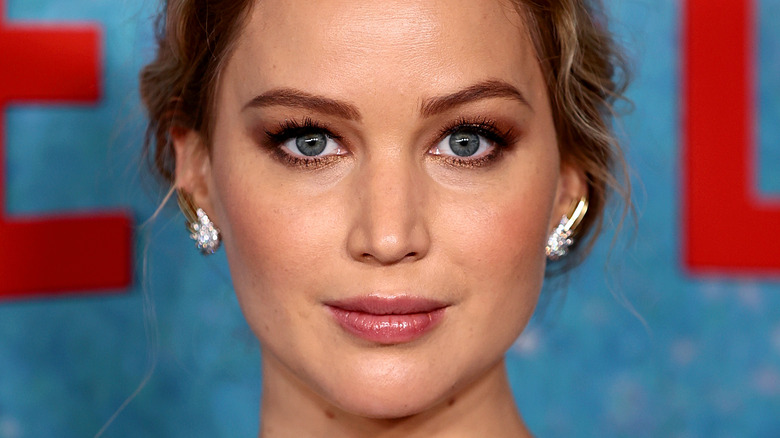 Dimitrios Kambouris/Getty Images
There's no bigger "Real Housewives" fan in Hollywood than Jennifer Lawrence.
Lawrence has long been known as an apologetic reality TV show junkie, watching everything from "Keeping Up with the Kardashians" and seemingly every installment and spinoff of "The Bachelor" series. She said that they'd been her form of de-stressing, and more often than not, she prefers watching them over going out and socializing. "Reality TV is my silver lining," she told Marie Claire in 2013 (via Digital Spy). "At the end of the day, there's probably nothing that makes me feel better than junk food and reality TV." Her clear favorite, however, is the "Real Housewives" franchise, and she gushed about idolizing its cast on more than one occasion. "Scott Disick, Luann [de Lesseps] from 'Real Housewives of New York,' Bethenny Frankel," she shared with The Hollywood Reporter when asked who she'd invite to a dinner party. "And I'm not proud of that, but that's what comes from my heart."
In 2018, she got her wish during a guesting on "Watch What Happens Live." Disick wasn't present, but de Lesseps and Frankel were there to surprise her. "I'm going to cry," Lawrence said at the time. "I got my smile back." She had the chance to chat with them, and Frankel even said that she'd make a great Housewife. "I would be like you guys," Lawrence quipped. "I would be diabolical enough but then still find a way to be likable."
Lawrence isn't a Housewife yet, but it looks like she's gotten comfortable enough to make jokes about the cast, particularly Frankel.
Jennifer Lawrence said Bethenny Frankel is not a chef
Jennifer Lawrence seems to be chummy enough with the "Real Housewives" stars that she's not afraid to fire playful jabs at them. On Vogue's "73 Questions" segment, one question in particular had her joking about former "Real Housewives of New York" star Bethenny Frankel. When asked what her recommendation was for anyone looking to visit the Big Apple, Lawrence responded, "Wash your feet when you get home, and if you see Bethenny Frankel, tell her she's not a chef." She made it clear that it was all in good fun, though. "She is."
Lawrence's joke signifies how deep her knowledge of "Real Housewives" is, as the issue dates back to 2010 when Kelly Killoren Bensimon took issue with Frankel referring to herself as a "chef and author," per Eater. In 2020, a fan also doubted her when she called herself a "natural foods chef" on Instagram. They commented, "Bethany. When did you become a chef? In your small NY apartment, you used your kitchen for storage. Right?" Frankel offered a short but snappy response: "Wrong girl."
Frankel hasn't responded to Lawrence yet, but it's hard to imagine that she would take offense. As for the actor, it just further solidifies that she's a reality TV queen. Perhaps she can finally push through with her plans of having her own reality show. She told Vanity Fair in 2018 that she wanted the concept to be "Breakup Island." Lawrence shared, "But there are very distinct cast members, like 'The Bachelor,' between the ages of 20 and 50, who you stay with and care about."