The One Thing You Rarely Ever See Billie Eilish Do In Photos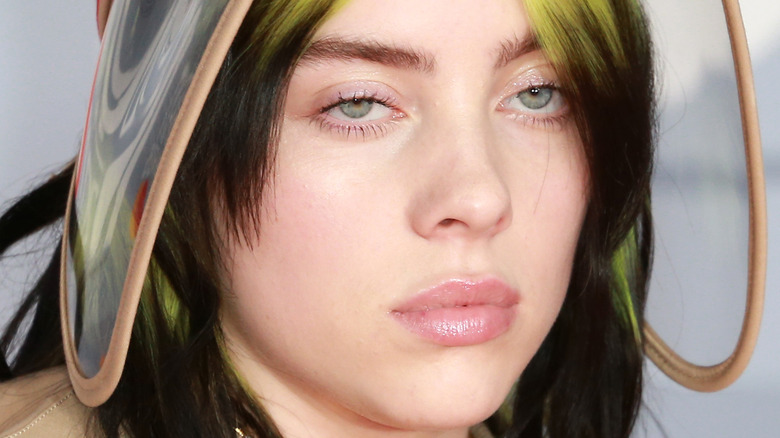 Fred Duval/Shutterstock
In pretty much no time at all, Billie Eilish has become a total icon. The star carved her niche as a macabre teen with the haunting voice, giving us the chills with hits like "Bad Guy," "Bury A Friend," and "Happier Than Ever." But it's not just her music that captivated the world, as her unique style influenced a generation. "I'm really different from a lot of people, and I kind of try to be. I don't like to follow the rules at all. If somebody tells me to do something, I'll always do the complete opposite of what they tell me to do," Eilish explained to Paper in 2017. "If somebody starts wearing something a certain way, I'll wear the complete opposite of that. I've always worn what I wanted to and always said what I wanted to say. I'm super, super out there. I try to dress this much above crazy. I like to be remembered, so I like to look memorable," she added.
We've seen Eilish experiment with her style over the years though, going from baggy dark clothing to a complete change up for the cover of Vogue U.K. The June 2021 issue saw the star pose in Old Hollywood glamour-inspired ensembles (including a glamorous corset!) with blonde locks and neutral makeup — but there's still one thing we only very rarely see from this hitmaker.
Why Billie Eilish hates smiling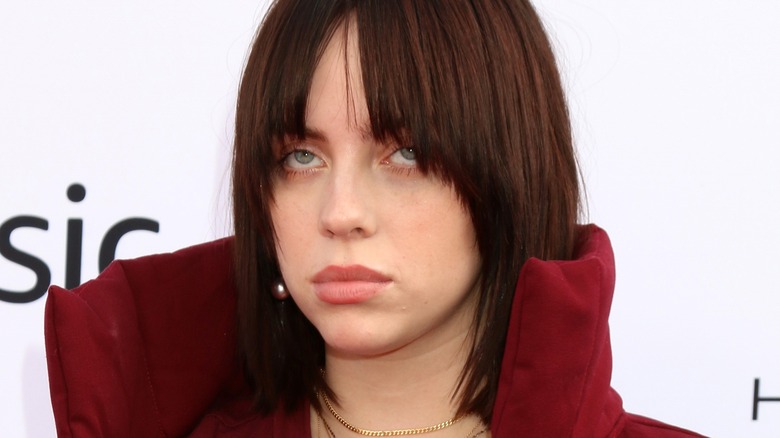 Kathy Hutchins/Shutterstock
You may have been lucky enough to see a rare photo of Billie Eilish with a smile, but in the main, this is one star who doesn't like to show off her pearly whites. A la Posh Spice (aka Victoria Beckham) herself, Eilish has opted for a more straight-faced look on camera, even going as far as to tell Harper's Bazaar in October 2017, "I hate smiling." Oh dear. But the star has a pretty solid reason for keeping her lips together, something she's done most of her life. "It makes me feel weak and powerless and small," she shared, admitting she knows she probably looks sad a lot because of it. "But you know how when you're walking down the street and somebody smiles at you? You're forced to smile back, that's the polite response. It's like you have no control over it. If I don't smile back you're gonna think I'm horrible. Maybe I am for thinking this, but whatever. And if you don't smile at me, we're good. You can go on with your day," she added.
In fact, Eilish hates smiling so much she even called her 2017 EP "don't smile at me." She explained to Ssense in August that the title was inspired by girls in particular being told to smile growing up, something she disagrees with. "I'm not gonna look like anybody except what I am. I want to impress myself," she hit back. You go, girl!
Billie Eilish's fans like to see her smile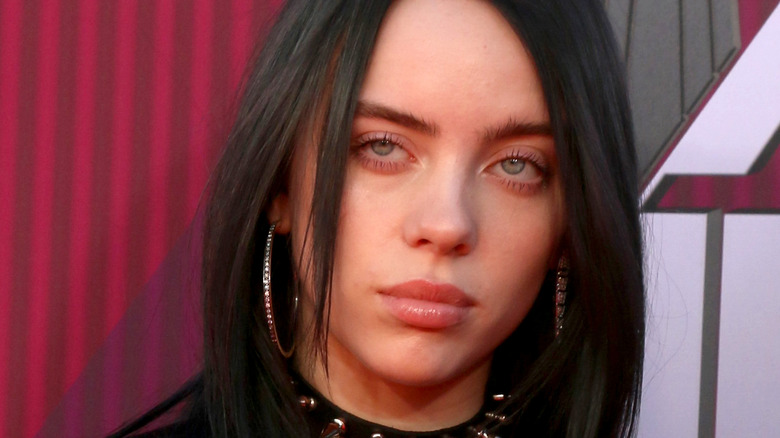 Kathy Hutchins/Shutterstock
Though we totally support Billie Eilish's reasons for not always wanting to flash a smile, sometimes the star has just been so darn happy she couldn't help herself. Fans clearly love to see that happiness so much that they've even compiled sweet videos of her laughing and joking, while Seventeen managed to compile 18 snaps of the star flashing a smile (which is pretty impressive considering her big aversion to it).
Over on Instagram though, it seems she's still holding strong on her decision to only smile on her own terms. Eilish's hugely popular account is full of stunning snaps of the "Lovely" singer doing her own thing (and looking oh so cool while doing it), including this upload made up of four gorgeous selfies taken during a visit to Belgium in June as she showed off her dark hair and stylish bangs. The striking close-up snaps earned the star over 8.5 million likes. Yes, 8.5 MILLION likes. 
Billie Eilish is one popular lady, indeed! But we don't think she's going to be smiling about that anytime soon... at least not in public, anyway.